Chicago PD Season 2 Episode 13 Review: A Little Devil Complex
Paul Dailly at . Updated at .
We can all breath easy now. Adrian Gish is officially off the streets of Chicago.
Chicago PD Season 2 Episode 13 concluded the crossover event with a crazy, twisted hour.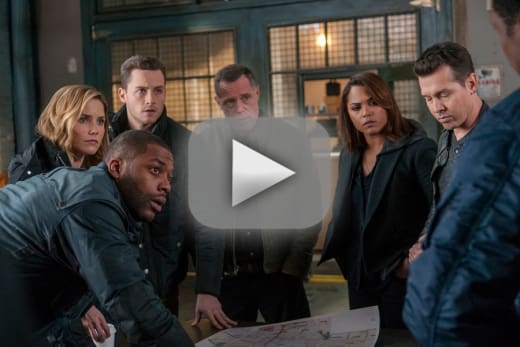 I'm sure we all knew that the Dawson siblings showing up unannounced at Adrian's work place would cause problems. I must comment on Antonio's persistence. He sure wasn't kidding when he told his sister he'd take the guy down. Adrian was unhinged. He has been an arsonist for a long time.
I don't quite understand why he couldn't be tried before now. Some digging should have been done before now into his past.
The whole scene in the elevator with poor Gabriela right under the arsonist, as he attempted to drop a lighter in with her and set her on fire, was so freaking tense. The fans wouldn't be pleased if another female lead was taken so soon after Shay. It was very frustrating that Severide wasn't part of the episode.
We never got to see him once. He and Gabriela were the ones who set this thing in motion. They should have both been together at the end watching Adrian pay for his sins.
If that guy's Gish, who the hell is this guy?


Halstead
There were so many layers to the character of Adrian. Every time he spoke, it was with a menacing tone. He didn't like to be underestimated. My best guess is that he's been underestimated his whole life. Would anyone actually believe that this scrawny little man has managed to cause so much death? No, us neither.
The scene with Roman and Burgess tailing him was a perfect example of him being underestimated is when he slipped out of the cafe and rigged the car to explode. That could have easily been another two lives lost. The crazed man just had no filter. Nothing was off the table. He did look like he was having second thoughts after speaking to the chick in the hardware store. He clearly set the fire in her school that melted half of her face.
Adrian had so many different identities. I liked how they managed to pull the rug out from under us twice. As we said above, this was one crazy hour for the show.
Elsewhere, Lindsay wanting to keep her and Halstead's relationship on the down low wasn't the nicest thing for Halstead to hear. All he wants to do is contact Voight because of how much he values loyalty. It's a tough call to decide on Voight's reaction, partly because he has a must closer relationship with Lindsay than anyone else. 
He took her under his wing and he won't want to her to get hurt. Down the line, I'm expecting the truth to come out and it will probably cause a rift between Lindsay and Halstead.
So, just because i'm back doesn't meana i'm gonna quit me and you.

Lindsay
Platt, as always, brought us the comedy. It certainly looked like she was in trouble and tricked Burgess into trying to praise her. My jaw hit the floor when it emerged that the guy was actually a journalist and actually wrote Platt in a positive light. Why does she want this recognition if she loves her current job. Could she really be looking for another job? I'm not so sure yet.
"A Little Devil Complex" was a thrilling ending to the big crossover. Let's hope somehow Adrian doesn't return.
Other bits from the episode:
Burgess and Roman got free pizza and soda. Did anyone laugh out loud at him asking for a diet soda for Burgess?
The taunting of Adrian was well deserved. The PD needed him to crack.
The Dawson siblings arguing was another big positive about this episode. They both had drastically different views about how the system works. Gabriela just wanted revenge for her fallen friend.
Why does Robert Knepper always play the bad guy?
Remember you can watch Chicago PD online right here on TV Fanatic. Get caught up now.
What did you think of the episode? How did you feel about Adrian as the killer? How will it affect these characters going forward? Hit the comments below.
Paul Dailly is the Associate Editor for TV Fanatic. Follow him on Twitter.