The online predator is back! And this time he's targeting Kate's niece Meg and her friend Markayla.
Criminal Minds Season 10 Episode 15  began with the story of a meticulous unsub who's been abducting women and savagely beating them as they re-enact a scene from his past.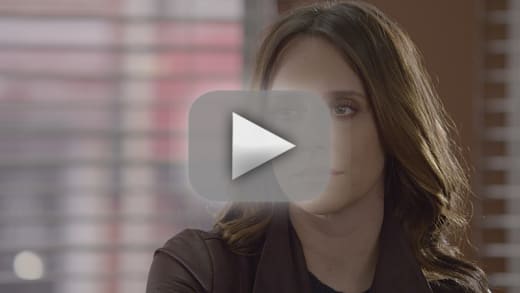 That opening scene was so well done. I'm always on the edge of my seat when there's an obscenely neat anal retentive guy doing things like making his bed so perfectly you could bounce a quarter off it.
Or arranging his cutlery and food perfectly, with everything in his world all neatly arranged in perfect right angles. All to the sounds of opera music.
You just know there's a monster scurrying around in his subconscious somewhere, getting ready to do unspeakable horrors.
It's tempting to call it cliché – except that the music made it ominous and real.
When the perfect man descended the steps, his behavior became even more cruel when he donned the blood-stained apron.
All this before he even said a word to his captive. Now that's creative tension.
It wasn't clear what the monster was going to do when one of the victims finally performed correctly - nor was it clear what it was they were getting wrong. At first I wondered if he expected them to resist him. But when they played the flashback where he saw his mother getting murdered, it was clear she didn't fight back.
As much as I was rooting for his final victim and guessing that, as per usual, the BAU would arrive before she was killed, I was more worried about Meg.
We're coming up against cliché again, what with the child predator posing as a high school senior. It's a story as old as the maxim your mother told you when she said "don't get into cars with strangers, unless they first give you candy".
Still though, it's a cliché based on fact and reality. Just ask Chris Hanson, the guy who escorted so many predators to their chairs to be interviewed about the reason they were trying to set up dates with youngsters.
What a relief when Chris Callahan showed up to watch over the girls. That was some skillful parenting right there – although I couldn't believe they would ever have allowed them to meet boys they'd never even met anyway.
Don't get me wrong – helicopter parenting is not that great, and can lead to more dangerous results as kids tend to rebel against it. But some reasonable precautions, such as meeting the parents (or in this case, the aunt and uncle) before the excursion wouldn't have been unreasonable. What were they thinking?
So now the predator is angry at Chris for running interference. So mad that he bumped his shoulder on his way back to his car.
Too bad. He hasn't met Momma Bear yet. I predict he's going to come face to face with Kate at some point. She'll give him the schooling of his life, and it'll be something he'll never forget. If he's still alive afterwards, that is.
Final thoughts:
How cool to see Greg Grunberg playing the part of Chris Callahan, Kate's husband! He's probably best known for his work on Heroes and Masters of Sex.
JJ can sure mix it up can't she? No mewling scared woman, she traded blows with the unsub as good as she got. As for the bruise on her forehead – she shrugged it off like it was nothing.
What did you think of the case of the week? Do you have a greater appreciation of opera or will such music haunt your nightmares? If you need a refresh on the episode, be sure to watch Criminal Minds online and then let us know your thoughts in the comments below!
Douglas Wolfe was a staff writer for TV Fanatic. He retired in 2016. Follow him on Twitter
.