Forever Season 1 Episode 14 Review: Hitler on the Half-Shell
Paul Dailly at . Updated at .
Is Adam really the big bad wolf we think he is?
Yes, Forever fanatics, Adam made his way back to the big apple on Forever Season 1 Episode 14.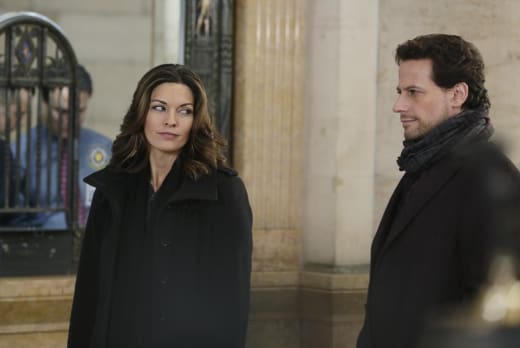 I never expected him to return so soon, given that he has a very busy schedule, so it was a really good surprise. The insight we got into his character was excellent. His flashback was so vivid and it showed us the torment he went through in the 1940s. Could these events have made him the person he is today? It's a strong possibility. His conversations with Henry were also a marvel. Put these two on screen together and you're all but guaranteed to get fireworks.
That doesn't surprise me. I can imagine you'd feel quite at home with the nazis.

Henry
Adam went out of his way and got Abe the book with information about his family. We know this is at the expense of Henry keeping his eyes open for the dagger. My best guess is that the dagger is what made him immortal in the first place, or perhaps it is the only thing that can kill an immortal. Either way, it's an intriguing development and will surely be the driving force as we head towards the conclusion of Forever Season 1.
Take it from me, Henry. There are evils in this world that even you haven't encountered.

Adam
Speaking of Abe, I must comment Judd Hirsch's performance this week. I could feel his emotion as he finally got some information about where he really came from. I don't think I was the only one thinking that Adam was going to turn out to be his father. Now that would have been messed up on so many levels.
Elsewhere, we got some much needed back story about Henry's family. It was such a shock that his father had been taking slaves to work for the family business. I didn't think this was believable at first. Who would believe a drunk person shouting out vile accusations? It wasn't the nicest moment for Henry when his father confirmed it. Henry understandably felt betrayed in the immediate aftermath of this. We also got to see Henry's father taking his last breath, not before giving Henry the watch he carries around with him everywhere he goes. Yes, the watch has been passed through the generations of the Morgan family.
With all the family drama at the forefront of the hour, you'd be forgiven for forgetting that there were murders to solve. The case was a good one. It linked in with the events of the episode perfectly and if we didn't have this case, Adam wouldn't have helped out Abe with the answers he so desperately needed in order to move on with his life. One murder case was solved when we got confirmation that Eric had killed his father.
One thing I didn't quite understand is that Henry didn't have answer for Jo and Hanson about who killed Julian and Lukas had already concluded that the killer had been around for a long time. Wouldn't there be some sort of documents Lukas would also have to fill in? This seems like a storyline that will return to bite Henry in the ass down the line.
Max Brenner is a zombie nazi hunter.

Lukas
"Hitler on the Half-Shelf" was a thrilling episode of Forever. It kept me on the edge of the seat throughout because of the twists in the case and of course, the family drama.
Other bits from the episode:
We finally met one of Detective Hanson's relatives. As I've stated before, this character needs further developed.
Lukas was as hilarious as ever.  His one liners are always a highlight.
Might we get to see what the world was like 2000 years ago in flashbacks with Adam? Now that'd be interesting.
Did anyone laugh out loud at the opening scene with Abe and the woman from the insurance company?
Remember you can watch Forever online right here on TV Fanatic. Get caught up on the thrilling events now.
What did you think of the episode? How did you feel about Adam returning? What is the dagger for? Hit the comments below.
Paul Dailly is the Associate Editor for TV Fanatic. Follow him on Twitter.