Hart of Dixie Season 4 Episode 6 Review: Alabama Boys

Amanda Steinmetz at . Updated at .
Lemon just got hit with a blast from the past that is sure to rock her present to its core. 
Hart of Dixie Season 4 Episode 6 ended on a powerful note by Lemon seeing her long-absent mother talking with Brick. 
This is sure to put the brakes on Lemon's plans to profess her love to Lavon.
As much as it pains me to see Lemon get sidetracked from telling Lavon she loves him, this is a story I've been waiting to get into. Her mother abandoning the family has surely played a much larger role in Lemon's growth than she may even realize. I'm anxious to see what Lemon will say when she comes face to face with Alice.
As hard as it is for me to accept the fact that Meredith Monroe plays Lemon's mother (Meredith Monroe is only 10 years older than Jaime King), I am excited to see where this new arc is going. 
This will definitely affect Brick as well. He probably has things he has always wanted to say to Alice over the years, but never got the chance. 
In less dramatic news, Annabeth finally gave Lemon permission to go after Lavon because she's developing feelings for George. I know fans are divided on the newly ignited Annabeth-George relationship.
I don't appreciate how forced the connection started and the fact that it all feels like a way to pair everyone off in case the show is canceled.
However, I loved their scenes tonight! Their banter was enjoyable and funny to watch.
Annabeth: He's not leading me on. I am completely over Lavon Hayes.
George: Wait, what? You are?
Annabeth: Yes, and you know how I know? Because the second you walked in the door with Tansy, I couldn't stop wanting to murder you!
George: So you do like me?
Annabeth: Yes! You moron!
I'm still not entirely sold on them as a couple, but if the writers continue to write fun scenes for them like the ones in this episode, then I'll be satisfied.
Having Annabeth officially move on from Lavon allows Lemon to end up with him and conclude the love triangle while still maintaining their friendships.
Oh yeah! Some other big news was revealed. Wade and Zoe are having a .....
BOY! 
I loved this development. It figures Zoe would panic at the thought of raising a southern hell raiser like Wade. In a fun twist, it turns out Wade was scared by that thought too.
Seeing Chet play with Magnolia's heart and acting like a self-absorbed douche-bag hit a little too close for comfort for Wade.
Zoe: What's going on?
Wade: Zoe, I am freaking out.
Zoe: About what?
Wade: Well I just met Chet, Magnolia's little boyfriend. This cocky, annoying little bastard thinks he's God's gift to women because he rides bulls at the rodeo.
Zoe: I have a feeling I know where you're going with this.
Wade: Zoe, he's me. He's younger me, and we have to raise one of those.
Zoe and Wade may be panicked about raising their son because they didn't have great parental role models, but they'll work as a team. That's what will count at the end of the day.
Side note: Why would Zoe and Wade assume they were having a girl? By their logic, every baby would be a girl since all mothers are female. End Side Note
Overall, I thought this was a good episode to propel multiple storylines forward.
So over to you guys! What did you think of the episode? Are you happy Wade and Zoe are having a boy? Are Annabeth and George a good match? Will Lemon confront her mother? Sound off below, and don't forget you can catch up on all the small town gossip when you watch Hart of Dixie online via TV Fanatic!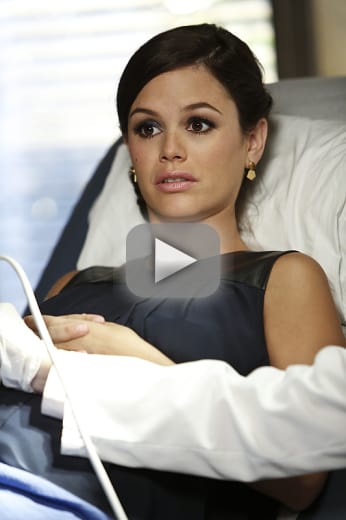 Amanda Steinmetz was a staff writer for TV Fanatic. She went into retirement in June of 2027. Follow her on Twitter.