Helix Season 2 Episode 7 Review: Cross-Pollination

Henry A. Otero at . Updated at .
The writers wasted no time taking us back to 1601 in Helix Season 2 Episode 7.
What a trip seeing Brother Michael looking like one of The Musketeers; evil goatee FTW! It was great getting some of Michael's backstory this week, we needed it badly. It was as unpredictable as anything we've seen on Helix.
In the present, Julia learned about the island and planned to go there. I'm not sure how her two timelines connect, but we'll see soon.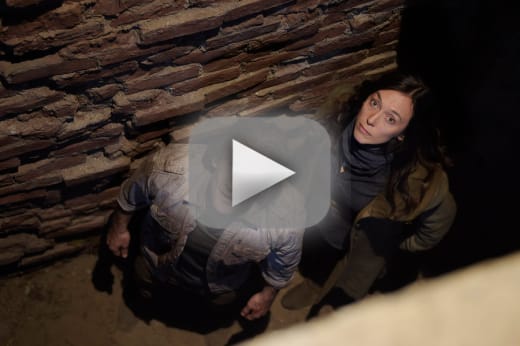 After a couple of flashes of Alan's bloody fingers, he realized something was off. We were left wondering if he operated on Sarah and removed the baby this week. With the ultrasound showing no sign of the immortal bean, it seems Michael's got the fetus.
Anyway, back to 1601 real quick. So Michael swore off love after his peasant girl's betrayal. That's one helluva 400 year old grudge isn't it? Interesting that his endgame is infertility, and it's in the apples. Only Michael would be able to father children, talk about playing God eh? Again another Helix twist I really didn't see coming. His place in the bigger picture is starting to make sense.
Julia: With that technology Ilaria could control the spread of the mortal population.
Ms. Durant: Without resorting to genocide; yes. It would solve their human problem once and for all.
Julia: Where do I find this Michael?
Ms. Durant: On an island, on the far end of the new world.
Julia: Then that's where I need to go.
Back on the island, Sister Anne and Peter bonded in ratville. Anne was still team Michael, despite the fact he easily believed she was behind the infected honey. We know now he sees her as just a sheep. What in the world is wrong with her? Will she be his undoing?
Olivia hid the sick away, and I had been wondering what the heck her plan was? Wouldn't she lose control of eighty-something mycotics? Glad Alan explained the sedative was starting to wear off. As it turns out, those infected will be the only survivors. I'm sure the CDC team will cure them.
Brother Michael's big plan was for everyone to stay put in the dining hall. Well, folks didn't like that too much and he started losing control. Things were getting tense, it was just a matter of time before Michael's peaceful little abbey was turned upside down. Nothing lasts forever right? Still, talk of thinning the following was disturbing and I didn't think we'd see that this week. Boy was I wrong.
The search for Sarah led to an outbuilding under the abbey. That shot of a bloody Sarah lying on a gurney was very American Horror Story. When I saw that her flashbacks also hinted at an abortion, I wondered who the heck Caleb was? I theorized early on he was Sarah and Alan's son. That reminds me, we haven't checked in with the future timeline in a while. Any idea how all this lines up?
I came to this island for a reason and I believe it's buried in this abbey.

Alan
Fascinating the way Michael spoke to his portrait wall of the devastation of orchards, referring to his fellowship. It's all one big experiment to him, yet it appears he cared for each of those women. It's not love, as we learned during Ms. Durant's story, but rather a sort of affection and fondness; like a pet. He's God on that island and his flock are merely sheep, it's crazy stuff.
When Anne described the fellowship's actions as "less than forthcoming," I was glad Peter lashed out at her. She's a nutbar! The two bonded over how awful it is to work with family. Wasn't it hilarious when Amy appeared at the pit how Peter kept begging for a rope? She was basically there to taunt her wackadoo mother/sister. It's all so confusing to me.
Alan and Kyle discovered the gurney and the flashbacks continued. Wasn't it crazy the episode ended and we still had no real answers about Sarah's baby? I'm glad Alan finally told Kyle that Ilaria was responsible for Narvik, it took him long enough damn it. He hasn't exactly figured out what's going on, but he knows this new virus is an alternative to Narvik. The eye thing never fails to freak me out. Good thing Kyle caught that odd movement, and the two realized Alan had been drugged.
The scene with the gramophone was our odd moment of the week, loved the tune though. While Michael did his thing, Kyle snooped around and found some old journals of family trees. That Michael sure had been busy the past four hundred years hadn't he?
Storytime was silly, and I had a feeling they were setting us up for some infected guy to run down the hall. Enter yellow goo dripping psycho dad. How gross was that right?
Alan: Sarah, you okay?
Sarah: Yeah what did you give him?
Alan: Nothing I didn't have a chance to inject him. Rapid fungal overgrowth, must be the final stage of the disease.
Sarah: And only thirty six hours after the memorial. It kills faster than we thought.
Ballsy of Amy to tell Michael "let's cut the bullshit." She called him a freak of nature, not a God and I totally agree with her. I loved her defiance, but it surprised me Michael knew all about the honey and her scheming. How exactly did he know what Amy was up to? Any theories guys?
Wasn't it insane when Michael mentioned one wife bore him twenty two children? As it turns out, Michael and his families (plural) were the original Duggars. "22 Kids and Counting" would have been a huge hit if they had reality TV back in the day haha.
I had forgotten for a second that Kyle was watching these events unfold. I loved that he left Amy locked up in that glass closet, the guy is great! Please let Dr. Sommer survive and return for season 3! He somehow managed to locate Peter and Anne in the pit. Anne quickly realized "it's a thinning," and Michael planned to wipe the slate clean to start over. The thought of that and Michael's entrance in the dining hall with a big smile was vile wasn't it? He's truly a monster, and I can't wait to see who takes him out.
Sarah and Alan somehow stumbled upon an ultrasound machine and we learned the baby was gone... what?!? Alan confessed that he was drugged, but Sarah bitched that he never wanted the baby. That scene didn't make much sense, other than to separate Alan and Sarah.
At the thinning, that poor little boy watched everyone die. Horrifying that Michael gave him a new cup of death; wow.
What did you think of "Cross Pollination"? Did you enjoy the flashback to 1601? Is Michael a monster or what? Will Julia arrive on the island next week? You're up guys, please share your feedback in the comments below.
Don't forget you can watch Helix online via TV Fanatic if you want to re-watch this installment or go back to another one.

NOTE: Helix Season 2 Episode 8 is titled "Vade in Pace" and airs on Friday, March 6.