Peggy just couldn't catch a break in Marvel's Agent Carter Season 1 Episode 6 could she?
Every time she managed to get past one obstacle, another one was looming just around the corner – in some cases literally.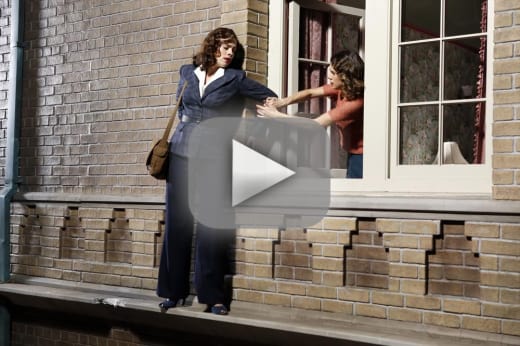 She took out multiple agents inside the diner only to run into Agent Thompson in the alley. She knocked him out only to run into Agent Sousa as he came around the corner pointing a gun at her. How heartbreaking was it to watch that? 
Sousa: Peggy, don't run. If you run I'll know it's true.
Peggy: I'm sorry Daniel.
If only he knew the whole story! 
Sousa's obviously been on Peggy's trail for awhile now so it was only a matter of time before he confirmed it. I was really hoping that Sousa would confront Peggy with what he knew before going to Dooley. Maybe she could have made him understand and he could have been an ally, but I get why he couldn't do it. Sousa is a pretty by-the-book type of guy. 
Peggy's luck dodging obstacles did not get any better when she returned to the Griffith for the vile of Cap's blood. Even with Angie's performance and scaling a windowsill, Peggy's escape is hampered by Dottie who uses her own knock out lipstick against her. Sousa and Thompson saved her life without even realizing it, but now she's trapped inside the SSR. Will she talk or fight her way out of there? 
Speaking of Angie's performance, it was nice to see her have something useful to do. I also like that she trusts Peggy and is willing to help her without needing to know all of the information. Peggy needs all the allies she can get right now. 
I'm not really sure what to make of the Russian doctor's hypnosis ring – it seemed a little convenient. Also, what was the point of him having the new agent go to a bar and get a drink first? Does he really care that much about this guy's last moments before he makes him walk out into traffic? Agent Sousa unknowingly saved more than one life this week, though saving Dooley led to the new guy's death instead. 
Peggy: I need you to get me a list of all the women that Howard has entertained in the last year.
Jarvis: I'm not sure there's enough ink in all of New York to complete that request.
Peggy: Fine, just in the last six months then, is that possible?
Jarvis: Oh yes, I suggest we start with the Western Hemisphere.
Peggy: Oh please.
I hope Stark pays Jarvis extremely well for what he has to put up with for him. It's pretty bad when you have your butler break up with women for you. I bet Barney Stinson wishes he had that. 
It was pretty funny watching Jarvis get slapped by those women. Peggy even tried to help by catching one by the arm, but she just kicked him in the leg instead. He was so awkward talking to that kid while playing look out for Peggy. 
With only two episodes left there's still quite a bit to wrap up. Dottie bolted the Griffith, where is she now? I'm looking forward to a showdown between the two. I'm expecting a killer fight scene. 
What do you think the Russian doctor was after in the lab? Will he end up hypnotizing Dooley into taking him down there or use the map and break in himself? 
We already got a hint last week that Dooley is having doubts about Stark's guilt so I suspect Peggy will be able to convince him of the truth, though from the looks of the promo it won't be easy. I imagine by the finale they'll all be working together to bring down Leviathan. I personally can't wait to see how it all goes down, can you? 
With only two episodes left there's still time to watch Marvel's Agent Carter online and catch up on any missed episodes. In a limited series such as this one, every episode is important. 
Stacy Glanzman is a staff writer for TV Fanatic. Follow her on Twitter.