A young teacher found his life made hell on Stalker Season 1 Episode 15.
We got to see how stalking can happen within a group of teenagers in school and it sure was a horrible experience for all involved.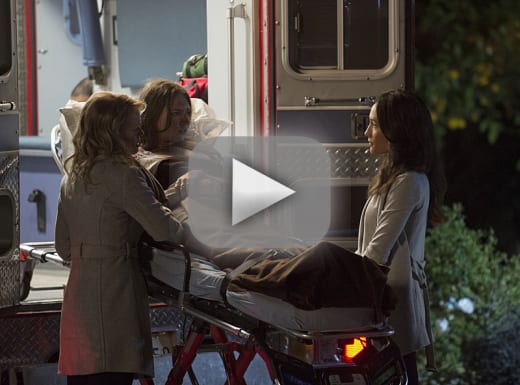 Poor Jenny. Her best friend Alexis was the stalker. I found this development rather obvious, but her motive was certainly refreshing. She was freaking 21 years old passing off as a school girl. Her mother is probably cut up right about now for giving her up because of the torment it opened up for Jenny to go through.
Who would have ever guessed that they would be sisters? It seemed as though their mother realized after the mistakes she made when she had Alexis that she wouldn't make the same mistake again and we got to see a relatively stable life for Jenny, while Alexis has been in different homes pretty much all of her life. The girl hasn't had the best start to her life and her mother was genuinely worried for her at the end of the episode.
I don't see Alexis going over for play dates any time soon with her sister, but they could very well have a relationship when she gets the help she needs.
Coach Baker was very annoying. Sure, his career could have been in jeopardy after his encounters with students, but he was just so rude to Beth and Janice. He obviously didn't understand that they had to do their job in order to get to the root of who was causing the drama.
Some of the scenes seemed as if they were ripped straight from a horror movie. When the coach was about to be crushed under the bleachers, there was no element of surprise, purely because it would upset the formula of the show. It would be nice if the writers changed it up a bit and actually let someone die at the start. I know Kevin Williamson changed the set up of horror movies and i know it would be way more different to change the formula every week on a TV show, but once in a while would really good.
If the woman in the video isn't Jenny, there's a good chance she might be out stalker.

Janice
Elsewhere, there was trouble in paradise for Ray and Perry. Ray didn't like being told what to do and let Perry know by giving him a smack. Perry probably assumed Ray was indebted to him as he was his get out of jail free card from the facility. I'd have much preferred Janice giving him the smack, but we have to settle for Ray.
Ray looked so different with his hair cut. I almost didn't realize he was Eion Bailey from Once Upon A Time. Him finally being in close proximity to Beth was a shock. This seemed like a storyline ripe for a season finale. Going forward, it looks like he and Ray are going to be gunning for Beth's work colleagues and will find a way to make Beth vulnerable. This won't work.
Perry: Where have you been?
Ray: I needed a hair cut.
Beth's relationship with her work colleagues is rock steady at the moment and I don't see that changing any time soon. Everyone she works with now knows her secret, so they won't be quick to put her in any danger.
"Lost and Found" was another solid episode. I can forgive the predictability of Alexis being the stalker, given that her motive is all out crazy.
Other bits from the episode:
Janice and Beth together questioning suspects is hilarious. The two of them have such witty responses.
We never got to see Coach Baker's reaction to the stalker. Now that'd have been intriguing.
The TAU now seem to be going out every night after work which is a definite improvement over the earlier episodes.
Remember you can watch Stalker online right here on TV Fanatic. Get caught up now.
What did you think of the case? Will Ray kill Perry? What's next for Beth? Hit the comments below.
NOTE: Stalker Season 1 Episode 16 will be titled "Salvation" and air on February 11.
Paul Dailly is a staff writer for TV Fanatic. Follow him on Twitter.