The Big Bang Theory Season 8 Episode 16 Review: The Intimacy Acceleration

Ashley Bissette Sumerel at . Updated at .
Could it be true love? On The Big Bang Theory Season 8 Episode 16, that's exactly what the gang hopes to find out.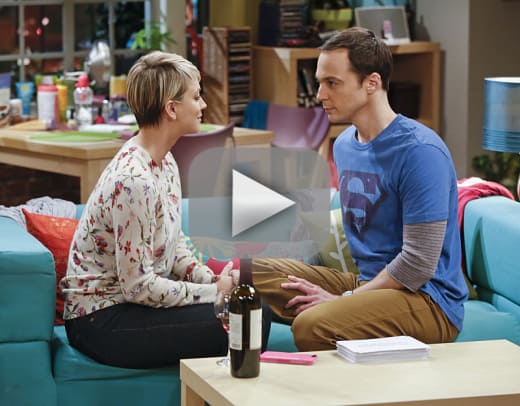 Amy tells her friends about an experiment she read that attempts to make people fall in love within a matter of hours. It seems pretty ridiculous, right?
Amy: I just read about an experiment designed to see if you can make two people fall in love in a matter of hours.
Leonard: That doesn't sound right. My research has shown that it takes three to five years of shameless begging.
Naturally, Sheldon wants to try it out, and Penny thinks it will be fun to go along with it since it will involve learning personal details about Sheldon.
I have to say, many of my favorite moments on this show are the interactions between Penny and Sheldon. Consistently, these two act almost as mentors to one another, and it's been fun to watch their friendship grow. In fact, their relationship feels like the driving force of the show now that Penny and Leonard are settled as a serious couple.
The experiment reveals a few things. First, it's interesting that when asked about their respective perfect days, neither of them includes their significant other. I don't really know what that could mean, since their relationships seem solid otherwise.
Penny also has a hard time taking it seriously:
Sheldon: If you could wake up tomorrow having gained any one quality or ability, what would it be?
Penny: Well, not to steal from the Bible, but turning water into wine sounds pretty good.
Eventually, their conversation becomes one where they learn about each other. Penny reveals she wishes she was smarter like the rest of the group, and Sheldon reveals that he struggles with not being able to fully understand other people. The two of them actually have a sweet moment where they encourage one another.
Penny also learns that it is Sheldon's birthday, something he's not shared with the others. Okay, so the whole thing doesn't make Penny and Sheldon fall in love (obviously) but it does make them feel closer to one another as friends – no, as family.
Meanwhile, Howard and Bernadette have been taking care of funeral arrangements for Howard's late mother. This is handled with a little humor and a little grace, as they spend their entire time at the airport worried about their lost luggage – which, by the way, includes Mrs. Wolowitz's ashes.
The actress who played Howard's mom, Carol Ann Susi, died last year, and it's nice to see that the show is handling in a way that deals with that loss directly.
Howard yells at the lady in baggage claim in his emphatic way, offering some funny, bittersweet moments. Then he tells Bernadette how much he misses his mother and wishes he'd have spent more time with her.
Bernadette then reminds us all how much she really does love Howard (a lot of their comedy is spent on her being annoyed by him) when she threatens the woman behind the counter.
Excuse me. You better find my husband's mother, because one way or another, we're walking out of here with a dead woman!

Bernadette
The only part of "The Intimacy Acceleration" that isn't fantastic is the whole zombie bit. We're supposed to be amused that the gang solves the zombie mystery so quickly (they are geniuses, after all), but it's just kind of silly. Granted, it's nice to see Raj's girlfriend in the mix, but her role here isn't even that important.
Still, it's another fun episode of a show that never disappoints me. Oh, and it ends with a surprise birthday party for Sheldon!
What did you think of "The Intimacy Acceleration?" Be sure to share your thoughts in the comments below!
And remember, you can always watch The Big Bang Theory online right here via TV Fanatic!
Ashley Bissette Sumerel was a staff writer for TV Fanatic. She retired in September 2017. Follow her on Twitter and on Google+.