As only a casual fan of the original series, I was not sure what to expect from the re-booted version. 
I love Matthew Perry and I want him to find a successful post-Friends show, but after watching The Odd Couple Season 1 Episode 1 I don't think this is it. 
Personally, I thought Go On should have been it, but that's a separate matter.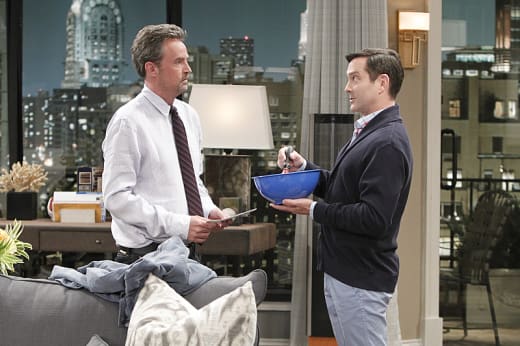 Watching the reboot didn't really feel like watching a more modern version of the classic, but rather felt more like I was watching an out-dated sitcom. By the end of it, I mostly just felt like this new version was simply unnecessary. 
I don't mind multi-camera comedies even though they're no longer the standard, but even I found the laugh track to be extremely annoying and over-used, and those don't usually bother me. 
The pilot sets up the basic plot, which is the same as the original source material, a play by Neil Simon. Uptight, neat-freak Felix Unger is thrown out by his wife and the slovenly Oscar Madison offers to take him in. There is not much information on why his wife has thrown him out; presumably she knew he was uptight when she married him, right? I assume we'll get more information in future episodes. 
Oscar is also divorced and there's an argument to be had on which one of them is more in denial over their situations. Felix calls Oscar out on it, claiming he's never really dealt with his emotions over his wife leaving him. Oscar, on the other hand, argues that Felix believes he's only in a "trial separation" and his wife will ask him to come home. 
Felix's situation is new and raw, so it's understandable that he'd be in denial. With so little detail as to the circumstances of their split, it's hard to say whether or not working it out would be a lost cause from a viewer standpoint. 
I did enjoy the cast. As I said before, I've been a fan of Matthew Perry's since Friends and it's hard to argue that Thomas Lennon isn't perfect for the role of Felix. Yvette Nicole Brown left Community for a smaller and more flexible role, but the limited screen time she had was not nearly enough for me. I've also liked Leslie Bibb ever since Popular and was sad to see she's only listed on IMDB for one episode; maybe they can bring her back later. 
All in all there really wasn't much to the pilot, but I'll continue watching to see if it can find its footing. Sitcoms almost always need time to grow and require a little bit of patience. 
Will you return for more? 
Stacy Glanzman is a staff writer for TV Fanatic. Follow her on Twitter.