Archer Season 6 Episode 9 Review: Pocket Listing

Orrin Konheim at . Updated at .
The "Will They/Won't They" question that used to fuel TV in the old days has given way to a television landscape in which the primary question is "Will They do it in Season 1 or Season 2?" Due to the expectations of shippers (my least favorite demographic on TV) and trigger happy writing rooms, it looks like there's no going back.
That doesn't mean that we should automatically join the bandwagon. Why root for a couple to get together if it's just the standard convention of TV these days? That's like rooting for gravity.
That being said, sexual tension is occasionally done well on TV even if it's increasingly rare. Lana and Archer had it going for a while but the bizarre development of Baby AJ derailed whatever they had until now. Archer Season 6 Episode 9 represents a very welcome return to form for these two.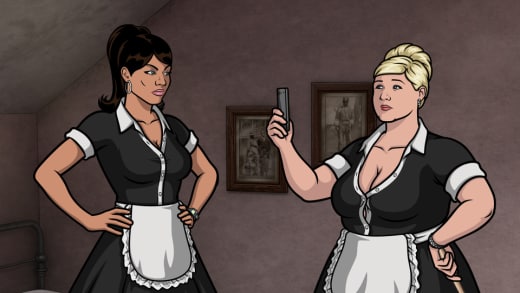 More than Lana and Archer finally getting on with their business at hand, this episode was a true ensemble piece with everyone having a role to play in a weird heist episode of sorts. Of course, this doesn't include Mallory who is appearing less and less in each episode. Is Jessica Walter off on an oceanic cruise somewhere where she can't get to a recording booth?
No matter, because Slater is sort of the new Mallory. In fact, let me go a step further and officially declare Slater part of the gang. Congrats Slater!
Of course, this means that it's only a matter of time before Slater starts to get corrupted to the point where he transitions from frustrated straight man to amusing cutter of corners. This has happened before with Cyril and Pam and it's just a consequence from getting too close to the crazy. The seeds are already in place as Slater showed a bit of ineptness here with the overcomplexity of his plan and his unwillingness to stay to see it through. These flaws in Slater are already starting to get mined for comic potential with his dialogue with the existing gang.
Lana: First of all, your plan was too complicated!
Slater: Maybe for you people.
Archer: It had everything except a sign for free birdseed.
Now add a couple of overarching comic tics and viola! We have ourselves a new Archer character.
What is this big overly complicated plan, you ask? Well, ideally you should have read the episode synopsis I already typed up, but if you didn't read that, the important things to know are: 1) A lot of tranquilizer darts are involved 2) It takes place in Tunt Manner to Cheryl's (and my) delight. Tunt Manor, with its moderately disturbing history and unpredictable animal appearances, is always a welcome setting for wackiness.
Additionally, the action involves a lot of Cheryl this week who shows off her flair for unnecessary accents. If Slater is the new Mallory, it's fair to say that Cheryl is getting quite Archerized lately with her autistic pockets of knowledge and her distractibility.
Slater: Everyone else, these are your dossiers. Read them on the way to Tunt Manor.
Cheryl: Tunt Manor! That's my house!
Slater: I know! (mimicking Cheryl's high voice) And because you know the property, you'll be posing as the listing agent.
Cheryl: Ahhhh! (squealing and clapping)
Mallory: Shut up!
Cheryl: Burn!
She's a very malleable character so there's a lot of leeway on what happens to her from season to season. 
Moreso, this was an episode that gave everyone a little to do. Krieger was involuntarily MIA for most of the episode, but his bathroom fetish recurred at the end of the episode to one of the biggest laughs of the night. The casually abusive Queen was also a great one-off character and is immediately going to make my wish list of future recurring guest stars. This list consists of basically anyone who doesn't die.
What did you guys think of the episode? Is Slater becoming one of the gang? Do you think this was the right time for Archer and Lana to get together?  What do you think the writers will do with Cheryl next? If you could hit anyone in the cast with a tranquilizer dart, who would you go with? Don't forget, you can watch Archer online here at TV Fanatic and tune in next week to Archer Season 6 Episode 10.
Orrin Konheim was a staff writer for TV Fanatic. He retired in October 2020. Follow him on Twitter and his personal blog at Sophomore Critic.