Chasing Life Season 1 Episode 20 Review: No News Is Bad News
Paul Dailly at . Updated at .
Is there any way out?
That's the main question I'm sure we all have on our minds after Chasing Life Season 1 Episode 20, which featured the news we've all been dreading: April's cancer has returned.
Although it was only officially confirmed in the previews for the next episode, April is going to be in a bad way and needs everyone to rally round her.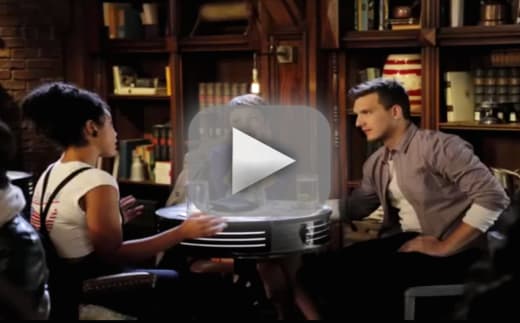 Will Natalie rally round her? I'm sure Natalie will brush it all to the side and rush to her sister. They have had a somewhat tumultuous relationship to date, and I don't see it getting any easier. She really must have been scared to come clean to April about her and Dom.
I don't get what the big issue is. The two of them probably don't see each other as much of sisters because of the way they came together. They probably feel more like distant cousins, but that's not a bad thing. It's purely because they don't have the bond formed from growing up together. One didn't know the other existed.
Jessica Meraz has flourished in her more prominent role this half season. It makes sense that she would stick around. Dom isn't anywhere near as annoying when he's with her. There is a lot of chemistry between them, which is more than can be said about April and Dom.
It's not even that serious, but Dominic and I are seeing each other.

Natalie
As much as it pains me to say this, April has to give up her post at the newspaper. The job is only going to get worse and she can do much better. It just seems like one drama after the other with the place, and the fact that they are only just deciding to focus more on online media makes it clear the paper might not last much longer.
Oh my god, Danny it was one story. Calm down.

April
With the return of the cancer, April should continue to live her life to the fullest and get a job that actually makes her happy. I doubt she wants to be lying on her death bed wishing she had done things differently. She has to live for today, not tomorrow, or next week.
Life is so precious to April and her journey throughout Chasing Life Season 1 has been a real tearjerker. From Italia Ricci's acting, to the solid writing, we have felt every part of her journey through her emotion and I wouldn't have it any other way. This show really is a keeper and it is good knowing that new episodes are already in production.
Is Grenna doomed? It sure seems that way. It was obvious her father wasn't happy with her mom. All you have to do is re watch every scene from the show to date and you can see his unhappiness.
Brenna was making a big mistake asking Sara to let Greer move in to begin with. It might do the two young lovers some good with a bit of distance between them. If they rush into everything then they will get bored before long.
Sara's storyline was a tad pointless this week. It was a given that she would get all excited to go see George and he would be with someone else.
"No News Is Bad News" was another fantastic hour in the life of April and friends. April's journey is about to meet a lot of bumps in the road and I'm just hoping she pulls through and continues to chase life.
Other tidbits from the episode:
Leo and Beth hanging out was everything. They are the most unlikely friends. Beth knows everything he has done to April, so it was nice that she put it all to the side for her friend.
Raquel's new role is really good and it surely means we will get to see a lot more of her going forward, that is if April doesn't quit the job first.
Danny really turned into a snake when the going got tough. Hopefully he leaves, or gives April an even bigger apology.
Will Brenna go through with donating her bone marrow? She jumped into it a little too fast.
What did you think of the episode? Are you on Natalie's or April's side? What will become of Grenna? What is April's prognosis? Chat with me in the comments.
Remember you can watch Chasing Life online, right here on TV Fanatic. Get caught up on the drama now!
Note: Chasing Life Season 1 Episode 21 airs Monday March 23rd at 9/8C on ABC Family.
Paul Dailly is the Associate Editor for TV Fanatic. Follow him on Twitter.