Chicago Fire Round Table: Herrmann's Revenge
Paul Dailly at .
What's next?
That's the main question on our minds after Chicago Fire Season 3 Episode 18. Herrmann went out of his way to get revenge on a man who put his kid in danger, while Brett got ready to end things with Cruz, but he shocked her by dumping her.
TV Fanatics Stacy Glanzman, Mary Kate Venedam and Paul Dailly are joined by TV Fanatic super fan, Ann. They discuss Herrmann's rage, Dawson's mistake and Severide's new love interest. Remember to comment with your take on the questions.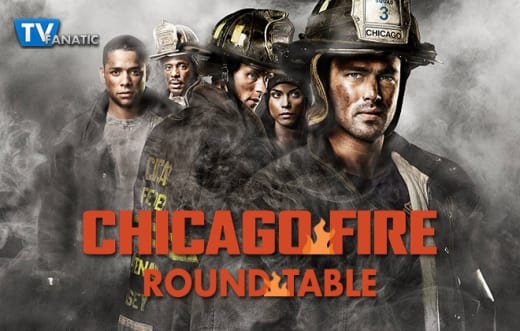 Speak about Herrmann's story this week.
Ann: I am so glad that Herrmann got a story line, even if it was hard on him. He went after the father in a rage, good thing Casey was around and picked up on his emotions. I liked that story, to a point, and that point being that he was going to make that man pay his dues for his son. Maybe they could make it a little happier for him next time. The time he was in church and the Chaplain was talking, I felt sorry for him. He was kinda reliving that day over in his head, he has his wife and children for support.
Stacy: Wow, that was sad. I was really hoping that little boy would make it, especially after everything Hermann went through for him. I was definitely more invested in that story than I was in anything else going on this week.
Mary Kate: It was interesting to see him because of how he approached the story as a father more so than anyone else in 51. The entire story was so sad, but especially to see how hard Herrmann took the little boy's death. I was really hoping he would pull through. Tissue, please.
Paul: I felt so bad for him. It was clear his instincts as a father played a part in why he was out for blood. He is a doting father and to see someone treat their child so bad, it was just sad.  I liked that he got an emotional storyline, but the subject matter just brought home the fact that there are kids living in those conditions.
What are your thoughts on April and Severide this week?
Ann: I like that story line, April and Kelly, I am anxious to see where this goes from here, hopefully they will have a romantic interlude and make some magic things happen, good for Severide, he needs a steady person in his life and I think she could just be that person. Still want think Scott should not be a predominant in this story line with the 'getting this working' for them.
Stacy: I'm not really into this story yet. I think there's potential for it to become interesting, but so far it hasn't reeled me in.
Mary Kate: I liked learning more about their relationship. It will be interesting to see how it progresses depending on if Chicago Med becomes a series or not.
Paul: I found her a lot more interesting than last week, but I don't know if her character will be strong enough to anchor the spin off. The next episode will be make or break for her. I do like that Severide is finally in a happy place and I hope that continues.
Did Cruz dump Brett because he knew she was dumping him?
Ann: WOW, this one was quite a shock, I was under the impression that Brett was dumping Cruz not the other way around. I think he was listening too much to Otis, but, thus we found out that Otis, 'thinks he is in love with Brett'. So he was feeding the ribs and meatloaf story. I think Otis and Brett could be friends, but nothing more. More like Mills with Brett that would be a good hookup. I also think that Brett may be having second thoughts about her relationship with Cruz.
Stacy: That was my first thought when he asked to speak first, but I also think that Otis' words hit home for him. Brett may have come to the realization first, but I think Cruz agrees that they're not meant for each other.
Mary Kate: I bet he had an inkling it was coming, but I don't think he knew she was also about to dump him right then too. Brett seemed like she was keeping her distance which is why Cruz had a feeling they were on the verge of a break up.
Paul: I really do. He can't just dump her after going on about her so much. He suspected this was coming and spared himself the embarrassment.
Should Mills get a job in squad?
Ann: Even though I thought it was kinda wrong of Severide to try to get his friend on the squad, Mills seems to fit with Brett on Ambo 61. I know that Mills really wants this position on Squad 3, I am still holding out for Welch on that squad or maybe on Truck 81. But hey, that's just me.
Stacy: I'm torn. I liked Mills on squad, but I also really like him as a paramedic. If he joins squad, we'd have to get a new paramedic and I kind of think we have enough characters right now, so I think for now he should stay put.
Mary Kate: I like his dynamic with Brett, so, selfishly, I want him to stay a paramedic for that. I still think he rushed into it, so even if he thinks he's fine, rushing back may cause problems.
Paul: I'm undecided. He just seems to think he's entitled to it and that's not the case.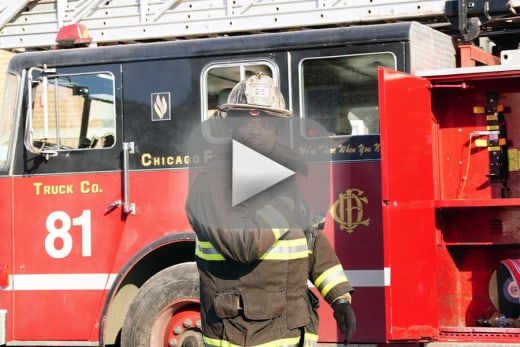 Should Casey have told Boden the truth about Herrmann?
Ann: In my opinion, yes he should have told him, I think Boden knows, but he isn't saying anything about it. He is waiting for Casey to tell him. Let's just say that Boden is a smart cookie. At the end, when Donna brought the baby to the Firehouse, he was also thinking about that little boy, and what his father did to him.
Stacy: No, like he said, they were off duty so Casey was not obligated to report it. What they do on their own time should be their business, not their boss's.
Mary Kate: Like Stacy said, they were off duty and Boden isn't an idiot, he seemed like he knew what happened, he just didn't say anything to protect 51 and Herrmann. I think Boden was also coming at it more so as a new father and understood Herrmann's reasoning for losing it, more than he would've before Baby Boden came along.
Paul: Ethically, he should have, but as a friend, he shouldn't. The incident was over and done with by the end of the hour, so it was all okay.
Remember you can watch Chicago Fire online, right here on TV Fanatic. Get caught up on the drama now!
Note: Chicago Fire Season 3 Episode 19 airs Tuesday April 7th at 10/9C on NBC.
Paul Dailly is the Associate Editor for TV Fanatic. Follow him on Twitter.