Cristela Season 1 Episode 16 Review: Confirmation
Whitney Evans at . Updated at .
Family versus Work. What do you choose?
The answer seems fairly obvious, but when your boss is Trent Culpepper, the decision may be a little harder than you think. Cristela is faced with a difficult decision on Cristela Season 1 Episode 16, as she has to decide between attending Henry's Confirmation or helping Trent out of an uncomfortable situation.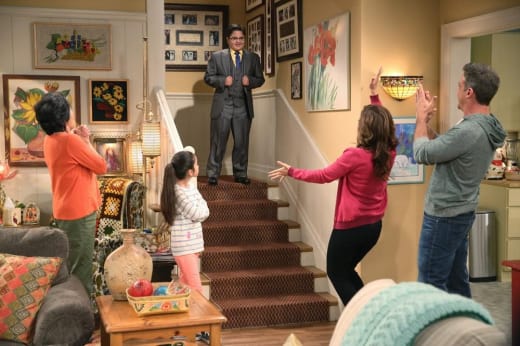 It was Henry's Confirmation this week and he asked Cristela to be his sponsor. It was a sweet moment for aunt and nephew and Cristela was genuinely excited about it, even though she wasn't exactly sure what she would be doing. 
Natalia had some great one liners once again and every little dig she took at Cristela for not exactly being the most religious person was funny. Although, Henry may get the line of the night, as he was trying on his Confirmation suit. 
But this suit is so itchy! How does Ellen DeGeneres do it?

Henry
While Cristela was excited about the Confirmation, she was also in charge of planning the walk-a-thon at work. When she found out the Confirmation and the walk-a-thon would be on the same day, she figured she would find a way to make it to both. Unfortunately, that was looking nearly impossible once Trent found himself in hot water. 
Trent makes off-color jokes all the time, but he happened to make one to Cristela that was inadvertently caught on tape by Maddie. This lead to Trent being called a racist and him begging Cristela to help him do damage control at a press conference. 
Now is it really Cristela's problem that you're being labeled a racist, Trent? No. So, I didn't like how rude he was being about her choosing a big family event over Trent's problem. Confirmation is a big deal and it would have been nice if Trent was a bit more understanding, but then again, I guess that wouldn't exactly be keeping with his character.
It was nice that Trent and Maddie got a brief chance to really act like father and daughter, with Maddie calling him out for being an absentee father. I've never been the biggest Trent fan, but he does have his moments. And, I think this may have been one of the first times I actually felt the connection between the two of them. 
In the end, Cristela ditched the walk-a-thon and meet the family at the church and in a very sweet moment, Henry revealed his Confirmation name was going to be Chris. 
Cristela: You picked a name after me? Even though I almost didn't make it here?
Henry: Yeah, because you always look out for me. And I know it sounds corny, but I feel safe when you're around. It's part of the speech I'm gonna give.
Awe! I was right there with the audience! You just can't help but love this family. 
What did you guys think about "Confirmation"? Did Cristela make the right choice? Was Trent being unfair to Cristela? Once again, where has Alberto been hiding?
Make sure to leave a comment and watch Cristela online via TV Fanatic now!
NOTE: Cristela Season 1 Episode 17 titled "Fifteen-Something" will air March 20th!
Whitney Evans is a staff writer for TV Fanatic. Follow her on Twitter.