Person of Interest Season 4 Episode 18 Review: Skip

Sean McKenna at . Updated at .
Ever since the intense battle with the Samaritan agents and the fall of Shaw in Person of Interest Season 4 Episode 11, the series has pulled back a bit on the larger story and refocused on cases of the week.
There have been bits and pieces connected to fighting Samaritan and the POI team's war with the "evil" machine throughout, but its been far more centered on Reese and someone teaming up with him to save the day.
Person of Interest Season 4 Episode 18 continued that trend.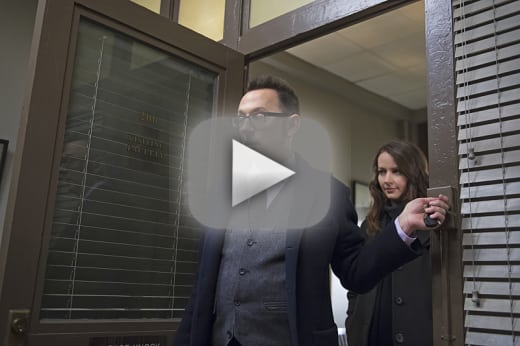 Reese's team-up this time involved a very sexy and capable bounty hunter who showed off her own combat skills in expert fashion. But that was after she did a number on his face and stole his badge.
I liked Frankie's addition to the series, and her rapport with Reese was rather fun as well as her one-liners, flirtation and badass moves.
Was that also the first time we've seen Reese fight bad guys while handcuffed to someone else fighting bad guys?
I'm sure Reese was as surprised as I when she went in for a kiss… and then left him handcuffed by himself.
Reese was definitely surprised that Harper (who appeared in Person of Interest Season 4 Episode 16) was back and causing some new problems for him. Wasn't it interesting that she's been getting texts from the Machine? I didn't see that one coming.
There were, of course, the twists and turns revealing that Frankie was really after her target for revenge, a standoff that required everyone to make a deal, and Harper pulling one extra fast one at the end. But it wasn't as exciting as perhaps some other cases we've seen the POI team take on.
However, after Reese dealt with his case, he did get to enjoy a little romance with Iris.
The red-haired therapist was quick to end their sessions, but only because she had feelings for him. Good thing both of them talked it out at the end and solidified their new secret with a kiss.
Let's just hope that his new affections won't end up putting Iris in the crossfire of the Samaritan war. It'd be nice to see Reese get a little happiness.
Interestingly enough, Finch was continuing what he started in Hong Kong, planning to input a Trojan into Samaritan with the help of his new friend.
Except, Root had other plans because she was worried his plan would get him killed.
It's fantastic to see a character that has so adamantly followed the Machine's orders to then disobey and try to protect her friend. She already lost Shaw, and she didn't want to lose anymore.
At the same time, Finch was willing to risk it all to protect his friends after losing Shaw. (Though, while I believed in Finch's convictions, I never really thought he would actually die.)
So who believes that Root destroyed Finch's activation device? Maybe she will wind up doing something to it so it can be used without detecting Finch?
"Skip" did have some good moments per usual for Person of Interest, but I'm definitely ready to head back into that Samaritan battle and see the POI team work to take down that artificial intelligence. It's time.
Did Root really destroy Finch's device? What do you think of Reese and Iris? Make sure you're ready for the POI team's next adventure when the show returns April 7 and watch Person of Interest online now.
Sean McKenna was a TV Fanatic Staff Writer. He retired in May of 2017. Follow him on Twitter.