Some families have more than one bad seed, don't they?
While we've already seen Leonard Snart in his guise as villainous Captain Cold, on The Flash Season 1 Episode 16, we'll meet Snart's younger sister, Lisa, who happens to be on the same bad path as her brother.
But is Lisa Snart (who comic books fans know as Rogue member, Golden Glider) as evil as she appears? And how is she going to use her feminine wiles with some of the men on The Flash? And does she have her own agenda outside of her brother's plan to bring down The Flash?
To find out the answers to those questions and more, we talked with Peyton List, last seen on The CW as one of The Tomorrow People. Does she view Lisa Snart as a villain through and through? Let's find out...
TV Fanatic: I know the show sometimes sticks to the comic book origins but other times veers away a little. Would you call Lisa Snart an all-out villain?
Peyton List: It's hard to say. She's someone that I don't think is completely, totally all the way at the end of the spectrum like baddie-baddie. I think her moral compass is really herself and her brother. I think whatever makes her happy and her brother happy, that's what she decides to do and that's how she makes decisions.
I wouldn't say she's completely not compassionate but she's thinking of her immediate world first. I think she does like breaking the rules. I don't think she's an evil villain but I think she gets joy out of being bad, breaking some rules and getting away with things. I think there's something fun in playing that kind of character where that's where she gets her kicks.
She can be slightly sadistic, she does have that side to her. As I've watched the show, some of the villains are really, really bad and I don't know that I would put her that far. She's definitely having a good time being bad. Sometimes you see villains and you're like 'why are they doing that? They are just evil.' But I think you can see her motives more.
TVF: Is she just following her brother's lead? Or does she have her own agenda as to why she's in town and helping her brother.
PL: She's following her brother in most things but that doesn't mean she won't do what she wants to do sometimes or rebel within the ranks. As far as I know right now, she doesn't have a terrible problem with her brother being a leader and her following what his plans are. He's the planner and I think she's the one who goes off sometimes and improvs. I think she's okay with that dynamic and, if anything, she's spending a lot of energy trying to prove that she can keep up with him and that she needs to stick around and she's valuable.
TVF: I noticed from the photos released for the episode, you're wearing some sleek, leathery outfits and you also seem to have both blonde and dark hair. Can you talk about Lisa's look?
PL: [laughs ]  Oh yeah! Very cool, very kick ass outfits. The hair was funny because as soon as I got the role, I remember I was doing the research and everything I came across…she is really blonde! It's not like half the comics are one thing. It's every single one! I just thought 'they have a plan, I'm sure' and I was going to go in and see what they say. And, sure enough, they said 'We're going to do some of it blonde and some brunette' and there was a wig and that was so much fun.
I think it was such a fun thing because for some reason I haven't shot with a lot of wigs before and it's kind of a costume and it changes you and makes you feel a little bit differently. It did really help me with the character for the scenes I did have the wig on because it gave me an extra something that I didn't know I was looking for with the character so I went with it. I liked it.
TVF: Does Lisa use her sexuality to get what she wants in the episode? Do we see some of that?
PL: Absolutely! She definitely knows how to talk to men to get what she wants and to use her sexuality in that way and I think for her it's whatever works. 'If my normal way of going about this doesn't work, let me try this angle.' She's open to whatever she has to her disposal and her sexuality is one of them. And her brother is just like 'do whatever you need to to get the job done.'
And I think in that, a little bit, she enjoys the fact that that gives her power. In a way she has the upper hand in that moment and that's a way she feels strong. We definitely see her utilize it coming up. And I think it makes her feel pretty good, honestly!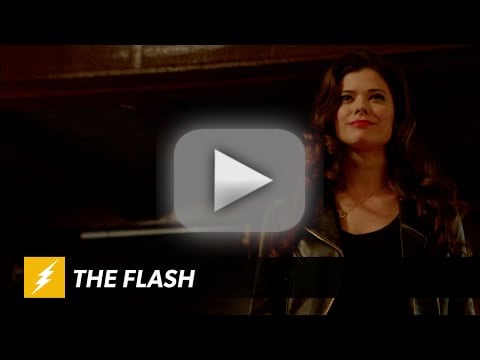 TVF: I know in the comics, Lisa, as Golden Glider, is a skater and she's very fast. Does that come into play on The Flash?
PL: I can't speak to the future but the ice skating thing is not something that we've tackled. I'm not sure how you shoot that on a TV show. The skating thing is a little complicated so we haven't touched on that yet but that' snot to say that we won't but I don't know. She has not starting gliding yet.
TVF: You did your share of action and stunts on The Tomorrow People but did you get to do some of that on The Flash and were you challenged differently if you did?
PL: Yes. It was very different. In The Tomorrow People, pretty much everything we did was hand-to-hand combat. We never had guns or anything like that so this was different and it changes how fights go. Luckily, on The Tomorrow People we did a lot where we were being shot at so I am very familiar with that. On this it was very different because [Lisa's] brother and Heat Wave, they have weapons of their own and that changes how fights are. It was fun to be back in the action but also not doing some kind of crazy close up hand-to-hand combat things.
TVF: Is it safe to say the Greg Berlanti connection with both shows helped you get this role? Or maybe Robbie [Amell, List's co-star on The Tomorrow People] put in a good word for you since he's been on The Flash.
PL: I have no idea, actually. I literally got a call from my agent that said 'Do you want to go do Flash?' And I was like 'Yes! When?' I actually have no idea how it came about it but whoever it was, I am super grateful. But it's been a blast and it's been such a treat. Everything I was craving and missing from The Tomorrow People I'm finding at The Flash with being back in the action and the larger than life world. It's been so much fun! 
The Flash Season 1 airs Tuesdays at 8/7c on The CW.
Jim Halterman is the West Coast Editor of TV Fanatic and the owner of JimHalterman.com. Follow him on Twitter.