Secrets and Lies Season 1 Episode 5 Review: The Jacket
Paul Dailly at .
Ben Crawford's life just gets more messed up by the day, doesn't it?
On Secrets and Lies Season 1 Episode 5, Ben went after another group of neighbors who looked shady. It's becoming like a procedural, he's going after new neighbors every week, but I'm loving every minute of it.
The beauty of a show like Secrets and Lies is that we have a 10 part season and we know the storyline will be resolved by the finale. Not a big commitment. The show could return for further seasons with a new case. Considering the ratings have stayed steady through the first 4 episodes, there is a really good chance at that.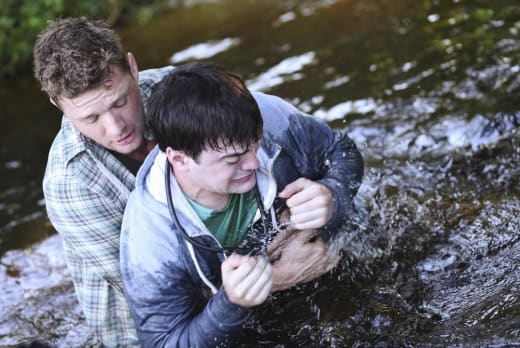 I'm really starting to question if Ben could have killed Tom. Sure, there have been a lot of red herrings, but when Christy's car got conveniently vandalized after Ben thought she was cheating, that was a big red flag for me. I had called it. That was until Cooper showed up and admitted to the vandalism.
It doesn't appear that Christy is cheating, but she sure makes an easy suspect. All these client dinners and meetings would be enough to make anyone jealous. Whenever Ben tried to get answers, she could never find the time for him. There was never a good time. So Ben showed up at her work place.
I honestly thought he was going to witness her going at it with a client, but she brushed away all of my doubts when she broke down to him. This was a huge turning point for her character and it was the first time she has really shown emotion. KaDee Strickland really brought her A game this week.
After this startling meeting with his wife, Ben got set to head home, but he looks set to be in a whole host of danger. He really should've listened to Cornell when she said that was to watch his back. Based on the scene with the flashlights (which was creepy as hell!), someone close to Ben is the killer.
Although Abby has done some questionable things and her character is just annoying, I don't think she killed him. There's a good chance Natalie could have. We're finding out new stuff about her every week and she is never happy.
One thing that stood out to me was Jess shouting at Natalie. Could Jess be the one tormenting Ben? Possibly. She could have been ready to do something else in the house and when Natalie walked in, that's when she could have started the argument, to conceal her true intentions.
Dave also knows about the flashlight, but we won't go there because if he is the killer, then they've given us too many hints.
So many questions, yet so little answers.
"The Jacket" was another solid episode of the ABC drama. It's moving along at a brisk enough pace to keep us intrigued every week and I wouldn't have it any other way.
Other tidbits from the episode:
That sex scene at the start of the episode was so random, but perfectly placed. It really made the viewers, aswell as Ben think Christy was cheating.
Tyler seemed like he was going to be evil, but I was wrong. The show isn't too predictable.
Whatever happened to parents sticking together? All the parents in town are against the Crawford family. People they've known for years have just dropped them.
Remember you can watch Secrets and Lies online, right here on TV Fanatic. Get caught up on the mysteries now.
What did you think of the episode? Any guesses for who the killer is? What's next? Hit the comments with your observations.
Note: Secrets and Lies Season 1 Episode 6 airs Sunday March 29th at 9/8C on ABC.
Paul Dailly is the Associate Editor for TV Fanatic. Follow him on Twitter.