Trouble is on the way... but so is a new member of the family!
On Bones Season 10 Episode 15, Brennan and Booth get news that they are having another baby, just as Booth finds himself falling back into bad habits.
Join TV Fanatics Christine Orlando, Mary Kate Venedam, and Ashley Bissette Sumerel, along with Bridget Liszewski from The TV Junkies for a discussion of "The Eye in the Sky."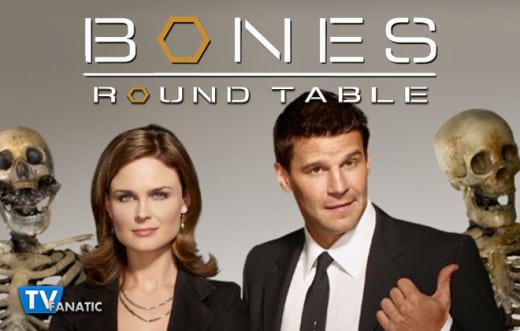 1. Booth and Brennan are having another baby! What's your reaction to the news?
Bridget: I have to admit I'm a little under-whelmed by the news just because the news about Emily's real-life pregnancy has been out for so long now. So we all knew this was coming and it was just a matter of when they'd finally let her stop wearing those ill-fitting blazers and announce the pregnancy for her character as well. That being said, I am happy Booth and Brennan are adding to their family.
Christine: Yay! I love babies. Christine will make the most adorable big sister. Brennan's pregnancy should inject some fun and drama and like Bridget, I'm glad that they'll stop dressing Brennan in poorly fitted crime scene overalls and huge jackets.
Mary Kate: It's about time! Knowing the news has been out there for so long, I felt the episode took forever to air. It will be interesting to see how Booth and Brennan navigate this pregnancy, since it is a completely new situation compared to when Brennan was pregnant with Christine. It also doesn't help that Booth has relapsed with his gambling.
Ashley: Hooray! I'm very excited, and I think it means great possibilities for Booth and Brennan.
2. Why was Booth so insistent on joining the poker game?
Bridget: I think he probably did want to prove something. Not just to the team but most of all to himself, that he really could walk into that game and come out on the other hand and be OK. Unfortunately, he was wrong and we're not used to seeing Seeley Booth let us down like that.
Christine: Because he's an addict and whether consciously or unconsciously, he was craving a fix. He partly probably wanted to prove to himself and everyone else that he could handle it. He was wrong.
Mary Kate: I think for the same reasons Aubrey read about in Sweets' notes. It was primarily an emotional reaction to everything that has happened in his life recently and he also always has something to prove. This time, the gambling got the better of him unfortunately.
Ashley: I agree it is partly because he is an addict and felt compelled because of that, as well as the fact that he felt he had something to prove. It's a stubbornness is his character that also makes him complex.
3. From the looks of things in the final scene, Booth is falling back into his bad habits. How do you expect his gambling problem to affect his relationship with Brennan?
Bridget: It's obviously going to cause a strain on their marriage. She trusts him completely so of course she's going to take him at his word that he's done with it all. She's going to be supremely hurt when she finds out that he's lying and once you've lost that trust in a relationship it's very hard to come back from that. That being said, I think knowing that they are the core and heart and soul of the show they WILL get past this and hopefully come out all the stronger because of it.
Christine: This is going to be a dark road for a while. I really hope that Brennan figures out that Booth needs help before he drains their bank account because as much as he loves his family, he'll love gambling more once he falls down the rabbit hole.
Mary Kate: It affected his life the second he played that first hand. He returned home very late, blatantly lied to Brennan and Aubrey. This could be bad news. Hopefully someone can help him realize that he is going to hurt those around him if he doesn't seek help.
Ashley: I'm worried about them. Like Christine says, I hope it's handled before they lose everything, because I could definitely see it going there.
4. What did you think of Hodgins' story line this week, and would you buy a mat that keeps glass from breaking?
Bridget: I think I could totally use one of those at my next girls' night when the wine starts flowing! No I was glad to see Hodgins get the B story and not focus on the squintern of the week. That was one of my complains from last week with Wendell and the clock story so I was glad to see the actual team at the Jeffersonian get some more screen time.
Christine: I want one. My kitchen has an old tile floor and anything that hits it shatters! I love Hodgins. He's brilliant and fun and I'd like to see he and Angela have some financial success.
Mary Kate: In his profession, it would probably be helpful. I don't think I would need one just around the house to avoid breaking stuff, but in a science lab, sure, it could avoid spending money in the future. Go Hodgins!
Ashley: I need one for girls' night too! Or, just for my kitchen in general – I'm very clumsy, and we've seen a lot of glass dishes bite the dust. Seriously, though, I love that we got to focus on Hodgins a bit, particularly since we got to see a fun side of him.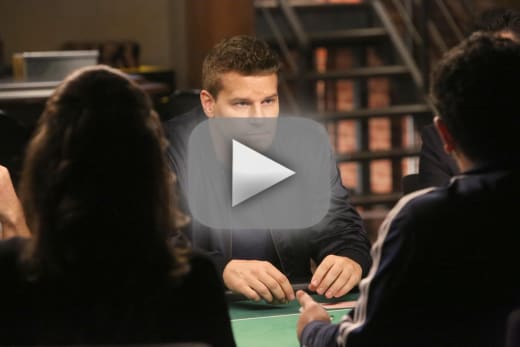 5. What was your favorite quote or scene from "The Eye in the Sky"?
Bridget: I loved the scene where Booth and Brennan found out that she was pregnant. There were too many great moments in that scene to pick just one. From Booth tumbling over the bed, to Brennan's joy that she can keep eating cookies, Booth already talking to the belly and then quickly going into overprotective mode. It was all just too cute.
Christine: I loved Aubrey trying to convince Booth not to play in the poker game. Aubrey really cares about him and he understands how much Booth has been through over this past year. Hopefully he'll be there to help Booth pick up the pieces if things get really bad.
Mary Kate: I liked when Booth showed up at the crime scene. He was so pleasant to everyone after he found out that Brennan was pregnant. I especially loved how nice he was to Hodgins because even he knew that Booth was acting odd. It was a nice side of Booth.
Ashley: There were a lot of great moments, but I think my favorite was the baby news. They were both so excited!
We're having a baby! I can keep eating peanut butter cookies!

Brennan
What did you think of this episode of Bones? Don't forget to share your answers to our questions in the comments below!
If you need to catch up on past episodes, remember that you can always watch Bones online right here via TV fanatic.
Ashley Bissette Sumerel was a staff writer for TV Fanatic. She retired in September 2017. Follow her on Twitter and on Google+.