As a vehicle to introduce an international new BAU team, particularly as a tease for a possible spinoff Criminal Minds show, this episode simply excelled.
The fact that they were written to be agents who were quite familiar with Hotch's team was brilliant as well, particularly as it allowed us to get a feel for the chemistry between the two teams.
This wasn't just a new group from out of the blue – this was a team that our favorite agents already knew. They asked questions about each other's families, commiserated on the trials of raising young children, and in one instance offered to help in an interesting case involving one agent's brother.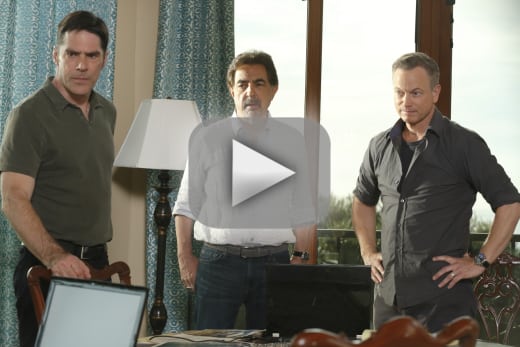 Criminal Minds Season 10 Episode 19 used the case of the week to bring them together: an unsub has abducted and killed two families, one in Aruba and the other in Florida. Since neither the domestic or international BAU teams could catch him,  Section Chief Cruz decided to bring both teams together before he killed his latest victims – a family that had been abducted in Barbados.
That decision was logical and it made sense. Therefore it was believable.
My only complaint is that there weren't enough minutes in the show to do each of the characters any real justice. We learned a little about each of them, but not enough to get a real handle on any of them.
As we learned from TV Fanatic Jim Halterman's intriguing interview with Criminal Minds showrunner Erica Messer, the team is comprised of only four agents for now:
Jack Garrett (played by Gary Sinise) is the Beyond Borders team director
Lily Lambert (Anna Gunn) is their global law expert
Matthew Simmons (Daniel Henney) is the Special Ops agent
Russ "Monty" Montgomery (Tyler James Williams) is their IT specialist and domestic victim liaison
It was fun to watch the interactions of Monty and Garcia, mostly because Garcia always wears her heart on her sleeve. I never realized how much she treasures her little office until we saw her discomfort at the thought of leaving it in order to talk with the grandparents of the Sullivan children.
We knew she was always impacted by the plight of the victims involved in the cases the team investigates, but at least she had her little oasis of calm to which she could escape. Having to accompany Monty to interview the grandparents meant that her overwhelming empathy would be tapped, and she'd have to suffer right along with them, particularly if things didn't go well.
I also liked her learning moment:
Garcia: You just said that Greg being a fighter is a good thing, and we both know that that is not true. The unsub is going to see it as a sort of alpha male challenge which is not good at all.
Monty: I know. But right now they need to feel hopeful.
Garcia: Okay. I hadn't thought of that.
Monty clearly has been around the block a few times.
As for the unsub: that entire first scene had my alarm bells going off.
As soon as the dark van pulled up, you had the sense that – despite Collen Sullivan's suggestion – it would have better for them to split up and take two cabs to their place. Then, when the unsub offered them free bottles of water, my first thought was, "Yeah, that stuff's laced with something. Don't drink it."
So in a sense the scene was anticlimactic. We all knew the family's goose was cooked.
The other aspect of that family that reduced the tension was the fact that they were fighters. It's been frustrating to watch the totally helpless victims we've seen on the show over the years – people who not only can't help themselves, but have lost all hope to even try.
This was not a family of quitters, as they gave each other silent signals, and then helped each other with their escape attempts.
It seemed much more realistic too that neither of the BAU teams made any real attempt to talk the unsub down. As soon as JJ told Alison to look at her, we knew she had a plan to get the girl to get out of the way so that someone could shoot the unsub.
Final notes:
This was a stellar cast, many of whom we've seen before. The unsub Jerry Tidwell was played by Darl Ingolfsson – who now seems to be typecast as a bad guy. You may recall that he played the chilling character of Oliver Saxon on the series Dexter.
Anna Gunn (who played Agent Lily Lambert) probably needs no introduction: she was the famous Skyler White on Breaking Bad.
The same goes for Gary Sinise (Agent Jack Garrett), who was best known for his role as Lieutenant Dan on Forrest Gump. Or more recently as Mac Taylor on CSI: NY.
If you're wondering where you saw Bonnie Somerville (who played Colleen Sullivan) before, she was best known as Ross' girlfriend Mona on season 8 of Friends.
Even Tom Everett Scott (who played Colleen's husband Greg) is a well known actor. You may have seen him as Detective Russell Clarke on Southland, or as Sam Landon on Beauty and the Beast.
The producers clearly went all out with this episode. After noticing Bonnie Somerville and Tom Everett Scott, I was really hoping the unsub didn't kill them off early.
I'm looking forward to the spinoff pilot, because it looks as though they've got a good team ready to go. Are you? What did you think of this episode? Let us know in the comments – and don't forget, you can always catch up or see the episode again when you watch Criminal Minds online.
Douglas Wolfe was a staff writer for TV Fanatic. He retired in 2016. Follow him on Twitter
.