CSI Cyber Season 1 Episode 9 Review: L0M1S

Amanda Wolf at . Updated at .
When the WiFi goes down on nine planes at the same time around the country, the CSI: Cyber team is faced with a highly dangerous orchestrated attack. 
There had to be someone else orchestrating this attack on CSI: Cyber Season 1 Episode 9 when a clueless 16-year-old girl was arrested as one of the nine suspects on suspicion of hijacking a flight. Or was it? 
This turned out to be one wild ride of an hour, with one unexpected turn after another.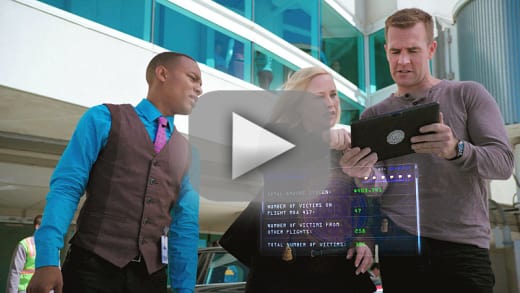 Early on Krumitz came to the realization that a man named Lomus was responsible for hacking the planes. We already met the hacker from Avery's past named Tobin, but this was the first we heard of Lomus.
I was instantly intrigued as to who this new nemesis would be. 
Mr. Hart in my line of work just a kid doesn't mean anything.

Avery
According to Nelson, Lomus lives up to his name and is a bow tie wearing, handsome and talented hacker who is considered the best in the world. Of course, this turned out to be the farthest thing from the truth as we found out the real hacker was the 16-year-old girl Willa.
When we first met her, I thought it would be way to obvious to be Lomus, but it turned out to be an interesting storyline. As Avery said, everything about Willa was unexpected, and that is undoubtedly how she was able to stay hidden from the team for so long. 
Krumitz: Why did you do it?
Lomus: Because I wanted to. I was bored. I did it because I could.
Lomus introduced us to ransomware, which is a technology that can hack and lock your phone until you give up whatever is demanded. 
I was surprised that there turned out to be no connection between the girl Rachel, who received threats about her soon to be husband, and whatever the senator was afraid might be released about him.
Unfortunately, Krumitz' victory against Lomus was not pure and left a sour taste in his mouth. Avery really laid in to him and everything he said about how much he loved his job meant nothing after he broke the law to solve the case. 
Watching you love your job, made me love my job. It made me never want to let you down. I didn't know what else to do.

Krumitz
As the episode was nearing the end, I actually thought there was no way the team was going to catch Lomus, and that this was going to be a longer story arc.
There still might be a chance of this being a longer story, since Lomus walked away on the grounds of murky laws regarding teenage cyber criminals. 
Simon got an earful from the recently promoted deputy director. This seemed like some classic bureaucracy. He clearly made the right decision by grounding those planes. A total of nine planes loosing WiFi simultaneously with strong evidence to show it was not a coincidence is one terrifying and potentially catastrophic situation. 
I was glad to see the two go out for drinks at the end of the hour and express their respect for each other. 
Overall, it was a high octane and decent hour of CSI: Cyber. The credit card hacking, ransomware and plane WiFi hacking were all terrifying predicaments to be in.
The idea that teenagers are being born into an era where they are digital and computer natives is providing an interesting environment that very well could expose a lot of kids to cyber crime. Maybe there are some Willa's out there in the world. 
What did you think of the case this week? Was there any part of the story that didn't work for you? What did you think of Willa being the hacker? Why doesn't Avery use earphones when she video chats the team? 
If you haven't seen it yet, remember you can watch CSI: Cyber online via TV Fanatic!