Mad Men Season 7 Episode 8 Review: Severance

Carissa Pavlica at . Updated at .
If ever you doubted that money would buy you happiness, the current state of the partners at SC&P proves the saying is as good as the paper it would be printed on.
It's not a surprise that Peggy Lee is singing "Is That All There Is" at the open and close of Mad Men Season 7 Episode 8, as Don is, once again, alone and womanizing to pass the time with Roger Sterling as his wing man. Joan is still not taken seriously and seen for little less than her figure, even mistaken for a former shop girl when she decides to spend some of her cash.
The only people who come close to finding bits of happiness during the hour, Peggy and Ken, look on at those who fell into the impending millions with disdain. They continue to complain and it can drive someone without that future a little mad.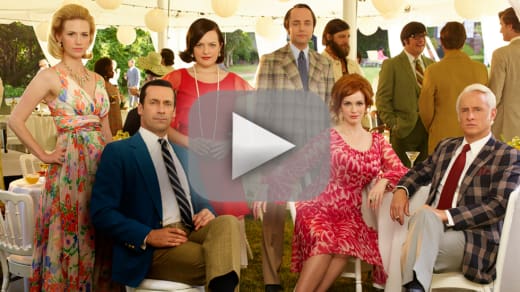 Our first hint of the ruffled feathers came when Joan and Peggy were in the elevator after the scene with the McCann men. They acted like jerks, but Peggy ignored them, failed to acknowledge their adolescent behavior and plowed on through. Her determination has always been commendable.
Peggy: Should we have lunch?
Joan: I want to burn this place down.
Peggy: I know. They were awful. But at least we got a yes. Would you have rather had a friendly no?
Joan: I don't expect you to understand.
Peggy: Joan. You've never experienced that before?
Joan: Have you, Peggy?
Peggy: I don't know. You can't have it both ways. You can't dress the way you do and expect...
Joan: How do I dress?
Peggy: Look, they didn't take me seriously, either.
Joan: I don't dress like you because I don't look like you and that's very true.
Peggy: You know what? You're filthy rich. You don't have to do anything you don't want to!
It's worth mentioning it's been a solid nine months since the Mad Men Season 7 Episode 7 so that gave our crew some time to adjust to the excitement of the merger and come to grips with the five years they've signed off on. It might have seemed like they would be doing what they loved strictly for the love of it, but the shine seems to have worn off. 
Where was the magic that was going to come with that monumental decision? It's not there. Don's not only sleeping with more women than ever before, but even the indiscriminate hooker here and there. As it turned out, Diana the friendly coffee shop prostitute, was probably the best of the bunch. She'll also probably be back.
While he's definitely partying and whoring it up, Don's still introspective and not a drunk, so he's stuck to his guns, somewhat. His dreamy visit from old pal Rachel Katz, who told him he missed his flight, seems to indicate he missed a lot more than that, especially after her sister shared with him when he went to pay his respects that Rachel had been living the life she always wanted to live. That's definitely a flight Don missed.
While Don was busy soul searching, his dear friend Peggy was doing the same. She almost let a blind date slip by and it turned out to be one of the best she ever had. Devon Gummersall made an appearance as Stevie, someone who surprised Peggy in all the right ways.
While another man could have been put off by Peggy and her confident, somewhat snarky demeanor, Stevie was challenged and appeared to be a genuine match for her in the short time we saw them together. 
Stevie: Johnny said you were the kinda girl who doesn't put up with things.
Peggy: Really? What else did Mathis say?
Stevie: He said you were funny and that you were fearless.
Peggy: [chuckles and hands him her cannelloni] I love veal.
It's impossible not to wish for Peggy not to come to her senses and now allow the aspirin take over. Not everything you do when you're drinking is embarrassing and has to be undone, Ms. Olson!
The "Severance" of the title refers to Ken Cosgrove. By gifting his retiring father-in-law, Ed, a set of golf clubs with corporate money, he unwittingly set about his firing. His wife had already expressed her desire that he leave SC&P so he could pursue his dream (or her vision of his dream) and Ed assured him there was a role for him at Dow as the head of advertising, but he wanted to stay put.
There was really nothing better than watching Roger and Pete squirm after Ken told them he'd not only be taking over as the head of advertising at Dow, but he wouldn't be firing them. He'd be retaining them and he's a really difficult client to please.
He'd earlier been forced to sit with Pete to roll over his clients so he could qualify for that severance. Now that he has such a generous signing bonus with Dow, taking that severance would feel like double dipping. With only six episodes left, I look forward to his success in making their lives hell. Stick it to the man (or the McCann), Ken!
There weren't any fireworks, nor were there any traces of Don's family, either past or en route to being there. I wonder how quickly we'll blow through time in the final six episodes and if we'll really only see this far into the future. It seems unlikely.
Every time the credits roll as the weeks go by, it will take us one hour closer to never again experiencing a new moment with these characters. I have no true insight into what Matthew Weiner is hoping to convey with the show, but I hope I understand the human condition enough to catch a little of the discussion. I will certainly miss it when it's gone and ponder it for years to come.
If you're here, I'd love to know what you think. Have these nine months been kind to the partners? Who's coming out on the top of this deal? Do you have any ideas of what you'd like to see before it all ends? 
If you have missed any of the beauty, you can watch Mad Men online right here via TV Fanatic!
Carissa Pavlica is the managing editor and a staff writer and critic for TV Fanatic. She's a member of the Critic's Choice Association, enjoys mentoring writers, conversing with cats, and passionately discussing the nuances of television and film with anyone who will listen. Follow her on Twitter and email her here at TV Fanatic.