Wow, that was some wild ride – and it ain't over yet.
NCIS Season 12 Episode 22 marks the beginning of the final three-episode season arc that will culminate with the death of an NCIS fan favorite.
(No, we don't yet know who that is.)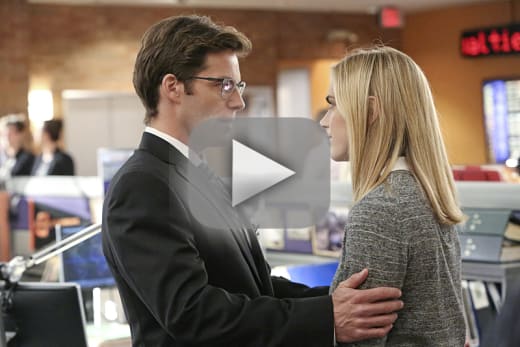 The theme of the episode seemed to be about the fragility and susceptibility of youth. In this case, it's about how immature teens can so easily become the target of terrorists who seek to use them to advance their causes.
It's a timely focus, given that a number of real life young people – typically teens or very young adults – are being recruited by ISIS extremists.
Immaturity can be a powerful force, as we saw even in the first scene with that young guy proposing to his girlfriend way too soon in their lives.
You had to appreciate the irony of his disappointment, when he said well.....guess this couldn't have gone any worse.
And then it did, when that car crashed through the window.
There's nothing like the stamp of reality to bring everything into sharp focus, is there?
The episode showed us an interesting dichotomy as well: while there's a friendship brewing between Gibbs and Jake Malloy, Malloy's relationship with Bishop has suffered a setback.
While she and Jake both know that the root of her discontent may be the fact that she had her first kill in Kabul, in NCIS Season 12 Episode 21, their knowledge of that fact changes nothing. She still wanted the information Jake was withholding.
Here's the thing though: why exactly did Jake cave to Vance and Gibbs in Vance's office?
My first thought was that he was desperately worried that his marriage was going to take a hit if he didn't step up and accede to Bishop's demand. There's a reason he had the SSD media with him, ready to hand over to Gibbs.
But then the thought occurred: he didn't actually agree to surrender NSA jurisdiction to them until this scene:
Jake: The only thing I haven't been letting you do, Gibbs, is over-riding NSA jurisdiction. And we're under no legal obligation to explain why.
Gibbs: Do you want my opinion? Your job sucks.
Vance: Gibbs....
Gibbs: The longer we go before checking Korkmaz's computer, the better chance we have the killer gets away.
Jake: Okay then. Go ahead. NSA surrenders access.
Vance: Excuse me, did you just say.....
Jake: I'll clear it upstairs. Any repercussions....I'll take the hit.
And then he handed the SSD not to Vance, but to Gibbs.
So....which is it? Is he pleasing his wife, or protecting his friendship with Gibbs?
Either way, I'm smelling trouble in their marital paradise. Keeping secrets in a relationship – even logical secrets kept for good reason – can be a brutal obstacle, particularly if both parties aren't seasoned enough to appreciate the dynamic.
The other question is: is this only the opening salvo in Bishop's emotional journey on dealing with her first kill? Maybe her seared conscience will provoke more "different" behavior. The guess here is that we'll see more evidence of it in the next two episodes.
It's funny how so many action shows will portray the hero blithely shooting down an enemy and then carrying on as if unaffected. So it's interesting (and welcome) to see a show like this dealing with the issue head-on.
On another front, we have Ned Dorneget back!  I have to tell you: I love that guy! His good natured banter, his labeling of McGee as "Timmy boy", his expertise with computers and his cheerful pitch-in attitude are all welcome aspects of the man.
And the Skyrim references were capped beautifully with Gibbs' sarcastic thank you elf-lord. What did you find, dragon-priest?
The characterization of the young bomber (as profiled by Ducky) was true to life, which even Vance saw as stereotypical: he was a quiet loner who didn't say much to anyone. Too bad Gibbs said exactly the wrong thing right before he blew himself up:
Gibbs: Drop the bag. Just put it down. Put it down. That's it. Brad, look at me. You're a good kid.
Brad: No I'm not. [He detonates the bomb]
The next episode will take the team further down the rabbit hole on what looks to be a well-organized terrorist campaign. I can't wait to see what happens next!
Final thoughts:
If you're a fan of Justified, you may have recognized Coach Curry in this episode. She was played by Erica Tazel, who was Rachel Brooks on that show.
There's already a missing puzzle piece. Before Brad Simek blew himself up, he confessed to Gibbs that the murder weapon was his father's bayonet, but he denied being the one who used it to kill Wilt.
The pain on Bishop's face the morning after her fight with Jake was haunting. This leads me to believe that his caving to her won't be the end of that particular story.
If you haven't already done so, be sure to check out the Emily Wickersham interview in which she discusses the final three season episodes.
There are two ways to revisit the episode "Troll". The first is to check out the key NCIS quotes for this show. The second is to just watch NCIS online.
Be sure to tune in next week for NCIS Season 12 Episode 23, entitled "The Lost Boys."
What are your thoughts on this episode? Could Gibbs have done anything different to save the boy? Are Bishop and Jake in trouble? Chime in and let us know what you think.
Douglas Wolfe was a staff writer for TV Fanatic. He retired in 2016. Follow him on Twitter
.