All that is needed is a face, a claim, a bloodline and someone that is willing to die for the cause.
Oh, how I wish I could say I was happy to be here, but much like Francis, I'm absolutely miserable. How could I possibly forgive Reign when they took the long and winding road to this by forcing a love triangle out of "Monde"?
Frankly, I cannot, and watching Reign Season 2 Episode 20 with Mary's stupidity being the final push for Conde's attempt to claim the throne of France on the series only further cements my decision to part ways with it as must-see TV.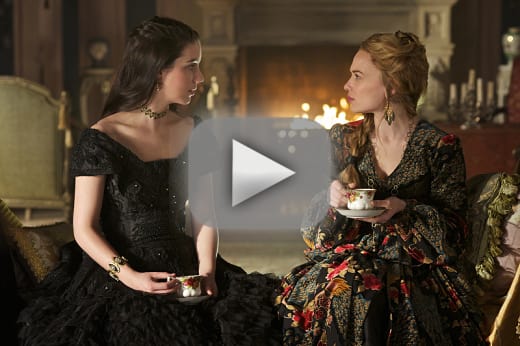 Before we go too far, you and I have both been thrilled with Terri covering Reign. She had to step back for this week and this week only, so don't panic! She's here in spirit. That said, I'm not going to treat this with kid gloves. I'm still mad as hell. As a matter of fact, I couldn't have picked a worse episode to get back into the game.
Who could have guessed I'd arrive just as they single handedly crushed every single successful relationship on the show? I suppose given how easily they murdered what Francis and Mary shared, I shouldn't have been surprised, but wow. This is really wiping the slate clean. 
It's true that Reign Season 1 was a sexy show. It worked in a lot of ways because the core group of ladies hadn't tasted true love. They were extremely unfamiliar with court and the life they were thrust into. That's not the case now. What's going on now makes them seem like whores.
Tell me Kenna's dream wasn't almost exactly like what she did with Sexy King Henry. Mary whined about her rank destroying any love coming her way that didn't belong to a king. Guess what lady, you were married. You weren't supposed to be toying on the side anymore. That's how marriage works.
Greer's decision to remain a madam is completely unrealistic given the times, but not surprising given the chemistry between Leith and Claude. You knew they were going there. Additionally, it's fun to see life outside the castle no matter how unrealistic and with as much as the women want a voice, well, she has one. She'd just never opt for it over respectability.
Even Catherine has diminished into an embarrassing woman when it comes to Narcisse. He pegged her exactly, but not until he played her game by humiliating the only woman left in court we can really root for (although Claude has risen in the ranks) with a silly nudie drawing. Who ever thought I'd say Lola deserves better? She's come a long way.
Way back when, when I was reviewing Reign, I was taking a lot of heat for being down on "Monde" as the shippers so loved to call them. My take was historical Conde made an attempt on Francis' crown and the love stuff was rubbish. I was told what to do with my blatant disregard for true love.
Well, I told you so. It doesn't look like ol' Conde is going to make his mad dash for the throne through his love for Mary, but instead through is allegiance to Protestantism and Elizabeth's last minute save of his life. He's King Louis! The face, the claim, the bloodline and nothing to lose but his life.
You have been granted the space in the comments to do what you will, faithful readers! Enjoy yourselves. Hopefully, Terri will pop in and share her thoughts with you about all the crazy things she missed writing about.
If you didn't see it, you can watch Reign online to see what all the fuss is about! Off with her head, off with her head!!
Carissa Pavlica is the managing editor and a staff writer for TV Fanatic. She's a member of the Broadcast Television Journalists Association (BTJA), enjoys mentoring writers, wine, and passionately discussing the nuances of television. Follow her on Twitter and email her here at TV Fanatic.