There's nothing like a road trip to bring two friends closer together.
On The Big Bang Theory Season 8 Episode 19, that's exactly what happens for Leonard and Sheldon, and it's hilarious.
Thanks to the paper the two of them wrote together, we're getting more interesting opportunities to see interaction between just Leonard and Sheldon. I'm glad that paper is something that's being used throughout several episodes, particularly since it has been pivotal in their relationship.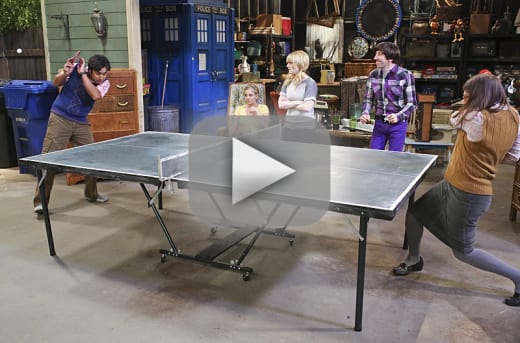 Though that paper caused some tension between them a few weeks ago, it now gives them a chance to do something else together. They've been invited to speak at UC Berkeley, which means they are taking a road trip together.
Most of the interaction between them takes place in the car, from road trip games to misses pop-culture references. More importantly, they enjoy each other's company, and Sheldon even bends a little by suggesting they listen to music.
Sheldon: Play that funky music, white boy!
Leonard: I'm surprised you know that reference.
Sheldon: What reference?
The road trip goes smoothly nearly the entire way there – too smoothly. They decide to take a detour since they have some time to kill, and that's when things go awry.
Leonard and Sheldon agree they should check out Skywalker Ranch in hopes of meeting George Lucas or at least catching a glimpse of some Star Wars magic. The problem is that this place isn't just open to the public, and the guard doesn't want to let them in. They do manage to get through the gate, only for the guard to tell them the best he can offer is some t-shirts.
Leonard is gracious and ready to turn back when Sheldon jumps from the car and takes off running. He already has restraining orders against him from multiple celebrities, so this isn't all that surprising.
If there's one thing I love about Sheldon, it's that he's a true fanboy at heart.
He gets tasered before he gets very far, though, and ultimately causes them to miss their lecture. Leonard is annoyed, but Sheldon serves as a voice of reason when he points out what a great adventure they had. Hey, you only live once, right?
Meanwhile, the rest of the gang is cleaning out Mrs. Wolowitz's basement when Howard and Bernadette have a disagreement over what will happen to his Dr. Who Tardis. Naturally, the best way to settle this is through a ping pong tournament, but neither of them really know how to play. So Amy and Raj battle it out for them.
The best part of this is that we've split the cast into two halves this week, so we aren't watching multiple subplots unfold. Instead, we get time to focus on just two.
We're also still dealing with the death of Mrs. Wolowitz, which makes everything more realistic. Something as simple but as necessary as going through her house and getting rid of things is made interesting to watch thanks to that TARDIS.
Besides, who knew watching Raj and Amy play ping pong would be so entertaining?
What did you think of "The Skywalker Incursion"? Be sure to share your thoughts in the comments below!
Need to catch up on past episodes? Remember that you can always watch The Big Bang Theory online right here via TV Fanatic!
Ashley Bissette Sumerel was a staff writer for TV Fanatic. She retired in September 2017. Follow her on Twitter and on Google+.