The Real Housewives of New York City Season 7 Episode 4 Review: The Art of Being a Cougar

Christine Orlando at . Updated at .
Perhaps The Real Housewives of New York City Season 7 Episode 4 should be renamed the Real Cougars of NYC because that's the direction this season appears to be taking. We recap when the claws come out in our +/- review.
It's Bethenny's Frankel's birthday and not only will she get up on the table and dance if she wants to, she expects everyone else to get their groove on too. Plus 10, but let's hope those tables are sturdy.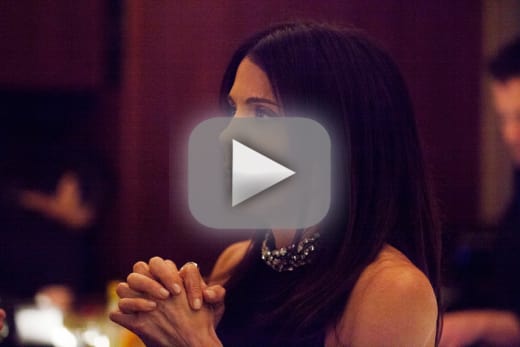 The cougars were out in force for Bethenny's birthday dinner. Sonja Morgan not only brought along her 23-year-old, model boyfriend, Matt but Matt invited his hot roommate too. Minus 23. We don't think plus ones are allowed to invite a plus one, no matter how cute they are.
Funniest, or saddest moment depending on how you look at it, was when Carole tried to talk to them about her modeling days in the 1980s when she did a Jordache jeans campaign. They had absolutely no clue what she was talking about. Minus 18. They weren't even born when those jeans were popular. 
Too bad Ramona didn't bring along her new business partner Peter. They're going into the restaurant business together but it looks like Ramona's interested in something a little more personal from her new partner. 
LuAnn may think she's a man magnet but wait until she hears the news about Carole dating her 29-year-old chef! Carole and Adam are cute together but was she really advocating for throwing up on your date in order to look vulnerable? Minus 40. We hope that isn't something she's putting in her next book?
Dorinda was back with her completely obnoxious daughter, Hannah. Minus 21. The less air time that girl gets the better. No one should be able to tell their mother to f**k off and get away with it. 
I really don't see how Dorinda and John are going to make it. I'd say he and Hannah hate each other but the truth is they don't even know one another. They've only met three time in two years! I'm with Bethenny on this one. That's ridiculous. 
Finally we get to the uninvited list. Heather shares all the amazing details about Bethenny's party with Kristen, whom she knows wasn't invited! Minus 25. That's just rude. 
Then Heather turns around and tells Bethenny that Kristen's feelings were hurt, as if insisting on calling her Beth wasn't pissing her off enough. As Bethenny said in this The Real Housewives of New York City quote…
It's Bethenny. Like the extra two syllable are really going to take that much.

Bethenny
Kind of loved it when Bethenny told Heather that she was really Carole's plus one. Plus 33. 
Episode total = -84! Season total = -157!
No need to miss any of the birthday drama. You can watch The Real Housewives of New York City online here at TV Fanatic. 
C. Orlando is a TV Fanatic Staff Writer. Follow her on Twitter.