Returning from the dead may prove to be more ungodly than a miracle. 
On The Returned Season 1 Episode 5, those who've come back to life prove to be nothing but dangerous to those who are living.
They're dangerous by unintentionally hurting someone they love, exposing dark secrets, or literally attacking people.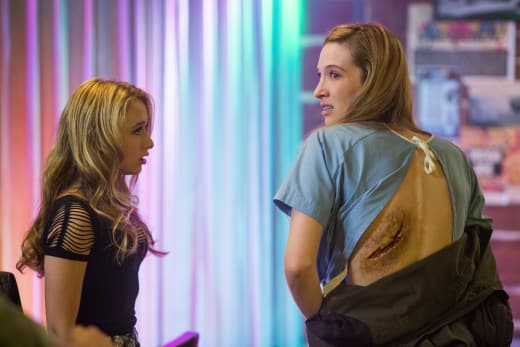 Poor Lena! First her sister comes back from the dead. Then her sister's wound ends up on her body. Then she finds her sister taking over her life. Now she ends up in the clutches of stomach-eating Adam. 
I think it's safe to say Lena's having the worst week of her life. 
Camille has been rubbing me the wrong way for a couple episodes now, and tonight's episode made me dislike her even more. She doesn't seem to care at all about hurting her sister. All she cares about is stealing Lena's friends and making her look like a crazy person.
Ben looked like he might have believed Lena's rant in the bar. I hope so because someone needs to listen to her.
Unfortunately, Lena's troubles are far from over now that Adam found her in the woods. 
The night Adam died was the same night he attacked Julie. Tony showed up, post attack, to knock Adam out, and then proceeded to bury him alive. It's no wonder he freaked out when Adam showed up.
Interestingly, Adam doesn't seem to get that there was/is something wrong with him. 
Adam: You said I was sick, but you never said with what.
Tony: You know what you were sick with.
Tony feels a tremendous amount of guilt over killing his brother and even begged for Adam to kill him. 
I'm not sure what Tony will do now that Adam's back. He feels remorse for what he did, but does that mean he'll let his brother go on killing people? Would he let Adam harm Lena?
Now I'm beginning to wonder if Simon might hurt Tommy.
I was glad Rowan decided to stay with Tommy. I was sure when the first episode aired that I was going to root for Rowan and Simon to reunite. However, I can't help but want Rowan to be with the man who's been by her side all these years.
I also agree with Tommy. Something isn't right about the whole coming back from the dead situation, and Rowan can't ignore that. 
Tommy: I know how much you loved him, and seeing him again, I can't imagine how confusing that is. So what happened between you two, I get it. I can move past it. I want to move past it, but you need to listen to me. Simon being back, it isn't right.
Rowan: But he's here.
Tommy: He shouldn't be. I don't know what brought him back, but whatever he is now is dangerous, and a part of you has to feel that.
Simon's explanation of what he remembered before he died makes me think he might have been bipolar. I'm sure we'll find out eventually.
The problem is that Simon is convinced he and Rowan are meant to be, and she doesn't. Simon will surely come back to see her, and I'm nervous for how he will react to Rowan's decision.
Elsewhere in the episode, Victor (or should I say Henry?) revealed his identity to Peter. 
Peter looked beyond scared when he realized Victor was the boy he let die. I'm not sure if Victor plans on telling anyone about Peter's dark past. He seemed perfectly content to drop the bomb on Peter and let him squirm. 
I loved Helen's conversation with Victor over lunch. She seems to be the most aware of how crazy it is they are back. Instead of them being the problem, she blames the town. 
[to Victor] I went for a walk this morning, and I saw something, and I realized it's not us that's the problem, it's this place. This town is cursed. You think about it; What happened to you, your mother, the flood, this lunatic running around eating women's stomachs. Only in an ungodly place like this can you and I exist.

Helen
I can't say I disagree with her. A part of me wants to say Caldwell is sitting on top of a hellmouth and be done with it.
Now there are deer committing suicide by drowning. What is going on in this freaky town?!? I have a feeling things are going to get a lot worse. 
I know the pace of the show might not be everyone's cup of tea. The show takes its time unraveling mysteries and characters' pasts. I personally love this kind of storytelling, and I'm always excited to see the next episode. 
So over to you guys! What did you think of the episode? Do you think Lena is a goner? Will Peter try to make amends with Victor? How do you think Simon is going to react to Rowan staying with Tommy? What are your predictions for The Returned Season 1 Episode 6?
Sound off below, and don't forget you can catch up on the mystery when you watch The Returned online via TV Fanatic! 
Amanda Steinmetz was a staff writer for TV Fanatic. She went into retirement in June of 2027. Follow her on Twitter.