Vikings Season 3 Episode 10 Review: The Dead

Henry A. Otero at . Updated at .
Let me start by saying, I think Michael Hirst is brilliant and I was a supporter of Vikings even before it premiered back in 2013.
With that out of the way, as Vikings Season 3 Episode 10 came to a close I found myself much less enthusiastic about it for some reason. It's like a spark is gone, so Hirst resorted to shock tactics. Count Odo torture sequence anyone?
Clearly Ragnar's "death" was a Trojan horse, but his days are numbered either way. Can Rollo and Bjorn carry the series?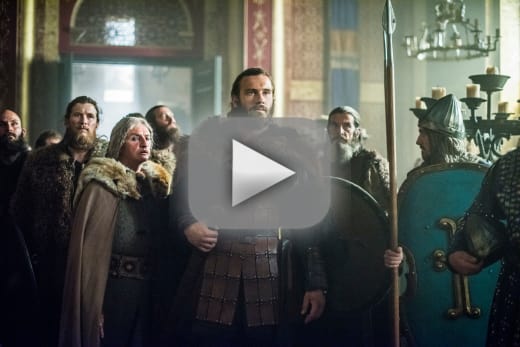 Now don't get me wrong, the battles have been epic and the scope of this season was truly impressive. Yet the characters, Ragnar included, became a constant contradiction.
One minute the king's stepping aside, allowing Floki to shoulder the blame for that first failed attack. The next, he's complaining there are too many chefs in the kitchen and it's his voice that counts. Lagertha hated Kalf, next thing you know she's in bed with him. And what about King Ecbert? He admitted to being corrupt, but seducing your son's wife takes it to another level.
The one consistent character was Floki, who hated Athelstan since day one. Unfortunately, over time he became so unlikable most of us just wanted him to burn in that wooden tower.
My point is, even on Game of Thrones there are characters the audience roots for like Arya, Jon Snow, and Tyrion. Where are their counterparts on Vikings these days? They are nowhere to be found.
Ragnar: There will come a time when you will be responsible for our people.
Bjorn: You are our king.
Ragnar: For now, but when your time comes you must lead with your head not with your heart. Can you do that?
Bjorn: Yes father.
Ragnar: I have something I only trust you do to for me.
Bjorn stepped up and spoke for his father when Count Odo arrived at the camp. When the coffin was shut, I had a feeling this was all part of Ragnar's plan. The king's "death" gave us a powerful performance from Gustaf Skarsgård. He was the standout this season, without a doubt.   
Those silly Franks let their guard down and paid the price. I loved seeing Ragnar throw the lid of the coffin aside. Were you as surprised as I was that he killed the priest? That certainly wasn't any way to get into Heaven. Or did his plan start the moment he asked to be baptized? Ragnar must have made his peace with the fact he'd never see Athelstan again.
Ultimately, the Northmen entered the city and ransacked to their hearts' content.
I can see that not the living, but the dead will conquer Paris.

The Seer
Rollo deciding to stay behind meant the Seer's other prophecy about the bear and the princess was taking shape. The most clever move the Emperor made all season was to strike that deal with Rollo.
Sure, Clive Standen is fantastic as Rollo, but the character is no Ragnar Lothbrok. I mean, the guy betrayed his brother on several occasions. Why should an alliance with the Franks shock us? Is Rollo really a "hero" the show's audience will root for? Will we get behind him after everything he's done? I can tell you that it's going to be a struggle for me.
You will be offered a vast area of land in the Northern part of Frankia. The Emperor will also make you a Duke, the highest honor he can bestow. You will be very rich and you will be very important. The Emperor also offers the hand in marriage of his beautiful daughter, Princess Gisla.

Cindrich
Then there's Bjorn, who is much more like his father. The problem is, we've only been told he cares for his people. The series has mostly painted him as a lovesick puppy who can't focus during battle. Yes, he came into his own a bit more this season, but he's far from a compelling lead.
Obviously, Ragnar has to go at some point. I'm just worried after this season that the show won't make it without Travis Fimmel. Killing off Athelstan was bad enough, the series lost its soul there. However, Ragnar is its beating heart. Can Vikings really move forward without him?
Though Vikings Season 3 is my least favorite of the three, I plan to tune in next season because I'm curious to see what happens next. That's extremely different from watching because I love the characters and their world. Unfortunately, I think that ship has sailed.
What did you think of "The Dead"? Were you on to Ragnar's plan? How do you feel about Rollo now? What will become of Floki? Your turn guys, hit the comments below and share your thoughts on the Vikings finale.
Want to relive the Paris raids or catch an episode you might have missed? Watch Vikings online via TV Fanatic!
Vikings has been renewed for Season 4 and will return in 2016.