Can Oliver Queen be saved? Or has he really been replaced by Al Sah-Him?
On Arrow tonight, our gang makes a last ditch attempt to save Ollie from becoming the head of the League - but they may be too late because it sure seems what Ra's al Ghul wants, Ra's al Ghu gets.
In the midst of all this drama, there's also a return of someone to whom we thought we had said goodbye... more Atom awesomeness ... and, if we're to believe the photos below, a wedding.
Having already seen the installment, here are eight things we can tell you that should get you good and excited about Arrow Season 3 Episode 22, along next week's Arrow Season 3 finale...
1. Cranky Pants: Our team in Starling City is still fighting crime even without Oliver and Roy, but emotions are running high, especially for one member of the team that Oliver hasn't been too kind to lately.
2. Flashback Drama: In the past, the aftermath of the virus attack is still wreaking havoc and Maseo's son, Akio, is hanging on for dear life. But will Shrieve give up the cure to the virus?
3. I'd Know That Jawline Anywhere: Thea goes to visit Roy, who is working a new job under an assumed name...but that chiseled jawline and the best eyebrows in the business are still intact! Whew! 
4. Palmer Has A Plan: Ray is back working on his Atom outfit and we'll find he has a future plan involving Ms. Smoak that she may not be aware of. But he still needs to work on his landing.
5. Malcolm's Position: Malcolm may actually be in a better place than anyone else when it saving Ollie from the League. (He also makes a comment about some of our group not being good actors and I bet John Barrowman had a hard time keeping a straight face when saying that line to his co-stars.)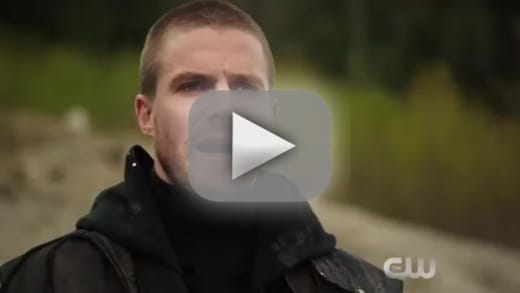 6. Going to the Chapel?: Nyssa is none too amused that Ra's expects her to marry Oliver. Will she have a change of heart? Will she have a choice? Will there be cake?
7. Sexy Time: In the midst of all the craziness with trying to save Oliver, someone makes time to get some lovin' just as someone else loses everything.
8. Tablet This: Someone finds that a tablet can come in handy for things other than playing Candy Crush.
Arrow Season 3 airs Wednesdays at 8/7c on the CW. 
Jim Halterman is the West Coast Editor of TV Fanatic and the owner of JimHalterman.com. Follow him on Twitter.