Arrow Season 3 Episode 22 Review: This is Your Sword
Carissa Pavlica at . Updated at .
Well, that happened.
It was finally revealed in Arrow Season 3 Episode 22 that Oliver Queen is indeed Oliver Queen and he doesn't like wearing the name Al Sah-Him any more than I like typing it. I'd say I told you so, but you already know you've been played. 
There was one thing I didn't see coming and that was Oliver working it with Malcolm, even though the whole thing could have gone back to the beginning of the season, when Oliver trusted Malcolm and nobody else did. Oliver insisted on trusting Malcolm to train him to fight Ra's and everybody thought he was crazy.
It shouldn't have come as a surprise to Oliver now that nobody took his little surprise reveal as gospel, given only that evidence noted above. Oh well, some people never learn.
Frankly, it's getting a little surreal how little Oliver's friends actually trust him. Even after they were let into the circle of trust and told the cold, hard, ugly facts about his infiltration of the League and his intent to bring it down from the inside, they still thought he would kill them.
If I were Oliver, I'd have a hard time calling them friends ever again after this mess. As a "superhero" there are some really difficult decisions he has to make and he doesn't get to put them all before a group vote. There is a level of trust involved. The same goes for the woman he loves. Even Felicity failed him. It's just downright depressing.
I'm not going to get all maudlin or analytical. That's about as deep as it's going to get, kids.
I'm still not sure what Team Arrow hoped to accomplish once they got to Nanda Parbat, but it didn't happen. Tatsu waved her Katana and set Maseo free. His character had grown past his expiration date and it's her time to shine, so I'm excited to see what's next for her.
Black Canary still wasn't 100% up to par (who is, really?) and Malcolm saved her ass. She had no problem noting it wouldn't be reciprocated. I liked that. 
ATOM flew in for the festivities and took out the plane that was supposed to be carrying the alpha omega bioweapon. I'm not really sure what kind of plan it was to blow up a plane carrying an airborne virus in a glass vial, but thankfully it wasn't actually on the plane. 
The wedding actually took place. It's too bad Oliver didn't know Nyssa well enough to trust her (at least we weren't privy to their conversations if they took place) to tell her his plan. I think she would have gone through a wedding to destroy the League from inside willingly. Nobody likes being a pawn.
Will the marriage be annulled? Will Oliver welcome Nyssa to the team? Will he hand the League over to her after he kills Ra's (we can hope he's going to kill Ra's) and form an alliance with her or will they remain united and run it together? Time will tell.
Ra's al Ghul started out being entertaining when he first appeared. He seemed to fight by a moral code. He's become a bore. He waxes poetic all the time and meanders around topics eventually getting nowhere. He spent three long, arduous (insert sarcasm here) weeks brainwashing Oliver into thinking he's Al Sah-Him and all he wants to do is remind him of Oliver Queen. Is that really the best approach?
Now that you think you're Al Sah-Him, I want to take this moment to remind you about Oliver Queen so you can do something dastardly. It's ridiculous. On Arrow Season 3 Episode 23 he's going to be screaming at him that his name is Al Sah-Him while he's forcing him to destroy Oliver Queen's city so he forgets Oliver Queen. Then quit reminding him! 
And it's totally my bad, but I made the mistake of reading a "teaser" post on another site about "This is Your Sword." Except it wasn't a teaser at all. It was enough of the hour laid out that I knew what was happening from start to finish. It's bad enough we already know what's coming months in advance, but the more we know, the less exciting it is. Why do they give the OK to spill so many beans?
Was anyone really afraid for Team Arrow when the fake alpha omega capsule put them to sleep? What are the odds of that happening? Listening to his own team screaming that they trusted Oliver was maddening. Then trust him now! What has changed since they found out he's infiltrating the League?! Oops. I arrived back at the beginning again. My time is up.
Other bits:
Thea kept the red suit. She's on her way to becoming Speedy. 
Did Ray transfer ownership of Palmer Industries to Felicity? Damn. He really is a good friend. I wonder if he'll make his exit prior to his new series starting or wait until it gets the green light.
Laurel didn't even get to wish the bride well before her wedding. They're besties and everything!
Do you really expect Diggle to remain angry at Oliver beyond this episode? I don't. 
There was the funniest gif someone posted on Twitter about their feelings toward flashbacks. Judy Garland swinging her arms in a red dress "I don't care." Agreed.
Did Oliver know Malcolm was going to turn him in or did Malcolm just do it? One can never tell. And why does Ra's always let him live? Geez.
The fight scene was fun, except Felicity has no place anywhere near combat like that. It's getting out of hand that she keeps surviving those events unscathed.
So what's coming in the finale that's going to shake the foundation of the series? Do you still believe that's possible or do you expect more of the same for Arrow Season 4? Hit the comments and shout it out.
Don't forget, you can watch Arrow online if you need to see it all shake out again, from start to finish.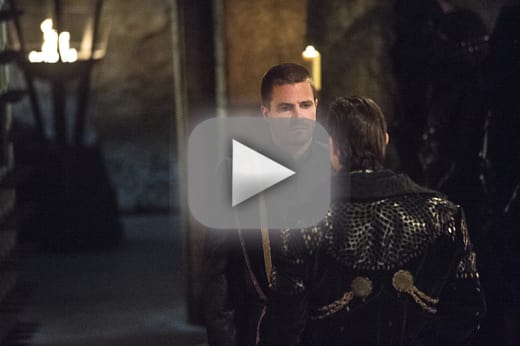 Carissa Pavlica is the managing editor and a staff writer for TV Fanatic. She's a member of the Critic's Choice Association, enjoys mentoring writers, cats, and passionately discussing the nuances of television and film. Follow her on Twitter and email her here at TV Fanatic.