We've watched Alex Dunphy grow up over the past six years, and she's about to hit a major milestone – or two?
On Modern Family Season 6 Episode 22, Alex is called into the principal's office along with her parents, and she assumes that means she is going to be named valedictorian. However, it looks like her rival is also called in, and they are being named co-valedictorians. That sounds pretty good, but not for the overly competitive Alex Dunphy.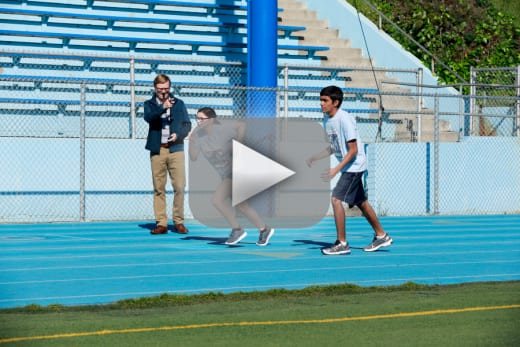 Naturally, at the very end of her high school career, there's a reason for Alex to compete once again over grades. In fact, I think I'd be devastated otherwise. Alex and her rival, Sunjay, convince the principal to let them try for one last grade they hadn't yet earned – for gym class.
Oh, the irony. If there were ever a grade it was okay for these two to do badly on, this would be it. But instead, they train painstakingly to race one another in hopes of being number one.
Side note: I never really understood getting a grade for physical ability in gym class. Though maybe I'm biased since I did so poorly on my high school physical fitness test... I'll spare you all those details.
When Sunjay arrives to Alex's house to thank her for pushing him all these years, and to also tell her he as feelings for her. she's flustered and surprised. Leave it to her family to immediately assume it's a trick so that Sunjay can somehow distract her and win the race. Claire and Phil have never really taken any sort of love interest for Alex seriously.
Except, it isn't. Sunjay forfeits the race and declares his love for Alex as their parents look on. And then, we are given what is perhaps the most adorable kiss scene on television all year. Alex stands on her tiptoes to kiss him, then they argue over who is better at kissing. Claire seems a little proud as she watches from the bleachers, and Phil has a classic dad moment where he says they could probably bring it down a notch.
So, the two will end up being co-valedictorians after all, but I don't think that's the takeaway. Instead, the takeaway is a love interest for Alex, and I hope it goes somewhere further than this episode. It should, actually, complicate matters as the two head off to college. We'll see what happens.
Other Thoughts:
I appreciate the protesting storyline for Cam and Mitchell on several levels. I love to see when they get involved (or don't) with issues like this.
Gloria's fake southern accent is amazing. She had me literally laughing out loud.
Jay's confession to Gloria about why he really wants her to be a citizen is sweet and endearing, and it also makes a lot of sense. It's a nice moment.
What did you think of this episode of Modern Family? Share your thoughts in the comments below!
Need to catch up on past episodes? You can always watch Modern Family online  right here via TV Fanatic!
Ashley Bissette Sumerel was a staff writer for TV Fanatic. She retired in September 2017. Follow her on Twitter and on Google+.