Things get complicated on Once Upon a Time Season 4 Episode 21 when a very pregnant Zelena returns to Storybrooke and Regina and Robin Hood sit down to talk about the giant complication looming in the way of their possible happy ending. 
Leave it to Regina to figure out how to make the magical ink for the Author. Unfortunately, it has the consequence of turning Lily into a dragon. Oops.
Can Maleficent figure out how to tame her newly found daughter while she's breathing fire and determined to take down the Charmings?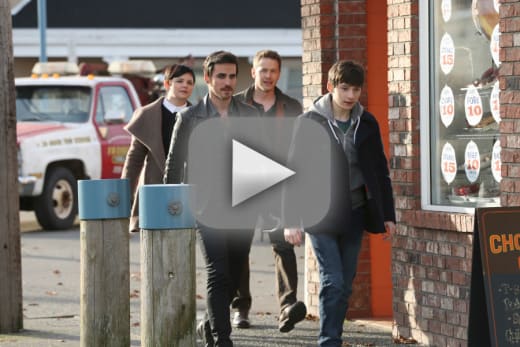 Regina decides to get the Author to write Zelena right out of her story but then flashbacks about her mother make her feel as though that would make her a little too much like Cora. Will she allow Zelena to continue to exist...along with her unborn baby. 
Hook continues to try and convince Emma to forgive her parents for their faults while Rumpel continues to get weaker as his heart grows dark. 
When the Author finally arrives at Rumpel's side with the newly made magical ink, he begins to write a whole new story. In this one, the villains are the heroes and capable of finding their happy endings.
Don't miss out on the magic. You can watch Once Upon a Time online here at TV Fanatic. 
C. Orlando is a TV Fanatic Staff Writer. Follow her on Twitter.