Once Upon a Time Post-Mortem: Rebecca Mader Previews Zelena's Plans, Baby Future
Jim Halterman at . Updated at .
Has Zelena taken her last wicked ride on her broomstick?
As you saw on Once Upon A Time Season 4 Episode 21, Zelena may have had a chance to twist the knife in Regina's back about her carrying Robin Hood's child - but Regina almost had the last laugh when she planned to have the author to eliminate her evil sister from existence.
However, it was Zelena's own words to Regina about how much the Evil Queen was like their conniving mother, Cora, that prompted Regina to make a big revelation about who actually is in charge of your happy ending.
With so much to discuss, Rebecca Mader hopped on the phone with me over the weekend to talk about everything we saw to give us a sneak preview into the Once Upon A Time Season 4 finale.
Let's see what the actress had to say about that major episode, about not being green and about Zelena's future offspring.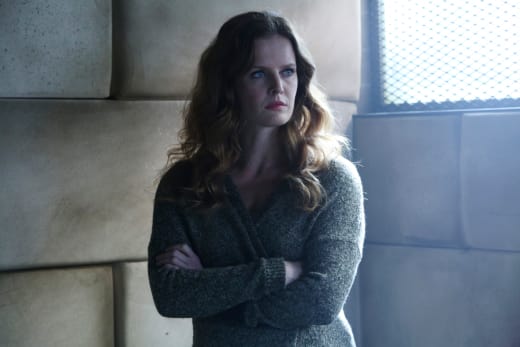 TV Fanatic:  I think your return to the show has been so delicious and juicy but has it been different for you this time around?
Rebecca Mader: It's been amazing. I get to go back to something [and] it's like I never left! Like when I step back into character and even just back onto the set with my cast mates and hair and makeup…it was like no time has passed at all but it's definitely fun to do this kind of return when everyone's like 'Oh, thank God. The witch is dead' and it's like 'No, I'm not.'
That's been really delicious to me especially doing those scenes with the author and Mr. Gold…his reaction like 'oh, shit. She's back.' The second half of season four has been really exciting and delicious and delightful. I've really, really enjoyed myself.
TVF:  Did you know last year when they supposedly killed you off that you probably would come back sooner or later?
RM: I didn't know for certain, no. I was stuck out in the real world and going out for other things but I just always had a feeling. When that green smoke went up I was like, 'Yeah, I'm coming back.' I just have always had such an affinity for this character, more so than any other character that I've ever played. It just comes to me so easily to be so wicked that I'm like 'There's no way this is over.'
TVF:  And this time you haven't been as green as you were last time. Have you missed that a little bit or are you happy not to put all that on?
RM: I miss it a little bit. I like being white and I like being green. It is an hour and a half of makeup but I don't put all the makeup on because when they do my green makeup, I get my own hair and makeup trailer so that I don't gag the other cast members to death…but I do definitely miss being green. I know that when I'm green, I'm going to be doing stuff that's sort of magical in fairytale land and the special effects. I do love being green though, definitely.
TVF:  What does Zelena actually think of Robin Hood other than using him to knock her up? Is he just a pawn for her?
RM: Pretty much, yeah. I don't think Zelena has any feelings for Robin at all so she just sort of sees him as a puppet. It's just another way to stick another knife into Regina, that whole getting-my-revenge thing. It's really awful, [Zelena's] like 'Oh, I'm pregnant' but she doesn't even know that Regina can't have a baby. It's a double blow. It's like a blow on top of a blow on top of a blow. Like boom, boom, thwack with my broomstick. It's so intense. Poor Regina.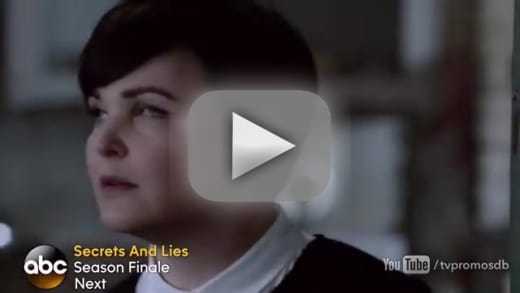 TVF: Zelena's the one that kind of reminds Regina that she's just like her mother. Do you think she said that to hurt her or did Zelena kind of think 'This is the way to save my life?'
RM: Yeah and 'I think you're just like your mother' is such a great way to hurt somebody if someone's got a dysfunctional parent. That's a great button to push, isn't it? 'You're just like your mother. You're just like our mother.'
I think there's also a level of pain to Zelena because the jealously is coming from a place that Regina had a complete relationship with this woman and then I was put in a f**king basket in Oz. I didn't even get to meet her so the relationship Zelena had is so different. It's just another way to hurt Regina because Zelena's hurt. It's like 'well, I'm in a lot of pain, I want you to have pain too. Why should I be the only one in pain in regards to our mother?'
TVF:  What Regina kind of realizes in the episode is that your happy ending comes from yourself not from anything or anyone else. Do you think Zelena believes that or is that all poppycock to her?
RM: [laughs] She doesn't yet, that's for sure, but that's a really great moment for Lana's character…she realizes she already has everything that she wants and it's such a really great, defining moment for her character. But as for my character I don't think she's there yet at all because she's not happy and she doesn't have anybody.
I think ultimately, Zelena is just really coming from a place of pain. She doesn't have anybody. Never had a mom, her dad was a crappy alcoholic and then she lost him. She's never really had anybody and then she thought she had Rumple and she thought she had this older father figure to kind of take of care her and help her with her magic and he was the only person she knew who had magic, too. She's just been let down by every single person in her life.
TVF:  Assuming this baby comes to fruition, is there any possibility that Zelena is going to be a good mother?
RM: I've always said anything is possible on Once Upon a Time. If this baby does get born, God knows what kind of mother Zelena is going to be but I believe that she could be a good mother because I think one of the great things about this show and the way the writers write the show is even if you're a villain you still have some wonderful qualities and you do have love in you and that's told in those really cool flashbacks that they show. When they showed me when I was younger they showed that I was yearning for love and that can't ever completely go away from her. It's not like my heart completely turns to stone and so I think so.
TVF:  Zelena just needs a hug.
RM: Yeah. She really does. She's usually just got her broomstick and that's about it.
TVF:  Can you say anything to what your piece is in the finale?
RM: I am in the finale. I am allowed to say that and the finale is really epic and everything gets flipped on its head. People are not going to see this coming basically. Everything gets flipped around. It's one of those kinds of finales where people are going to remember why they loved this show so much and they're going to have to put their seatbelts on because everything gets flipped. 
Once Upon a Time Season 4 airs Sundays at 8/7c on ABC.
Jim Halterman is the West Coast Editor of TV Fanatic and the owner of JimHalterman.com. Follow him on Twitter.