Salem Season 2 Episode 6 Review: Ill Met by Moonlight

Carissa Pavlica at . Updated at .
The witches of Salem seem to be in a holding pattern.
Despite the arrival of Countess Marburg and Count Sebastian on Salem Season 2 Episode 6, there really wasn't a lot accomplished in the hour.
Mary made a serious, but ultimately futile attempt to save George, Anne got her wish but didn't seem nearly as happy about it as she probably imagined and Mercy found her prayers answered at the expense of a one-time friend.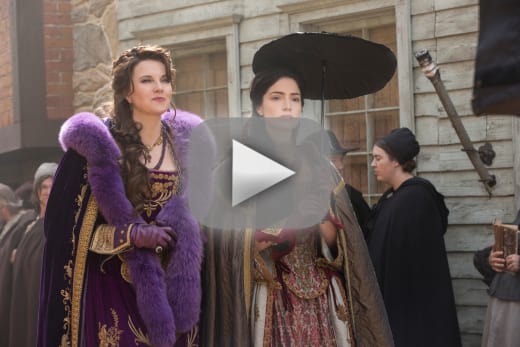 When Mary failed to revive George, she really was feeling utterly defeated. Her collapse was terribly upsetting and was only the first time she cried during the hour. Things really aren't looking great for the once reigning witch of Salem. 
She couldn't even win over Anne's spell on Cotton when he picked a fight with Hawthorne. What a creep that guy is. Anne was right pleased to see Cotton defending her so, but she also knows in his heart Cotton is not a killer, so she ensured he wouldn't kill Hawthorne at the same time Mary was wishing as greatly he would. Only one witch was the victor, and it wasn't Mary.
Countess Marburg's arrival was yet another blow to Mary's ego.
Countess Marburg: Oh Salem. We have heard of your terrible plights and now we see with out own eyes the neglect that has been shown you. We took sail as hastily as we could to show solidarity and to bring an abundance of supplies! [applause breaks out]
Mary: Such a display of wealth and opulence. How could we ever repay you?
Countess Marburg: The look of open affection and gratitude in your face is repayment enough. [kisses both of her cheeks]
Taunting Mary by bringing up George's "health" on the docks showed Mary right off exactly where the Countess was willing to go. Wasn't their little stroll through the streets something else? Mary and Marburg talking about the people's impending deaths and all the while there was applause as they walk by. How surreal.
Whether Mary truly understands how powerful Countess Marburg is as of yet is unclear, but she was still shedding tears when she went into George's room and found Sebastian in there. 
Now this is awkward, you being her with your ex and your next.

Sebastian
He's an odd duck, to be sure. It's clear he's truly smitten by Mary, but he's also out to do his mother's bidding. Which will win over in the end? From what I recall, all witches are supposed to kill their parents in the end, so it shouldn't really be in the Countess' best interests to let her son get too close to Mary, but when the fellow is promising to be dedicated entirely to her every need and every desire, might it be too late?
Anne is caught in a be careful what you wish for situation. Sure, it's nice to have a man fighting for you, but did you notice how she was a little put off by his sudden love for her? Spelling someone must be akin to buying a prostitute. They're only there because you willed it and if you broke the spell, they'd be gone. 
I have my doubts it would be as cut and dry as that with Cotton and Anne, but forever more it will be a question in Anne's mind whether Cotton is spelled or not. What kind of future could they have either way?
It was obviously too easy for Dollie and Isaac to find passage with a ship's captain (let alone a handsome one), but I didn't put together straight away that the Countess was setting up Mercy to be healed.
To that I can only say THANK GOD. I don't know that I could have taken another minute of burned Mercy. I'm looking forward to what Mercy will do for someone who is willing to go to such a degree to make her whole again. My gosh, she did much for someone who treated her poorly. This should be a treat!
What's the point of John Alden? What has he accomplished? He went all the way to Salem and...NOTHING. He's done absolutely nothing since Salem Season 2 began. Hopefully once Tituba realizes he's not just any witch killer, she can put him to good use. Please, any use at this point other than wandering in a daze through the streets of Salem would be a good one.
I was most pleased to see Brown Jenkins came back. It's obvious being a familiar offers little to write home about. When Mary plunged her dagger into her toad, I knew we'd see Jenkins again, but I hope Anne doesn't make a habit of crushing the little bugger to get her way.
Finally, it looks like we're about to see our first of the promised returns to Salem by way of Increase Mather! Mary dug up his...head? From Salem Season 2 Episode 1, I got the impression Countess Marburg didn't much like the fellow and now Mary's going to use him to help her. She obviously senses he's at issue, as well. Who knows just what he might bring to the table. I cant wait!!!
If you enjoyed what you saw tonight, then hit the comments to chat about it. Remember, you can always watch Salem online if you've missed any of the fun at hand!
Carissa Pavlica is the managing editor and a staff writer and critic for TV Fanatic. She's a member of the Critic's Choice Association, enjoys mentoring writers, conversing with cats, and passionately discussing the nuances of television and film with anyone who will listen. Follow her on Twitter and email her here at TV Fanatic.