The Blacklist Season 2 Episode 21 Review: Karakurt

Sean McKenna at . Updated at .
So the tables have turned.
The Blacklist Season 2 Episode 21 appeared to have Liz hunting for Karakurt, the dangerous Russian assassin, when in fact, he was really hunting her.
Turns out Liz was the ultimate target of the cabal after all.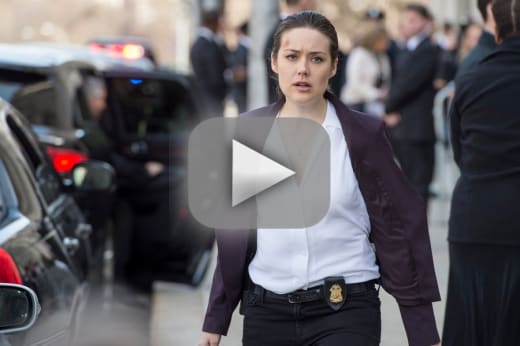 The whole imminent attack on U.S. soil was intriguing. We knew what the cabal presumably wanted to do, but it was the target and the weapon that was still a mystery.
To what end?
It wasn't surprising to see Liz and the FBI team dive right into the case, trying to find any info on this new danger. I liked that even with the major threat, Liz was still trying to figure out more about her KGB mother when she could. At the same time, Red was trying to figure out the threat while shutting down any possible leads on her mother that she could get.
Though, the more we learn about her mother and the "stories" about this legendary agent, the more I'm very keen to know the truth. There's some deep secrets to be explored, and I can't wait for Liz to unearth them.
But I wasn't surprised that Liz and the team figured out the target of the attack and that it was a singular viral attack (which was disgusting to watch). I even figured that Liz would swoop in just in time to save the day.
At least I thought she did.
After the senator still wound up bleeding from his eyeballs, I had a feeling that Liz had somehow gotten the virus.
What a genius idea to "misdirect" Liz and the team to Union Station, when really that was where Karakurt could infect her. And then when she "saves" the senator, she kills him instead.
Match that with the fact she's a Russian agent's daughter? The cabal and the Director are real formidable threats to set this whole thing up on her, the one Red is so close with.
It's really not that often that Red is the one playing last-minute catch up.
I even though that Harold teaming up with Red to play along with Tom Connolly would prove to switch the power. I liked that Harold tried to gain an ally, but his efforts really didn't do anything because it was all about Liz.
So what's going to happen to Liz now? Will her team at the FBI actually believe Liz did it on purpose and try and take her out?
I'm sure she'll have to go to Tom, I mean, Jacob. I'm sure he'll help, even understanding why she stood him up. I'm sort of liking their reconnection, and I'm interested to see where their rebuilding relationship goes.
Liz may not love Tom. But maybe she will soon love Jacob?
I was expecting a simple hunt down the bad guy and save the day episode, but this hour really flipped the concept on its head with a very cool twist to close it out.
Liz better take up Red's advice and get out now. This was a great way to gear things up for next week's finale.
What did you think of the episode? Were you surprised Liz was the carrier? Sound off below!
Get prepped for The Blacklist Season 2 finale and watch The Blacklist online now!
Sean McKenna was a TV Fanatic Staff Writer. He retired in May of 2017. Follow him on Twitter.