The Following Season 3 featured several new threats and had Joe Carroll MIA for the first few episodes.
With tighter storytelling, terrifying villains and darker themes, it's not hard to argue that this was the best season of the series. Unfortunately, it was too little too late, considering the the show has been canceled - but that doesn't mean we can't evaluate what made it so thrilling!
Let's dive right in and discuss the best and worse episodes, scariest villain, biggest disappointment and more in our TV Fanatic end of season report card.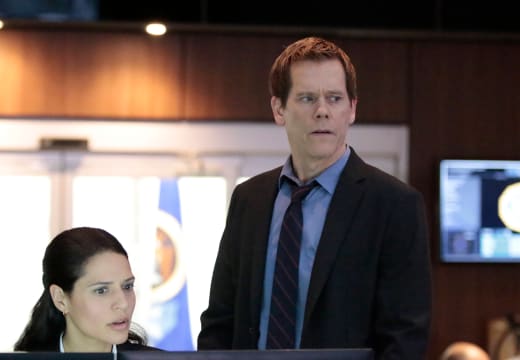 Best Episode: The Following Season 3 Episode 10, "Evermore"
This was a tough decision, but I'm giving this one the edge due to Kevin Bacon and James Purefoy turning in their best performances of the season, maybe even the series. Ryan finally breaks down and admits that he dreams about killing with Joe in an incredibly intense moment between the two enemies. While Joe is finally put to death, we learn that it's not the end of his influence on Ryan, rather it's the beginning of his downward spiral.
Worst Episode: The Following Season 3 Episode 3, "Exposed"
This installment wasn't bad, but it was an unnecessary "filler" episode that focused on serial killer Neil. While he was a creepy guy, we barely had a chance to get to know him, and spending an entire episode on his back story with his father just so he could die in the end simply wasn't something we needed. Honestly, by the end of the season, how many of you even remembered he existed? With so many better fleshed out killers, Neil was superfluous.
Scariest Villain: Theo
While Joe and Mark definitely have their moments, I'm giving the villain MVP award to newcomer Theo. Having a serial killer who prefers to stay under the radar as opposed to wanting to be in the spotlight made for a refreshing change of pace. Listening to Theo describe what he found satisfying about different methods of murder was absolutely chilling. After watching him gruesomely kill his own wife, it was hard to imagine there was anyone in the world he cared about, until we met Penny. Ryan was right to be worried when he took Penny out. He knew Theo was coming for him and everyone he loved.
Most Disturbing Image: The Box from The Following Season 3 Episode 2, "Boxed In"
We'd been told that the writers were planning to cut down on the violence and gore this season, but sometimes leaving it to our own imagination is even worse than showing it. The gruesome mental image created by Neil's description of what he planned to do to Agent Clarke was enough to send a shudder down anyone's spine.
Biggest Disappointment: Tom's storyline
I was really interested to see where Tom's creepy stalker storyline was heading and was sorely disappointed on how it ended. After dragging it out for so many episodes, we never even got to see a confrontation between him and Max. Max never found out about the cameras in her apartment or that he was spying on her with the stolen laptop. Instead, Tom made one dumb decision after another until he wound up dead at Mark's hand after delivering Mike to his doom.
Biggest Twist: Lisa is a double agent!
After spending half the season wondering if Gwen could be trusted, I was completely blindsided when it was revealed that Agent Lisa Campbell was working for the enemy in The Following Season 3 Episode 15. Watching Ryan kill her in order to embark on a  mission to take down her bosses only added to the disappointment that this is the end.
Overall Grade: A
What grade would you give The Following Season 3?
Stacy Glanzman was a staff writer for TV Fanatic. She retired in March, 2019.