What a sweet way to end the season!
The freshman season of The Mysteries of Laura has been equal parts frustrating and exciting, so it comes as no surprise The Mysteries of Laura Season 1 Episode 22, would end on a rather frustrating note, but also create an exhilarating story from start to finish.
When Jake was shot last week on The Mysteries of Laura Season 1 Episode 21, you knew Laura would dive right into the case and be determined to find the person who almost killed Jake. They could have easily made the episode depressing, but they managed to include a nice amount of comedy.
Let's dive right in and discuss the events of tonight's episode.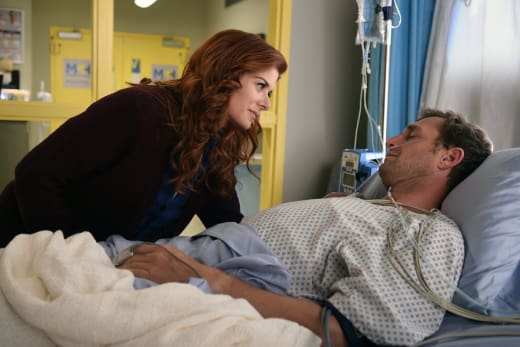 Laura's determination to go into the room with Jake was admirable and really showed a completely different side to her character. You can't deny Laura still loves Jake, whether it be romantically or not, and she wants to be there for him. The fear in her voice and in her eyes was hard to watch, and you could tell she didn't want to relinquish control of the situation to the doctor, but thankfully she was smart and let him do his job.
Of course it came as no surprise Laura would throw herself in the case and try to find the person who shot Jake, and I can't blame her one bit. Laura is not a person who can just sit around and wait while knowing the person who hurt Jake is still out there and could potentially hurt someone else. Still, it probably wasn't the wisest decision for her to go to the crime scene seeing as Jake's blood was still fresh on the floor.
Billy: Laura, I told you I got this.
Laura: You can run point, but me sitting on my ass staring at ceiling tiles won't help Jake.
How can a store not have cameras? I don't care how long your family has owned the business and has had no issues, you get cameras in your workplace because there is always a possibility of something bad happening – it was completely puzzling.
Laura telling the nurse how Jake likes his pillow was hilarious – she would be the one to find time to tell someone else how to do their job, but hey, she does know how Jake is and was just trying to help the nurse out. You had to love when Jake woke up and was able to joke with Laura. Thankfully, Jake was able to remember the events of the night and painted a pretty clear picture of what went down.
Not to tell you how to do your job, but you're doing that wrong. [pointing at pillows] I mean at least for him; I'm sure that there are many people that enjoy the pillow under the neck thing, but he has to have his head slightly tilted or else his sinuses clog and then it's, you know, well, lets just say, it gets ugly. Oh and the blanket [goes over to blankets] cannot touch his skin, sheet only. That's a huge, huge bugaboo for him.

Laura
It didn't comes as a complete shock when Jake flat lined in his room after asking Laura for forgiveness – the previews gave the scene away – but my goodness Debra Messing did a phenomenal job conveying Laura's emotions. Laura officially forgave Jake for all the stupid things he has done. Even so, it was surprising to learn they put him in a medically induced coma.
I forgive you, you bastard. Just live.

Laura
Even though it was completely unethical, I don't object to Meredith bringing Farren to the hospital to see Jake and get her to tell the truth about Joseph. While I understand why Farren would want to protect Joseph, Laura had to be brutal with her and tell her no matter what, Joseph is at fault for anything happening with the undetected fun he created. 
Thank goodness Frankie was there when Laura was about to shoot the biker who injured Jake. Had Frankie not been there, it could have easily turned into a dangerous situation and in a moment of pure anger, Laura could have easily shot the guy. Though I can't really fault her if she did shoot the guy, it wouldn't have brought them any answers about the crimes the gang was involved in.
After the biker was caught, the team had to go after the person who owned the undetectable 3D gun, and in a shocking twist, it turned out to be a woman named Pamela who was after the person who murdered her daughter. Even though the episode was filled with various emotions, the impassioned speech Laura gave Pamela was absolutely beautiful.
Laura: Pamela. Remember me?
Pamela: Been there.
Laura: Believe it or not, I've been here too, not as bad. I can't begin to imagine your suffering, but earlier today I was face to face with the man who shot the father of my children in the chest and I wanted so desperately to shoot him, but I didn't because it wouldn't make anything better for me.
Pamela: Yes it will. It will make the world better. My beautiful girl is dead and this monster is alive. He needs to die too, he needs to.
Laura: I know you believe that in your heart, but I'm here to tell you, mother to mother, the cost is too high.
Pamela: There is no cost. Nobody will miss him and if I die too, that is a price I am happy to pay.
Laura: The cost has already been enormous. The boy who made the gun that is in your hand, he's going to jail and the biker who you bought the gun from [starts tearing up] he was the one who shot my husband who is now fighting for his life in the hospital.
Pamela: I'm so sorry.
Laura: I know you didn't intend any of this -- enough people have suffered. Your daughter would not want this Pamela. So I'm going to count to three and you're going to give me the gun. One. [steps closer] Two. [gets even closer] Three. [grabs the gun and embraces Pamela]
In the end, Laura's father was there to comfort Laura at the hospital and finally apologized for being so hard on her about her breakup with Jake. You knew once Jake was taken out of the coma he would reveal his true feelings to Laura and would ask her, point blank, if she loved him back. She FINALLY admitted she did!! But it was such a cop-out to have Jake completely forget everything he said to Laura.
Jake: Laura, I want you back.
Laura: Jake.
Jake: One last chance, I swear on the lives of our children, I won't let you down. I love you and I think even though you don't want to, you still love me.
Laura: What? Are we really doing this whole emotional manipulation thing now? Again?
Jake: We're doing the truth. Do you, or do you not, still love me? [awkward silence] Laura?
Laura: [In tears] Maybe a little.
Of course the best moment of the episode belonged to Meredith when she planted a kiss on Billy's lips and told him to deal with it – YOU GO MEREDITH! The final scene of everyone in the hospital room with Jake, while Laura looked on, showed the closeness of the team and proved Laura is a lucky woman to have some amazing people in her life.
It's been a pleasure reviewing The Mysteries of Laura and I look forward to coming back next season and discussing the show with all of you again. 
What did you think of tonight's episode? What are you looking forward to next season?
Don't forget to catch up on the entire season. Go watch The Mysteries of Laura online now via TV Fanatic and come back to let us know what you think.
Samantha McAllister was a staff writer for TV Fanatic. She retired in November 2018.