The Real Housewives of New York City Season 7 Episode 5 Review: Mind Your Own Business

Christine Orlando at . Updated at .
Sometimes when boys and girls meet hands end up in places they shouldn't.
That's what happened in The Real Housewives of New York City Season 7 Episode 5 as we got a different view of Dorinda's boyfriend John. We recap who got handsy, who got snarky, and who just doesn't give a damn in our +/- review.
Underneath the Skinny Girl bravado, Bethenny Frankel is a nice person. She simply doesn't put up with anyone else bull. Plus 25 because for a Housewife, that's really refreshing.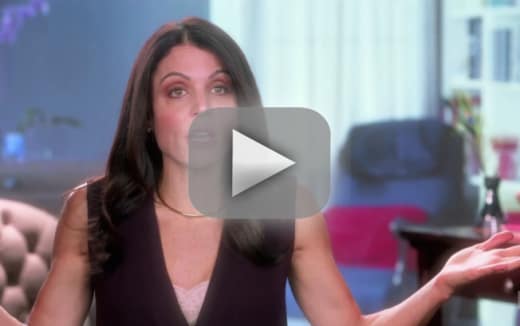 Unfortunately, Heather doesn't think so, but maybe that's because Heather's used to being the only Housewife on this show who frequently speaks her mind. Or maybe she just likes to stir up trouble. Last week she made sure to tell Kristen she wasn't invited to Bethenny's birthday. Then she ran back and scolded Bethenny for hurting Kristen's feelings. Now she runs back to Kristen to say Bethenny called her Carole's plus one.
Since when did Heather become the class tattle tale. Minus 33.
But Bethenny was in for a shocker when she met Sonja Morgan's business team or should I say, Sonja Morgan - International Fashion and Lifestyle brand. What do they do? No one really knows. Who are they selling to? Yet to be determined but I'm sure Sonja is paying them all handsomely.
The team assures Bethenny that they have "top sales people in the industry" but they can't divulge their names. And when they said they owned "160 square foot of warehousing and distribution space" I hope they meant 160,000 square foot or else they may actually be working out of someone's basement. 
Bethenny held her tongue and bit off some more chocolate but she could see the disaster looming on the horizon. The only person who can't see it is Sonja. Minus 41. 
Elsewhere, LuAnn already found out about Carole dating her personal chef Adam and the Countess didn't take it well. You'd think that Carole was dating her son, not the guy her niece once dated a year ago. Minus 13. Get over it.
Dorinda invited everyone to her cocktail party and I couldn't believe that Ramona and Sonja ended up having a ten minute argument about who should have said hello to whom first. Oh wait, I can believe it. These are the Housewives. Minus 18. 
Obviously Dorinda had reason to be worried about John's behavior. A couple of drinks and he had his hands all over Sonja and Kristen who giggled like a couple of school girls. Did anyone else notice Kristen's husband sitting their watching? Minus 45.
I wish Bethnny would have been there. Maybe she would have given this guy the slap he deserved. 
Episode total = -125! Season total = -282! 
Don't miss a minute of the drama. You can watch The Real Housewives of New York City online here at TV Fanatic. 
C. Orlando is a TV Fanatic Staff Writer. Follow her on Twitter.