The Vampire Diaries Round Table: Is Elena Gilbert DEAD?
Miranda Wicker at .
Guys, it looks like Elena Gilbert might be a goner after Kai's shocking return during The Vampire Diaries Season 6 Episode 21.
Jo and Alaric were happily tying the knot when the bride's evil brother showed up and stabbed her in the back. Literally. 
In the process of destroying Jo's life, Kai might have destroyed Elena too.
Join The Vampire Diaries Round Table panel (Crissy Calhoun, author of Love You To Death, Paul Dailly, Amanda Steinmetz, and Miranda Wicker) as they break down the happenings from the season's penultimate episode.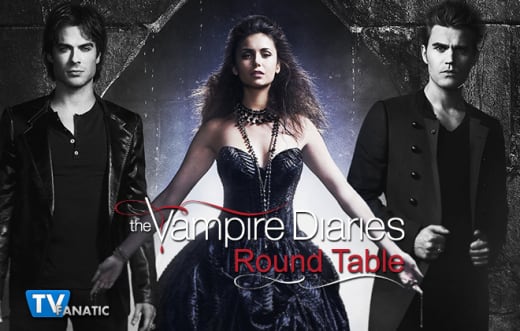 What was your favorite quote or scene?
Crissy: The wedding was beautiful, Alaric's vows were beautiful, but I got a strange kick out of seeing imaginary Damon, scruffy and drunk, watching TV and eating microwave dinners. Also Elena calling Alaric "bourbon breath" was pretty on point.
Amanda: I have to go with Damon's speech to Elena. That was probably the last romantic moment we'll get between the two of them, and it was definitely swoon-worthy. 
Paul: My favorite scene has got to be the closing one. Who would've guessed that Kai would be on tap to spoil the celebrations?
Miranda: There was something really lovely about Damon seeing the old couple still in love and deciding that even if becoming human meant eventually dying, it was worth it to grow old with Elena. Deep down, that guy's a hopeless romantic.
Who is dead: Jo and the twins, Elena, or Bonnie?
Crissy: Jo lives, her Gemini fetuses die, Bonnie lives, and Elena..... ???
Amanda: Jo lives - babies (1 or both) die - Bonnie lives - Elena.....dies?....lives?
Paul: Jo and Elena both die. Bonnie will survive.
Miranda: Bonnie lives and can only save Jo OR Elena. She saves Jo and the babies before realizing Elena is injured and Elena dies.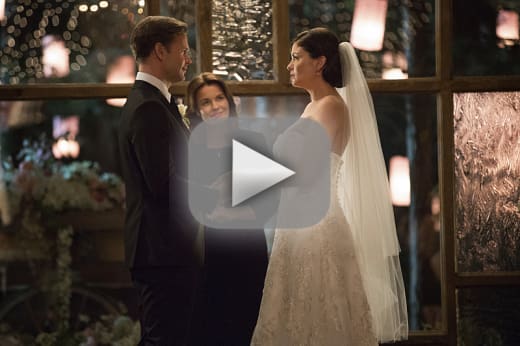 Would Damon have been satisfied living a human life?
Crissy: He seems like a guy who knows how to have a good time no matter the circumstances. I think he'd do just fine as a human.
Amanda: It would be an adjustment, but I think people underestimate Damon. The hardest part would be not killing the people that annoy him. Other than that, I think he could do it. 
Paul: I don't think so. His life is too fast paced to live as a human. He would make a wrong decision and pay a price for it. He would need to change everything about himself and that wouldn't be Damon.
Miranda: You know, I think he would adjust. He's had this existential crisis about being a vampire since learning Katherine never really loved him, so I think he would figure it out.
Did Caroline make the right call in holding back from Stefan?
Crissy: It was a very Caroline decision. So...felt right, but I could've gone for a few more smooches.
Amanda: Yes, but just because she still needs to come to terms with everything that's happened since her mom died. That doesn't mean I don't want to see them together sooner rather than later. I've been waiting since The Vampire Diaries season 2 for Stefan and Caroline to get together!  
Paul: I like that she is being cautious before jumping into another relationship. It makes sense and is GREAT character development. These two need to make it Facebook official soon!
Miranda: It's SO Caroline, but Stefan's not wrong that sometimes life means taking a risk and letting go of control. Go for it, girl!
Make your predictions for next week's season finale.
Crissy: One thing I know for certain about TVD finales is you never can predict what will happen! 
Amanda: In my mind, it doesn't make any sense for Elena to leave the show alive. I just can't picture her out there somewhere and Damon not going after her. For the purpose of closure, I think Elena should die. However, I don't necessarily think that will happen. The show hasn't taken death seriously in a long time, so why start now? It wouldn't surprise me if they went the dumb route of wiping her memory or something. Ugh, that would suck! 
Paul: I'm with Amanda. I've thought this since the news of her departure. It wouldn't be a good idea to have her live her life elsewhere. I think there will be some shock deaths and the Heretics will make an appearance.
Miranda: I no longer think Damon will become human. I think Elena will die. Caroline will turn to Stefan for support and they'll end up together. Damon will turn to the only friend he has left: Bonnie. And even though nothing romantic will take place, the Bamon shippers will rejoice.
We'll say goodbye to Nina Dobrev, aka Elena Gilbert on The Vampire Diaries Season 6 Episode 22. Don't miss it! But if you do, we've got you covered! You can watch The Vampire Diaries online right here!
Miranda Wicker was a Staff Writer for TV Fanatic. She retired in 2017. Follow her on Twitter.