We're back for another Bones Round Table!
On Bones Season 10 Episode 20, Booth and Brennan continue to struggle, and Aubrey has a new love interest.
Join TV Fanatic writers Christine Orlando and Ashley Bissette Sumerel, as well as Bridget Liszewski from The TV Junkies as they discuss Booth's gambling problem, the possible new pairing, and more!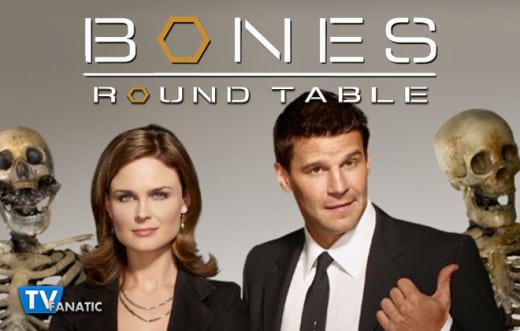 1. What do you think of the way Booth is dealing with his gambling problem?
Bridget: I'm glad that they aren't just glossing over things. I'm glad that he can't just say he's sorry and be forgiven in an instant by Brennan. It's nice that the show is showing that his recovery is a process and it's going to require some work.
Christine: I think it's realistic. Addiction is horribly difficult to fight and most addicts make a lot of excuses before they get serious about it. Hopefully, realizing what his issues could lead to for his daughter and the child on the way will be enough to make him put in the work.
Ashley: I agree that it's realistic, and that it's a good thing that it isn't being glossed over. I am frustrated with Booth's lack of remorse, though. He downplayed the whole thing too much in his conversation with Brennan, particular since he put his family in danger. I do enjoy seeing him going to the meetings, and I'm glad that by the end he took a step forward and finally spoke.
2. Brennan seems to be finding ways to connect with all of the squinterns individually, this week by helping Jessica Warren with her collection. Why do you think that is?
Bridget: I think it's just one of the ways that the show is showing that Brennan has softened over the years. By being friends with Angela and everyone else she's learned how important relationships are and she's trying to do the same thing with the squinterns.
Christine: I think the core of the show is Brennan's growth as a person and this is another facet of that. Slowly she's learned that letting herself bond with other people can be very rewarding, even when it isn't completely in her comfort zone.
Ashley: Exactly. Brennan's character has developed so much over the course of the series, and to see her making these kinds of gestures so often to her interns is wonderful to see.
3. Do you see Aubrey and Jessica getting together, and if so, how do you feel about it?
Bridget: I actually really liked this pairing, but that's also because it seems like anything Aubrey does makes me laugh. Plus, she clearly knows the way to his heart is through his stomach!
Christine: I didn't think I'd like it at first because I'm not a huge fan of Jessica but by the end of the episode I was really enjoying the two of them together. But as Bridget said, I seem to like any scene with Aubrey. He's been a great and surprising addition this season.
Ashley: I absolutely love it! Both characters are quirky and unique, and I think they work really well together. I also think that allowing Aubrey to have a love interest now will help him develop further as a character, which should be fun to see. Jessica is also becoming my favorite squintern, so I'm excited to see how this plays out.
4. Was there anything that disappointed you about "The Woman in the Whirlpool"?
Bridget: Not really, I found it to be an enjoyable episode overall. I liked that they showed how Booth and Brennan's problems affected everyone on the team as well.
Christine: The only thing that disappointed me was that Angela and Hodgins may be leaning towards leaving the Jeffersonian. If that actually happens I may cry. They've been favorites of mine from the beginning.
Ashley: I'm not thrilled with Booth or Brennan at this point, though I realize I'm not supposed to be. I wish Booth showed more remorse, and I wish Brennan was more willing to talk to him (though I do agree she did the right thing in asking him to leave). To Christine's point, I also hope these two don't leave! That would be a nice way for them to end if the series were ending, but since it isn't, I hope Paris is only a short-lived vacation or a second home.
5. What was your favorite quote or scene from this episode?
Bridget: I think my favorite part was when Brennan, clearly upset with Booth not wanting to own up to how big his problems were, still reminded him that she loved him. She may have kicked him out, but that's for his own good and it doesn't mean she's not 100% behind him and supports him.
Christine: In an odd way, I liked that Booth seemed to only be going through the motions at the Gambler's Anonymous meetings, not because I wanted him not to take it seriously but because I think that's realistic. Many addicts end up in denial when they've suffered a relapse, and I'm glad the show didn't go down this road with the intention of making it easy.
Ashley: I think my favorite part was the scene with Aubrey and Jessica having drinks and talking about Booth and Brennan. I think these two are adorable together, but more importantly, I loved how Aubrey was so confident that Booth and Brennan would work things out.
What did you think of this episode of Bones? Share your thoughts in the comments below!
Need to catch up on past episodes? You can always watch Bones online right here via TV Fanatic!
Ashley Bissette Sumerel was a staff writer for TV Fanatic. She retired in September 2017. Follow her on Twitter and on Google+.