The Last Ship Season 2 Episode 3 Review: It's Not a Rumor

Elizabeth Harlow at . Updated at .
Home sweet pandemic stricken home. 
The Last Ship Season 2 Episode 3 saw the crew of the USS Nathan James arriving back in Norfolk after a quick detour to Washington DC. We also caught up with mad scientist Dr. Niels Sorensen, last seen fleeing his Russian captors as their ship exploded.
The majority of the hour was spent on the emotional state the crew as they searched for their families, while the world wide dissemination of the cure was carried out in the background.
Meanwhile, Sorensen landed his dinghy in Florida, where he worked his way across the state until he reached a camp full of seemingly immune people.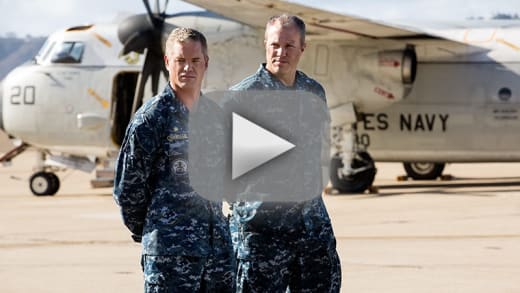 Watching the crew look for their families did not make for the most exciting installment, but it was important for the development of the characters and the story. Beyond just fulfilling the promise that Chandler made to his people, it impacts Chandler's decision to stay with his family or not.
And that was the real dilemma tonight. Chandler battled his guilt over leaving his family, but with their urging, ultimately decided to stay with the mission. I'm not sure that he couldn't have aided the mission by serving as a base commander in Norfolk, but I respect the need to see things through.
You think you're the first soldier that had trouble leaving their family behind? Huh? During World War II, English naval captains put their wives and children in bunkers in London and went back out to sea to fight the Nazis for years.

Jed Chandler
Poignantly, XO Mike Slattery was faced with a similar problem. The note that he left for his family was touching, and let us into his very private world. He was clearly torn, but realized that the best way to help them was to continue with the Navy.
While the rest of the crew was out searching Norfolk, Alicia was refusing to leave sickbay. The promotion ceremony was a nice touch, if not quite believable to me as something that would snap her out of her misplaced guilt. I am glad we don't have to watch her mope anymore, though. 
The crew may have been spreading the cure from Norfolk, but Sorensen was spreading the disease across Florida. His journey leads him to group of survivors cum cult. I guess some people need to rationalize why they survived, when 80% of the did not.
This cult, which apparently is a growing movement and not limited to the one camp, looks to be the big bad of the season. The leaders of the movement will have a vested interest in suppressing the cure – after all, if the illness can be prevented in anyone, they aren't that special. 
And let me tell you something else. We are more than just survivors! We are more than our grief, we are more than our loss, and we are more than our pain! We were spared for a reason, we were spared because we were put on this earth to do something more! We were spared because were special...because we are the rightful inheritors of the Earth! This is our destiny...because we are the chosen!

Declan
They may not be armed like the Russians were last season, but personally, I find religious fanatics ten times more frightening. 
In addition to major plot lines, the crew discovered encrypted information at a random mansion the White House which led them to a network of labs waiting to disseminate the cure. I appreciated that the outside world was addressed in an organic way, instead of waiting until yet another villain was needed, or just ignoring it all together. 
I understand that shows may not want to waste any of their 42 minutes on such details that don't directly impact plot, but this was a great way to do it. There were just two or three minutes dedicated solely to telling us about the network of labs, and the rest of what we heard was in the background. Plot hole filled, and with minimum effort. 
One thing that is bothering me this season (other than the slow build on stories) is the use of montages. It's not that they are wholly ineffective, but more that using them so frequently diminishes them. I half expected a "Join Navy" title card to flash in the middle of the plane montage.
Overall, though, The Last Ship does a good job of keeping fresh what can be a very formulaic genre. There has been a lot of conflict set up for the season, and hopefully we start to see it pay off soon. 
Watch The Last Ship online and tell us what you thought of "It's Not a Rumor." 
Elizabeth Harlow was a staff writer for TV Fanatic. She left the organization in October 2018.