Tyrant Season 2 Episode 1 Review: Death Is Not The End

Elizabeth Harlow at . Updated at .
Well, I can't say I didn't see that coming.
While the "twist" of Tyrant Season 2 Episode 1 was easily predicted, it was still effective. Barry didn't live simply because there wouldn't be a show without him, he lived because everything we know about Jamal let us know he would never kill his brother. 
Jamal might be a sadistic sociopath, but he's always put a high value on his family. On top of that, he's extremely indecisive and views himself as a hero. The people he has hurt and killed were not important enough to him to violate this view of himself.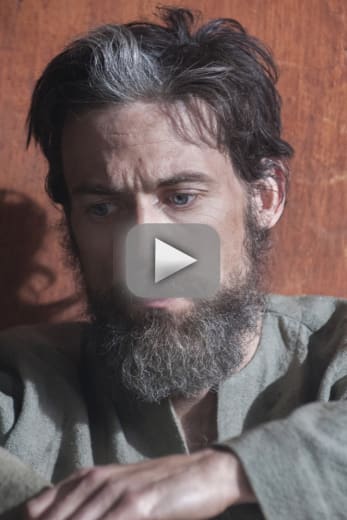 Key to understanding Jamal is that he is often a victim in his own mind – Barry didn't plan a coup because Jamal was a narcissistic despot, but because he envied Jamal and wanted to hurt him. Jamal's instability is highlighted by his justification for leaving Barry in the desert. 
I could have forgiven you for killing me, Bassam. Really, I could have. But making me kill you, that I could have never forgiven you for. Your blood won't me on my hands.

Jamal
In what world is leaving a drugged man alone in the middle of the desert with no food, water, or shelter not a death sentence? 
Jamal seems to be trying to be a better leader, but all his efforts are negated by the fact that he crushes any attempt at democracy with the military. He may be trying to limit civilian casualties, but it's more motivated by trying to tamp down on the rebellion or because it's what Barry would do, than because of an actual concern for his people. 
It was good to see that Nusrat has gained some leverage over Jamal, at least for the moment. I agree with Ahmed that running is the best choice. The Al Fayeeds take dysfunctional to a whole new level, and it's not an ideal situation to bring a child into. Still, I can understand her position.
This life we have didn't cost you anything. But I paid for it. It cost me everything. This baby is an Al Fayeed. And I want him...or her to have whatever that means. I know that it seems like a funny kind of revenge, but it's all I have.

Nusrat
The rebellion is growing, and Leila is oblivious to the dissenters working with her. It's too bad that she doesn't comprehend how important global perception is since she's the driving force behind Jamal. While she's no saint, she certainly helps keep him on an even keel and has some admirable goals.
Tariq and the rest of the old guard don't help with their inability to suggest anything other than brute force and complete suppression of those who disagree with Jamal. There's a real disconnect between the Abbudin that Jamal and Leila say they envision and the tactics they use to govern.
But there don't seem to be any peaceable options to overthrowing Jamal now that Barry has been imprisoned. The liberals have joined with Rashid's radical Islamists and are blowing up military targets. This just leads to a never ending tit-for-tat with the army.
Fauzi is the only advocate for a nonviolent approach, and he's going to head off to Amersterdam. His daughter's desire to stay may not be in her own best interest, but she may have a point that running away doesn't solve anything.
Have the last six months changed me? Yes. Yes, because the world changed. And I'm not going to get my country back by writing from Amsterdam.

Samira
Molly also left Abbudin and returned to the kids in California. Everyone's certainly safer there, but I have a feeling they'll be back. Sammy is the one who might still (somehow) need a wakeup call that Abbudin is no paradise, so I vote for his return.
I'd really like Emma to realize even though she's a teenager, she has a platform to speak out about Abbudin. She's always been focused on social justice, and how crazy would it drive Jamal for her to speak up while she's out of his reach? 
My biggest complaint about the show is that the culture of Abbudin is still so undeveloped. We are to understand that it is a fictional country which exists within the geopolitical realities of the real Middle East.
Syria, Egypt, and Libya have all been referenced in the show, but we don't have a grasp on the social mores and laws of the fictional country. Many plots suffered in Tyrant Season 1 because of this shallow representation. I hope as Barry navigates the lower circles of Abbudin, we gain more insight to its people. It'll only help the storytelling.
Watch Tyrant online to catch up on the latest palace intrigue, and speak out in the comments section with your thoughts and predictions.
Elizabeth Harlow was a staff writer for TV Fanatic. She left the organization in October 2018.