Halt and Catch Fire Season 2 Episode 7 Review: Working for the Clampdown

Sean McKenna at .
Would you have voted to sell Mutiny?
I agree that it would be tough not to bite after learning about the $5 million and the general setup for the new version of the company.
And I get that the startup was the brainchild of Cameron, and after what happened with the Giant, ripping out the creative and the passion, why would she want to be involved in something that could have a similar outcome?
Halt and Catch Fire Season 2 Episode 7 captured that interesting dilemma and used its various characters to weigh in. While the final decision was solidified by that door slam at the end of the hour, I really wasn't sure which way the result would go before that.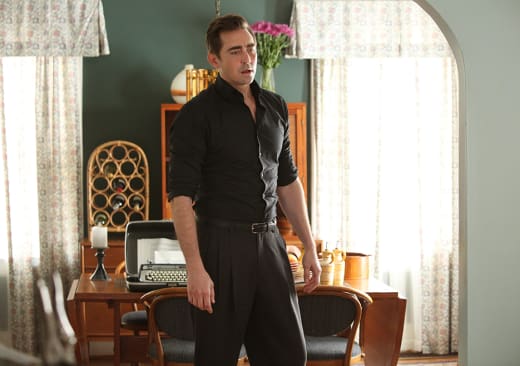 I wasn't surprised by Cameron putting on a spectacle in initially rejecting Joe's offer and getting Mutiny to chant him out of the house. It's moments like that that are frustrating to watch for her character and really make you want her to stop acting so childish.
But I liked that throughout the course of the hour, Cameron began to realize that there were other opinions, not just her own.
That vote about selling was definitely tense because of Cameron's personal connections to John and Tom.
Thankfully, John has been forward in his opinions with Cameron. He's told her exactly what he thinks in a calm and reasonable manner.
And even in meeting with Joe, knowing how great the deal was, he said he was going to go with what Cameron wanted. And he wouldn't hide the fact he spoke with Joe either.
John has been such a great voice of reason on this show that I thought he might be the one to persuade her.
But it was Tom that really got her to flip her decision after hearing about his personal life, his mother losing her job, and the lack of money. Yet, Tom said it wasn't about the money, that he loved the job, and he wanted his relationship with Cameron to keep going.
It still got Cameron to change her mind.
Once again, it was Joe that was able to relatively get the end result he wanted, and yet, the moments in Joe's own personal life got him to change his own mind.
From learning of Jacob's deceit to Sarah calling him out on being the "old version" of Joe, he was willing to give up all that success and working for Jacob for her. He was willing to drop it all for her.
So for him to open up to Cameron, without manipulation, to tell her not to give up on her passion and dream was a major moment for both Joe and their relationship. He knew if Mutiny was sold it would be a juggernaut, but it wouldn't be what Cameron had wanted.
It really made me go back to thinking about Gordon, Joe and Cameron's work on the Giant and the end result with that. Success but at a major cost.
Now, I just wonder what Joe's path will be by removing himself from the whole ordeal. That can't be the end of his involvement, can it?
Or maybe, he'll start his own business, much like Gordon, and find success that way.
It was great to see Gordon enjoying himself, but the effects of the brain damage were evident.
And while I was glad he finally told Donna about the brain damage, it still doesn't take away his cheating on her. I'm curious how that will all play out by season's end.
I also can't forget the dark side revealed to the chat rooms. For something so positive in connecting people all over, we got to see the negative effects as well with Lev getting tricked and hospitalized.
Halt and Catch Fire Season 2 has been on a roll with its episodes, and this hour delivered another great one. But with Cameron not selling, what's next for Mutiny? Will it survive? And what's next for Joe?
Sound off below and watch Halt and Catch Fire online right here at TV Fanatic!
Sean McKenna was a TV Fanatic Staff Writer. He retired in May of 2017. Follow him on Twitter.