The Real Housewives of New York City Season 7 Episode 13 Review: Sonja Island

Christine Orlando at . Updated at .
Ramona threw Bethenny under the bus, Sonja had a meltdown and LuAnn wasn't wearing any panties on The Real Housewives of New York City Season 7 Episode 13. We recap the breaking news and insights on divorce in our +/- review.
Whoa! We wonder if Bethenny got the number on that bus Ramona Singer just threw her under. Plus 25 to Ms Frankel for calling her out on it later. Not that it mattered, the damage was done.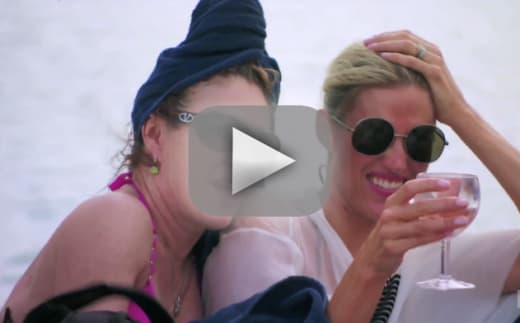 With a little nudge from Dorinda, who came off almost as two-faced on the subject of Sonja's alcohol issues as Ramona, Sonja went into a complete meltdown. Here, Dorinda was placating Sonja when it wasn't all that long ago that she was laughing it up about Ms. Morgan's recurring public drunkenness and sexual exploits. Minus 33. 
After complaining that Bethenny didn't have "education or manners" for telling her to "shut the f*ck" up," Sonja then turned around and told everyone to "get out of my shit!" At least she kept it classy. Then she went off to pout as everyone else boarded the yacht for the day. 
Plus 50 to the turquoise waters of Turks and Caicos. Absolutely gorgeous! The calming effect must have been infectious because for one short afternoon, there was no fighting. Not even when Kristen and the gang threw Ramona an impromptu ice bucket challenge and got Ms. Singer's hair wet…a crime that would normally get a glass thrown in your face. 
Breaking News! Bethenny and Heather are now friends…at least for this week. 
Just because she can be annoying, it's not her fault; she was born that way. I'm the one who's being a bitch.

Bethenny
Even Bethenny and Kristen got chummy. That beautiful blue water was working its magic. Plus 23.
Other breaking news, LuAnn wasn't wearing any underwear. Why? Maybe she'd prefer to give Kristen a bird's eye view of her hooha while climbing the ship's ladder than show panty lines. Minus 11.
The ladies were still in a good mood as they disembarked and ogled the men on the dock, leading them to declare this "Turks and Cock-os."
Then they got back to the house and slipped back into the abyss because let's face it, no housewife can ever just let it go. 
Sonja wasn't the only one having a meltdown. Dorinda broke out in angry tears when she thought that Heather was ignoring her while walking into the club. Did someone forget to take their medication this evening?
Ramona pondered the fate of her marriage while Carole earned a plus 10 for her profound insights into divorce in this The Real Housewives of New York City quote…
Divorce is kind of like a death except you have to run into the guy every now an then, preferably not with his young girlfriend.

Carole
So how long will it be before Sonja gets drunk and makes out with someone's boyfriend? How much longer until Ramona joins her on the crazy train? Tune in next week as Scary Island 2.0 continues in The Real Housewives of New York City Season 7 Episode 14.
Episode total = +64! Season total = -249!
Who knew there could be so much drama in paradise? Watch The Real Housewives of New York City online now here at TV Fanatic. 
C. Orlando is a TV Fanatic Staff Writer. Follow her on Twitter.