The Real Housewives of New York City Season 7 Episode 16 Review: Awfully Charitable

Christine Orlando at . Updated at .
This week's The Real Housewives of New York City Season 7 Episode 16 was pretty tame when you compared it to LuAnn's "don't be like, all uncool" tirade.
As a matter of fact, the Countess was barely even seen but that doesn't mean there wasn't drama. We recap the psychic coffee network and Ramona's necklace-gate in our +/- review...
It was the aftermath of Kristen's Diamond and Denim prep party and plus 22 to Bethenny for knowing when to bail. She had the timing just right in Turks and Caicos, and she did it again here as she walked out just as all hell broke loose between LuAnn, Heather, Carole, Dorinda, and Ramona.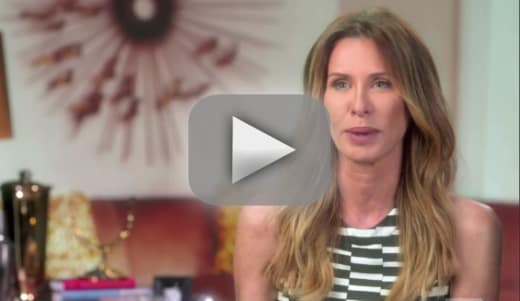 A couple of days later, Dorinda decided to apologize to Heather, but it was hard to take her seriously. First she thought that Heather's acceptance of her apology was arrogant. We can't exactly say she's wrong, but it seemed petty to point it out.
Then there was the crayon analogy. What the hell was that? Something about crayon colors and chaos and how she doesn't need that in her life. Maybe the Crayola 64 color pack is a little too much for Dorinda, or perhaps she just needs another dirty martini. Either way, minus 35 because we're still confused. 
Carole, Heather and Dorinda went to visit some semi-famous psychic in Queens who read the schmutz left behind from their Turkish coffee. Is anyone buying this? Minus 43 because it's difficult to take any of this seriously when so many intimate moments from these women's lives can be found by doing a Google search. 
Kristen's actual Diamond and Denim fundraiser for the Smile Train finally arrived, and it appeared to be a success. The ladies were more than happy to show up and show off their bling, and Heather was thrilled to have her Yummy jeans in the spotlight. Kristen is all impressed that Heather donated her jeans for a good cause, but the reality is that this kind of advertising is priceless, especially when her skinny jeans go for $128 a pair. 
But where the Yummy logo was plastered all over the event, Ramona's True Faith logo was no where to be found and her necklaces were adorning those very jeans. Minus 27 because even if Ramona is a drama queen, it was bad form not to have her line represented. And Heather's completely ungracious response to Ramona's complaints was even worse. 
LuAnn made it to the party and was there just long enough to get in another zinger about Carole dating a much younger man. As Carole said in this The Real Housewives of New York City quote…
Oh, I get. Playing around with married guys, that's what the cool girls are doing?

Carole
If only she had said that directly to LuAnn. 
Carole threw her first dinner party at her apartment and…wait a minute. Didn't she remove her kitchen and turn it into an office last season? And I can't believe no one has broken their neck on those very cool looking but deadly stairs. 
Carole's awe that Adam made gnocchi from scratch was kind of sweet. Plus 21. Perhaps someone should remind her she's dating a chef.
But did anyone else find it odd that she didn't tell Adam she was going to London to retrieve her late husband's ashes. Even though they've only been dating a few months, that seemed like something she should share.
On the flip side, she and Dorinda had plenty of time to share their stories over Bloody Mary's at the Delta lounge. If the tears are already threatening to come at JFK, we can't imagine the torrent that will occur once they make it to London.
Episode total = -62! Season total = -343!
If you missed a minute of the drama, you can watch The Real Housewives of New York City online here at TV Fanatic.
C. Orlando is a TV Fanatic Staff Writer. Follow her on Twitter.