Fathers and sons were at the core of Tyrant Season 2 Episode 4, as Jamal met his previously unknown son, Rami Said.
The already disappointing Ahmed looked downright inept in comparison to his new brother. Back in America, Sammy found out that he'll have to travel to Abuddin if he has any hope of receiving his father's inheritance.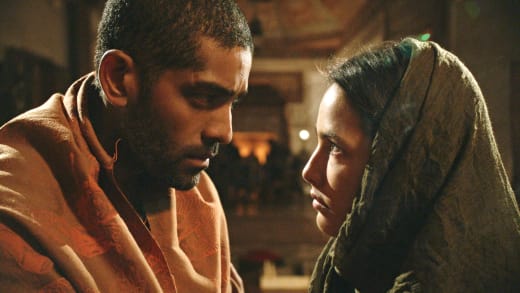 Barry may be missing his family, but he's committed to staying in Bedouin village, even promising Daliyah he'll watch over her son while she's in Germany. Elsewhere, Rashid and Samira debate over joining forces with an old classmate of Rashid's, who has become a militant religious radical.
Ahmed might have his new big boy haircut, and the news that he has a son on the way, but he's still an incompetent boob who needs Daddy's help to do his homework. The fact that Rami is so successful appeals to Jamal's narcissism. Here is a way for his lineage to carry on without embarrassment. 
Rami certainly seems great, an honorable, successful man. The only thing I can say against him is that he wasn't completely disgusted with Jamal. He does at least acknowledge Jamal's crimes when he turns down the offer of a position in Abuddin's army.
Jamal: There are no sides anymore. The fighting is over.
Rami: Because you gassed Ma'an.
Jamal: It's complicated.
Obviously, we've not seen the last of Rami, and while I'm hoping that his status as a UN peacekeeper plays a role in his return, it seems more likely he'll be returning to the palace as a potential heir. Whatever his status, he'll be a great addition to the show.
Abu Omar was also introduced tonight, and will be stirring up trouble all season. Through him, the show will stop skirting religious radicalism. I think Rashid is being short sighted in joining forces with him. He'll be replacing one tyrant with another. 
Samira's inclination to join with Abu Omar makes more sense. Her father mentioned in Tyrant Season 1 that she had become more religious, and had chosen to wear a head covering. She's been more emotionally affected by the attack on Ma'an, and is hungry for revenge. 
Rashid: What kind of...person drives people out of their homes, and...torture...and slaughters innocent people? Oh these -- these things that he does. What kind of person does these things?
Samira: I could. If Abu Omar...can open the palace gates so I can slit the throat of Jamal Al-Fayeed, then I will go with him.
It will be interesting to see how long Rashid stays with Abu Omar. Even at the end of this episode, he didn't seem convinced that what he was doing was the right thing.
Ideally, he and Barry would be able to work together so that Omar isn't necessary, but I'm sure that won't happen any time soon.
First, Barry will have to break old habits and face his life head on. He simply cannot hide out in the middle of nowhere and stalk his family through Snapchat forever.
For one thing, Kasim is going to figure out that Barry's been using his phone (probably because Sammy is stupid and messages him) and then he will figure out who Barry is.
He tells me to leave when his own family doesn't even know he's alive, hiding in a place that isn't even his home.

Daliyah
Quite frankly, it's a miracle no one has figured it out so far. He may have a beard, but his blue eyes and American accent and his picture all over the news for months should have clued somebody in. 
Luckily for us (and unluckily for Daliyah) it looks like his promise to stay for at least six months will soon be voided. Let's all hope that he heads for the capital once he figures out there's still a fight for freedom, and that his family is returning to Abuddin.
Despite Molly's well reasoned objections, Sammy is going to return. Because if there is a bad idea, Sammy must make it. Sure, he explained it as a way of honoring his father. That may be part of it. But most of it is about the money.
The return to Abuddin may be ill-advised, but it will move the story forward and provide plenty of opportunities to increase the drama. At least Molly is going into it with her eyes wide open this time. 
The pace is picking up with storylines invigorated by new characters. Watch Tyrant online and share your thoughts in the comments!
Elizabeth Harlow is a staff writer for TV Fanatic. Follow her on Twitter.