Ihab Rashid returns to Abuddin backed by the Army of the Caliphate and Abu Omar in Tyrant Season 2 Episode 5. He may have had misgivings about the groups violent methods initially, but his single minded pursuit of revenge against the Al Fayeeds has him turning a blind eye to the horror the Caliphate leaves in its wake.
Barry's fear of discovery leads him to flee Tal Jiza for Lebanon. He ends up traveling with the American wife of one of the Caliphate officers. His experiences with her cause him to finally stop running from his past.
Back in the capital, Jamal is displeased with Tariq and escalating situation in Ma'an. As the oil fields open, it becomes all important to maintain at least the facade of control in the region.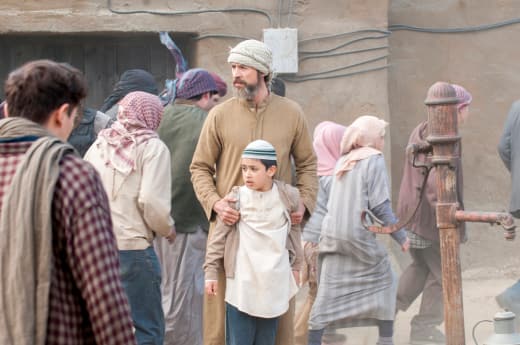 The introduction of the Army of the Caliphate is really jump starting the action this season. The situation in Abuddin seems more real now that it's not as black and white; Jamal might be a crazy despot, but compared to the Army of the Caliphate, he's practically benevolent.
Jamal has been less insane overall this season, and I miss it. After he left Barry in the desert, he settled down, and the mantle of power is clearly forcing him to mature. I look forward to more huge outbursts over Tariq's bumbling of the Ma'an situation since the days of sports cars and mistresses seem to be over. 
The Army of the Caliphate is obviously an approximation of real world terror groups. Besides producing execution videos and recruiting Western Muslims, they are seen conscripting men from areas they have "liberated" and taking women for their own personal pleasure. 
Jill, the American-born wife of one of Abu Omar's lieutenants, clearly regrets her decision to join up with the Caliphate, even though she defends her choice to Barry as they hike across the border to Lebanon. Her innate distrust (and fear) of Barry speaks to the culture of the group. 
We don't call that "comforting" in America. We call it rape.

Jill
I really wish we could see more of Jill. How did she go from the misfit girl in Chicago to the seemingly unwilling bride of a Caliphate soldier? What will she do after she reaches Lebanon? She played her role in getting Barry to realize his responsibilities, but I wish we could have known her better.
Barry was doing what Barry does best, running. Ahmos was the latest in a long line of people pointing out this character flaw to Barry, but apparently it took a literal blow to the head for it to sink in that running doesn't solve anything.
Ahmos: You are just a runner, aren't you? You run away from your family, run away from the army, run away from the Caliphate. Now I ask you a favor, you run away from me.
Barry: Look, I know it seems that way...
Ahmos: It is that way.
The question is who is he going to return to? With the arrival of the Army of the Caliphate, Jamal may be in a place to receive his brother. Of course, Barry isn't aware of his brother's change of heart, so that would be a big risk. I'm afraid that if he returns the village, he'll be distracted by Deliyah's fate and go after her.
He's prone to rash decisions, after all. While I was glad to see him come to his senses in the desert with Jill, it probably would have been a smarter move to stay with her and get back to civilization. He could help Abuddin more as a figure head than as a soldier. 
Because the Caliphate will not be an easy enemy to defeat. In addition to their fanatic base, they conscript soldiers, giving them an endless supply of man power. It's their successes which are winning over the hesitant Rashid. With him in their ranks, they'll be able to recruit from a whole new base.
Rashid surprised me by his quick acceptance of the Caliphate's tactics. He seemed unsure during the executions, but after the helicopters were taken down, he was a full convert. His quest for vengeance will be his downfall, and I think he'll end up regretting this alliance. It's just a matter of when.
Oh, you should see the size of our army now, Samira. This is an amazing thing to see. You were right, you were right. This is the way. This is how we will take down the Al Fayeeds. This is how we will take back our country. This is the way, Samira.

Ihab Rashid
Sammy, Molly, and Jimmy made a very brief appearance with their arrival in Abuddin. This was mostly to set up what's going to happen next week, but the scene where Sammy calls Abdul shows that he might finally be getting a reality check on just how serious the situation is, and how it affects the people of Abuddin.
I'm looking forward to the upcoming episode. Sammy is going to be forced to take a side between his father and his uncle, and the incursion by the Army of the Caliphate is the perfect excuse for Rami's return. 
Watch Tyrant online and share your thoughts and predictions in the comments!
Elizabeth Harlow was a staff writer for TV Fanatic. She left the organization in October 2018.