Chasing Life Season 2 Episode 9 Review: Wild Thing

Rachel Miller at . Updated at .
April finally takes a ride on the wild side!
On Chasing Life Season 2 Episode 9 April is still getting used to living life without Leo. She ends up inheriting Leo's money through his will and testament. With April's new found fortune, it seems like she's going to try to live her in life in the moment. That's something Leo always wanted her to do. But all money isn't good money, right?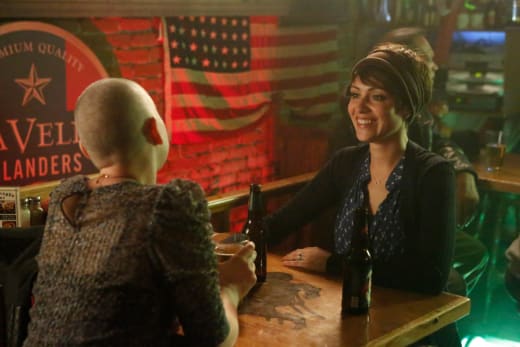 I worry about you.

Sara
Sara, like any concerned mother, continues to worry about her daughter. April, being the tough girl she is, always seems to have on her game face. It's as though she's afraid to let others know when she isn't sure of herself. April never wants to be alone to live with the thoughts that are constantly pacing in her mind.
I'm worried about you, the spending, outbursts.

Beth
April started making outrageous purchases with the money she inherited. Her new spending habits were her way of coping with everything that happened to her within the past year. She decided to buy Beth and herself some very expensive Christian Louboutin shoes. That's something she never thought about doing, ever.
Continuing her splurging and an attempt to get over her feeling of grief, April decided to buy ecstasy. Italia Ricci's real life love interest and fiancé, Robbie Amell, guest starred as an ecstasy bearing drug dealer. It was totally shocking to see April take it to the next level by using her inheritance money to buy drugs. Alcohol and expensive clothing I can understand, but drugs?
When it was all said it done, April finally came to her senses and did something that she needed to do. Cry. She kept all of those emotions balled up and was like a ticking time bomb ready to explode at any given moment. April finally took time to reflect and bawled her eyes out. Crying is the best way to get rid of any feelings that anyone has been holding inside. It can also give you something money never can; a peace of mind and a sense of who you really are as an individual.
When the going gets tough, you get outside of your comfort zone.

Vanessa
While Vanessa gave April some good advice, you always have to make sure you don't forget who you truly are. For one night, April lived outside of her comfort zone and in reality, she was nowhere near comfortable. If April continued to go down the path she was headed earlier in this episode, it would've been disappointing to watch. She may be a tough cookie, but April should never lose sight of the person she really is. April finally learned that it is okay to sometimes not be okay.
If Finn dies, all three Carver women will be black widows.

April
The budding friendship between Finn and Brenna is nice to watch. Hopefully the duo will continue to be friends for a while without the whole romance thing. The last thing Brenna needs right now is to get attached to someone emotionally just for them to possibly leave her life again.
It was sad to see no one show up for Brenna's film festival. She seems to always be there for other people but in return, none of her so-called friends are there for her. Bravo to Uncle George for being someone the Carver women can count on. It was nice of him to be the familiar face Brenna needed at her film festival.
George seems to always show up whenever the Carver women need him, yet there's still something mysterious about him that we're finally going to find out on Chasing Life Season 2 Episode 10. George is withholding some important information from the Carver women. Hopefully we will learn more about the manuscript Thomas Carver wrote and the mystery surrounding his secret life.
How do you feel about April's ride on the wild side? Do you think she will ever be okay emotionally? What do you think George is going to reveal?
Don't forget you can always watch Chasing Life online here at TV Fanatic!