Complications Season 1 Episode 10 Review: Critical Condition

Christine Orlando at . Updated at .
How many people are out to get John in Complications Season 1 Episode 10?
Both gangs may want him dead, the police threaten to arrest him, his boss would probably like to fire him and even Gretchen's sister is looking to mess him up. Needless to say, the odds are stacked against John in this season finale, but there ends up being even greater threats we never saw coming. 
John's father, Gary gave him some smart advice; don't put your weapon down until the shooting has stopped, and the shooting was far from over.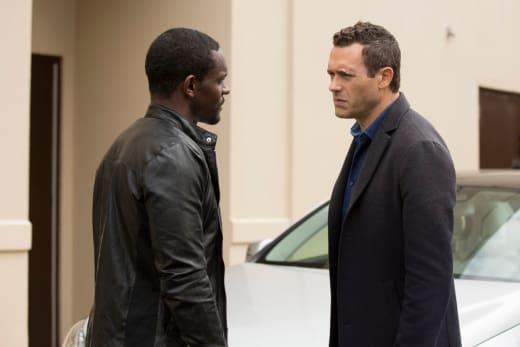 The most ironic part of this dramatic episode was when Gretchen's sister, Ingrid threatened John in this Complications quote…
Seriously doctor, I'll mess you up. She's the responsible sister. I don't give a shit.

Ingrid
Scary to consider Gretchen the reasonable sibling given that we've seen exactly of what she is capable. 
But John and Gretchen had even bigger problems. In a twist I never saw coming, Detective Holden turned out to be a dirty cop and not just any dirty cop; he was the cop who started the gang war. 
Little did we know that Holden was the equivalent to the dark side of John. As John himself pointed out…
I know how it feels to have something you did spin out of control, but don't make it worse.

John
Unfortunately, where John was doing everything possible to save lives, Holden was simply out to save his own skin, and he was willing to kill Darius, John, Gretchen and a little boy in order to make that happen.
I was so disappointed when Holden shot and killed Darius. Darius has been one of my favorite characters since the beginning of Complications Season 1. He was intelligent, usually reasonable and street smart. A difficult combination to find, and if the show continues with a season 2, he will surely be missed.
Holden's partner, also a dirty cop, came a little out of left field. Why hadn't we seen or heard of him before this season finale? As much as I was happy that Sam and Ollie got away from him, it did feel as though this particular plot point came out of no where. 
Once we found out that Holden was dirty, John killing him was inevitable. What happened afterwards was the only question. I agreed that going to the Atlanta Police was a bad idea as there was no way of knowing how far the corruption had spread. However, John could have gone to the FBI. Could John and Gretchen have been able to walk away without jail time and their careers still intact? There's no way we'll ever know. 
I liked John's analogy of how this entire scenario was much like a bullet wound where the bullet is left in the body. Even though leaving it alone feels wrong, scar tissue forms and the body heals. Sam and John will heal. John and Gretchen go back to their lives…until John gets a mysterious phone call. 
I can't say I was thrilled with that ending. USA has yet to announce whether they will pick up Complications for season 2, and I suppose the sleazy cancer clinics is a plot point that was left dangling. Do you hope to see it picked up next summer?
If you want to view more of John's and Gretchen's adventures, you can watch Complications online here at TV Fanatic. 
C. Orlando is a TV Fanatic Staff Writer. Follow her on Twitter.