Complications Season 1 Episode 9 Review: Deterioriation

Christine Orlando at . Updated at .
Peace is one thing but forgiveness is another thing entirely. Despite John's best efforts in Complications Season 1 Episode 9, it appears he can't have both. 
John's flashbacks to Becky at the lake house were heartbreaking. Listening to that little girl ask why she got cancer, if things really happen for a reason and whether she only made her parents sad, literally brought tears to my eyes.
No parent or child should ever have to go through such horror and helplessness.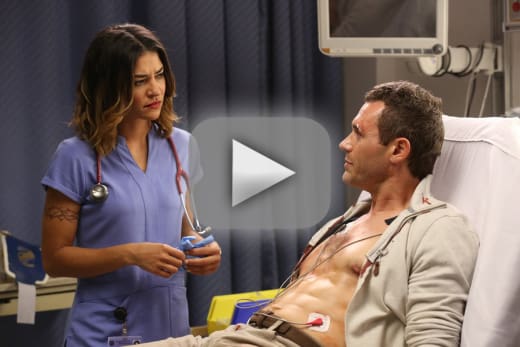 It's that sense of helplessness that has been driving John. He needs to feel as though he can do something, have control over something. The problem is that just when he thinks he's succeeded, the rug gets pulled out from under him yet again. 
To my great relief, John actually told Samantha the entire truth, and in a surprise move, he also told his father. Sam tried to take control in her own way by looking for help from Kyle, but that ship had sailed. Kyle's generosity ran out the moment he realized that Sam wasn't going to sleep with him again.
He also proved to be a complete idiot when he jumped that fence in the dark and snuck up to John's father's house, especially since he knew they were hiding out there because the family feared they would be the target of gang violence. 
I wondered if part of the reason that Sam decided to tell John the truth about her affair with Kyle was because she finally realized that Kyle isn't her friend. Kyle could choose to tell John himself, and it's better if it comes from her. 
John's visit with EZ could be summed up in this one Complications quote…
I lost my daughter. I watched her die, and I could do nothing. And I would give everything I have to trade places with you, to have a child who could be saved. So figure it out!

John
As John came home, he really believed he'd ended the violence and that their lives could go back to normal. Instead, he got blindsided twice. First by Sam telling him about her affair with Kyle and then by Darius' phone call. John is now his enemy, and the target on his back may have just grown larger. 
Gretchen's sister, Ingrid, was back, and it was good to see her. She and Gretchen have some great chemistry, and it was wonderful to see Ingrid be able to handle a crazed, detoxing Jed, yet not take any of those pills herself. That's a huge step, but the battle against addiction never ends, and I was proud of Ingrid for telling her sister to flush those pills so that she wouldn't be tempted to look for them later. 
John and Gretchen's troubles are far from over. Darius now considers him an enemy. He can't even look at his wife. And does anyone think that Bridget won't listen to that recording and hand it over to the police? 
Check back next week for our review of Complications Season 1 Episode 10, the season finale, and if you can't wait until then, you can watch Complications online here at TV Fanatic. 
C. Orlando is a TV Fanatic Staff Writer. Follow her on Twitter.