Hannibal Season 3 Episode 9 Review: And the Woman Clothed With the Sun...
Paul Dailly at .
If there was ever any concern that a three year time jump would ruin the show, those thoughts should now be put to bed. 
On Hannibal Season 3 Episode 9, Will came face to face with Hannibal Lecter once more. It proved to us that as much as Will wants to play happy families, he'll never be able to remain the most sane person in the room. 
This season has been rocky to say the least, but the time jump proves that taking risks really pay off. I'm beginning to think that if the show was this good from the season premiere, we'd be eagerly awaiting that Season 4 renewal. It sucks that we have just a few more episodes in this insane world, but it sure looks like we're ending the season, and most likely the series, on a high.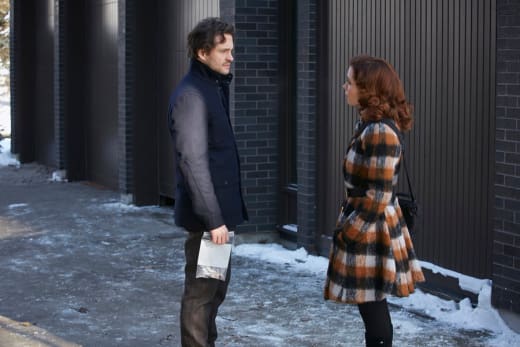 Richard Armitage is owning his role as the Red Dragon. The character is battling many demons, and I absolutely loved the red lights in his scenes with True Blood's Rutina Wesley. There's no denying that Tara was a particularly weak character on the HBO hit, but she's found a role which does wonders for her acting career, and I can't wait to see what's next for her character.
It was nice to see the return of Freddie, who is still a manipulative bitch. I'm actually surprised she's survived this long, but how will Will be able to cope with her writing her stories on him? She is nothing more than an opportunist and her ultimatum to Will made my skin crawl. 
Will has managed to restrain himself from her a little too much now, so it seems like he is about to lose it with her any minute. 
I fully understand this is her job, but she should show a little compassion once in a while. She was right in her judgment that Alana has done well for herself in the last three years. 
At some points in the hour, Alana looked as though she was trying to grip on to her sanity, much like Will has been doing for the past three years. Wouldn't Hannibal LOVE if she emerged just as crazy as him? She really is loving this power she has over him now. He's locked up and she holds all the keys. 
Speaking of Hannibal, is anyone else enjoying us getting to see what's going on in his mind, while he is locked away? His scenes with Abigail were really interesting. It brought more layers to the surface for character, if that was even possible. 
I don't know how I'm feeling about Will living a married life now. It is good for him to at least attempt to have a normal life, but it appears that he'll always be connected to Hannibal in some way. 
"A Woman Clothed With the Sun..." was a solid effort. The show is really returning to its roots, and it has once again become appointment television. With just four episodes remaining, I really have no clue how the show will end. Hopefully it isn't chock full of cliffhangers, but considering when the cancelation news came out. I'm not overly optimistic we'll get the cliffhanger-free ending we deserve. Then again, I'm not quite sure a cliffhanger-free ending would be true to the show. 
Remember you can watch Hannibal online, right here on TV Fanatic. Get caught up on the action now!
Note: Hannibal Season 3 Episode 10 airs Saturday August 8 at 10/9C on NBC. 
Paul Dailly is the Associate Editor for TV Fanatic. Follow him on Twitter.