Empire Round Table: Is There Hope For Jamal and Cookie?

Whitney Evans at .
It was an action-packed premiere for Empire, with backstabbing and guest stars a plenty.
From Marisa Tomei to a murderous turn from Chris Rock, Empire Season 2 Episode 1 showed us that the new characters in the Empire universe were not to be messed with. But did the guest stars overshadow our main characters? And just what is going on with Jamal and his radical personality change?
Join TV Fanatic panelists Paul Dailly, Carissa Pavlica, Elaine Atwell and Whitney Evans as we discuss all the many aspects of the premiere...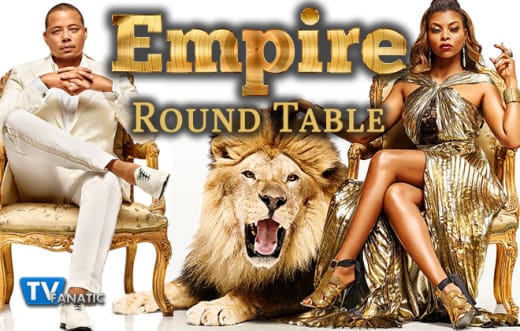 What was your favorite quote or scene?
Paul: My favorite scene has got to be Anika getting uncomfortable with Mimi. It was hilarious.
Carissa: I enjoyed the opening scene, for reasons others will not. Although Hakeem and Cookie knew what they were doing, and I love Hakeem for pointing it out. There was something inherently brilliant in Empire having that #FreeLucious concert, run by someone who was once justifiably in prison to free someone who was also in prison justifiably. Not to mention the murders Lucious committed for which he had not been caught. Yikes.
Elaine: I think I died and went to gay heaven when Anika – sorry, "Anita" – danced with Marisa Tomei's character. So gloriously awkward, and nice to see Ilene Chaiken hasn't forgotten her L Word roots.
Whitney: I was a big fan of the #FreeLucious concert. It was a massive set piece that they pulled off flawlessly. 
Did you think the cameos and guest stars were too much or did you enjoy seeing them?
Paul: They didn't stick out like a sore thumb, so it was OK. Chris Rock played crazy really well. It wasn't as cheesy as I would have expected it to be.
Carissa: For the concert, see answer above. If only they knew all the stuff Lucious has done, they might not have shown up. Hmmm. Then again, money calls. Politics is a crazy game. As for Chris Rock, I never imagined him as the face of Frank Gathers. It seemed like Lucious or Cookie should have been able to take him out before, you know? Skinny little Christ Rock. Really? LOL
Elaine: I adored all the little cameos at the end of the ring, particularly forcing Don Lemon to kiss the ring and then giving him a hard time about his Ferguson coverage. Empire is flexing its muscle, but hey, it's earned it. The one guest star that didn't work for me was Chris Rock. I am sorry, but I will never believe that tiny man is a hardened killer.
Whitney: I liked the quick cameos at the concert, and I actually liked Marisa Tomei and Chris Rock in their respective roles. If they were the only new additions I'd be fine, but I know there are a ton more characters on the horizon, and I don't want them to take over the show. 
What do you think of Cookie's assertion that Jamal is turning into Lucious?
Paul: She was right on the money with that. Jamal really needs to evaluate the changes he's making to his life before he pushes everyone close to him away.
Carissa: I thought he was turning into Lucious at the end of Empire Season 1, but then again, I just binge watched it two weeks ago, so it's a bit fresh. He was never as sweet and loving to me as everyone else made him out to be. Hakeem is the softer brother, wanting to chill out, and listen to music, sing and have fun. Jamal is focused and determined, which rarely means soft and sweet. His looks and voice earned him a label that didn't necessarily fit. But he loves his mama, so don't count him out just yet.
Elaine: I think we all just need to monitor his level of rage/propensity for wearing ridiculous scarves.
Whitney: I should have seen this coming after the last few episodes of last season when Lucious and Jamal got closer, but I'm really surprised how much Jamal has let the power go to his head. He was always far from a pushover, but I never thought he could possess that cruelness that just radiates off Lucious. I'm hopeful Cookie will be able to bring him back before it's too late. 
Which relationship are you hoping gets repaired sooner: Jamal and Cookie or Jamal and Hakeem? 
Paul: Jamal and Cookie. The relationship between these two has so many layers. Hakeem is one of the weaker characters on the show, so I could care less about him.
Carissa: I'm not sure either of them can be repaired just yet if Cookie and Hakeem are to have a shot at something real on their own. I'd really like to see them succeed on some level, not to shove it into the face of anyone else, but because they need to reconnect as mother and son as much as Lucious and Jamal need to as father and son.
Plus, Cookie needs a solid win so her work pre-building Empire means something now, and Hakeem needs to be more than the apple of his father's eye just because his brother is gay. So, my final answer is Cookie/Hakeem is ultimately more important than Jamal and either of them at this point in time.
Elaine: I don't really care who patches things up first as long as one of them does. I hate seeing Jamal as a villain, and miss our sensitive hero from last season.
Whitney: I think Jamal and Cookie will be just fine in the long run. Their relationship is deeply layered, as Paul pointed out, and I think their bond will bring them back together. I've always loved the relationship between Jamal and Hakeem, because when they're together and getting along, Hakeem is about a thousand time more tolerable as a character.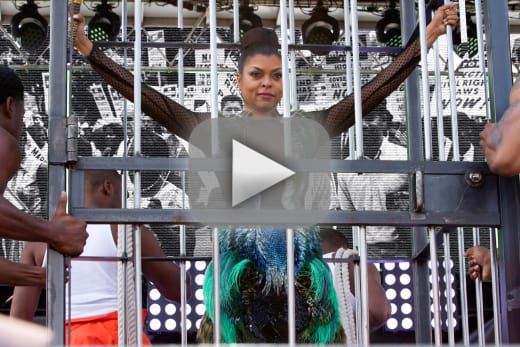 Was there anything about "The Devils Are Here" that disappointed you?
Paul: The suspense that was built up with the family coming together was over way too soon. I wanted the threat to continue on for at least another few episodes.
Carissa: No, not really. Thankfully, my entire experience was very fresh. I'm not at all upset I didn't watch last season because it seems like a lot of you guys forgot a lot of the story. Whitney! How could you forget Rhonda killed Vernon?! Someone forgot why Anika was involved with Cookie! Not me! Hehe
Elaine: Nope. Empire is somehow even more its brash, over-the-top, compulsively watchable self than it was last season. Although I am sad that Anika is apparently so bad in bed.
Whitney: Thanks for calling me out, Carissa! I don't know how I messed that up, considering I was the biggest Vernon fan in the world! Anyway, I was starting to kind of like Chris Rock in that menacing gangster role, so I'm a little disappointed he won't be sticking around. 
What are your hopes and predictions for Empire Season 2?
Paul: I hope the show remains about the Lyon family and they don't get pushed to the side for any of the guest stars.
Carissa: I predict Cookie and Lucious will continue to dance around each other (until the day they die). Hakeem and Jamal will continue to try to one up each other (until the day they die). Andre just may die. Everyone else will wish they were part of the inner circle consisting of Cookie, Lucious, Jamal and Hakeem, because when you're not, you're not and you know there's no way in (Poor Dre).
I just hope the show continues to entertain and confuse me to the point I am crushing on Lucious (against my better judgment) and wanting to be Cookie's best friend (even while she'd be calling me names).
Elaine: Before this episode, I would have said Empire was destined for a sophomore slump. Now, I'd say all bets are off.
Whitney: I hope they continue to keep us on our toes and turn out another season of great music and compelling storylines. I predict Lucious will once again be a massive jerk and continue to divide his family, while Cookie will continue to be a badass and the true MVP of this show.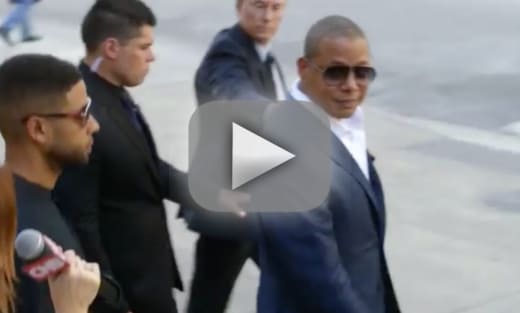 Whitney Evans is a staff writer for TV Fanatic. Follow her on Twitter.